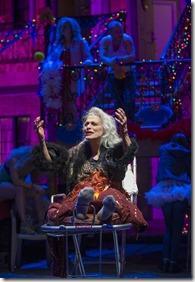 Airline Highway
Written by Lisa D'Amour 
Directed by Joe Mantello
at Steppenwolf Theatre, 1650 N. Halsted (map)
thru Feb 14  |  tickets: $20-$86   |  more info
  
Check for half-price tickets 
  
  
   Read review 
  
---
 Now extended thru February 14!
Agile ensemble makes intricate, gloriously-textured work soar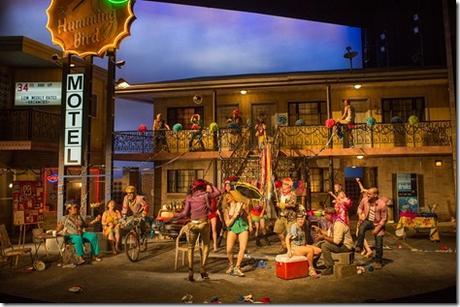 Steppenwolf Theatre presents
Airline Highway
Review by Catey Sullivan 
A sprawling ensemble cast, overlapping dialog skating on the verge of poetry and chaos, and a plot that's more richly drawn landscape than traditional narrative. With those defining characteristics Lisa D'Amour's intensely atmospheric Airline Highway hearkens back to Steppenwolf Theatre's seminal production of Lanford Wilson's "Balm in Gilead," that evocative Babylon of a show that helped rocket the theater to national fame in 1981. And while Airline Highway is getting its world premiere this winter, it's all but impossible to see the show without thinking of Balm in Gilead.  This is not to say the piece is derivative. Not by a long shot.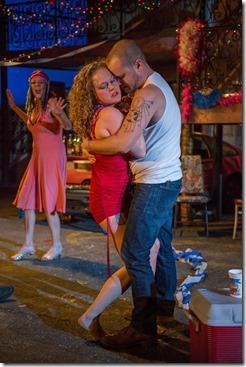 Destined for Broadway in 2015 and directed by Tony-winning hitmaker
Joe Mantello
(
Wicked
,
The Last Ship
,
The Normal Heart
),
Airline Highway
is a gloriously textured and intricate work powered by a pile-driving ensemble that immerses the audience in a world that's usually overlooked if not outright avoided. Like the all-night diner of "Gilead," the no-tell motel of "Airline" seethes with the troubles and joys of people on society's furthermost fringes. Every last tourist who flies into New Orleans for the Bacchanalian debauchery (and douchebaggery) of JazzFest or Mardi Gras passes within spitting distance of Airline Highway, an often gritty strip punctuated with the likes of cut-rate hotels, currency exchanges, dollar stores and discount sex toy shops.
Scenic designer Scott Pask has replicated that usually overlooked world on stage with a realism so acute you'd swear you could smell the cheap beer, soulless sex and sweat that infuses the air with the potency of decaying magnolias. The Hummingbird Hotel parking lot is a place where a tacky neon sign replaces starlight and rickety plastic chairs and grimy asphalt passes for a front yard. You know exactly where you are before the first words are uttered in "Airline Highway": the final stop before tumbling through the cracks into the abyss.
D'Amour hinges her plot on the imminent death of Miss Ruby (Judith Roberts), a fabled burlesque queen and long-time house mother of the transients at the Hummingbird Hotel. She's dying, and the Hummingbird residents are throwing a blow-out to celebrate her life while she can still enjoy the party. Miss Ruby's pending departure is marked by the return of a Hummingbird prodigal son of sorts. Bait Boy (Stephen Louis Grush), has maneuvered himself out of the inner circle of the down-and-out and has carved out a more or less respectable life for himself with a well-heeled wife in Atlanta.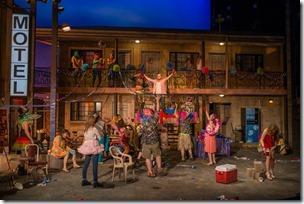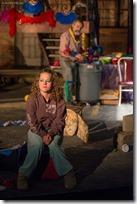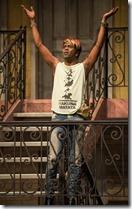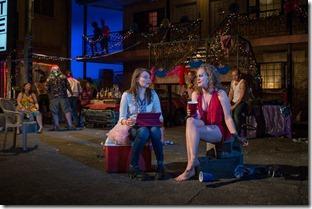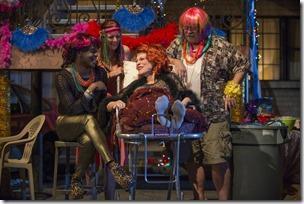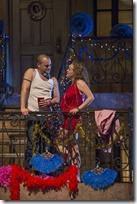 Bait Boy's got a big house (paid for by his spouse), a revamped wardrobe (he shows up in a preppy pink button-down) and a new name, insisting that the friends he abandoned now call him "Greg." Along with a platter of Whole Foods sandwiches, he's got his stepdaughter Zoe (Carolyn Braver) in tow, a 16-year-old intent on interviewing the Hummingbird denizens for a school project about "subcultures." Bait Boy's return initiates a crisis and a reckoning for Krista (Caroline Neff ), a homeless stripper – and by all indications the love of his life – that he left behind when he moved on up to Atlanta.
Grush's brash, vulnerable Bait Boy, pulled back to the tight, troubled community of the Hummingbird by a force as irresistible and unknowable as gravity, and Neff's angry, struggling lost and doe-eyed Krista form the nexus of D'Amour's vivid drama. But they're surrounded by a vibrant hive of indelible supporting characters, each one deeply etched under Montello's meticulous direction. As Sissy Na Na, K.Todd Freeman is a forcefield in motion, a compassionate, shade-throwing force of nature. If this were high school, he'd be Prom Queen. A glorious display of garish splendor, Freeman creates a bullshit-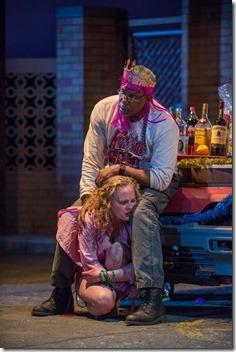 free, pride-filled zone wherever he chooses to sashay. It's a riveting, unforgettable performance that's a dazzler.
As the prostitute Tanya, Kate Buddeke embodies the bone-weariness of somebody who has worked too hard for far too long, and who exists with that raw, ever-present ache that makes the prospect of drug-induced numbness so demonically seductive. Even as Tanya is making lists of party supplies and overseeing the ad-hoc decorating committee, you can see the life-sapping despair lurking like a cancer in her eyes. Tim Edward Rhoze instills some-time handiman Terry with an understated dignity and the hustling initiative of a man unafraid of hard work but unable to find enough to live on. Watch for his desperate, wrenching scene late in the production with Neff's increasingly frustrated and enraged Krista – it's a display of love that's far more about the brutal, passionate protectiveness of soldiers on a front line than it is about hearts and flowers.
Costume designer David Zinn has outfitted everyone in garb that defines and enhances their characters in ways both subtle and blatant. There's a literally radiant scene at the top of the second act where his work lights up the stage and makes the ebullience of Miss Ruby's wild party joyously inescapable, and underscores the invariable morning-after reckoning that's to follow. Fitz Patton's sound design and original music (especially the latter) turns the stage into a wild and triumphant revival meeting, defined by people who only know how to sing from inner reaches of their hearts.
Airline Highway isn't perfect, not by a long shot. D'Amour seriously undermines the wattage of the drama later in that final act, with a series of monologues that are heavy with speechifying didacticism. The last monolog in particular romantically paints the impoverished as saintly breed far more noble and authentic than the sell-outs of the middle- and upper-classes. It's a cliché condescends to the underclasses while at the same time 'othering' them into unheralded heroes morally superior to those who are privileged enough to hang on to a greater degree of stability. Life isn't that simple. Neither are people.
But until those last 10 minutes or so, however, Airline Highway is ensemble work at its finest, and a fascinating view of New Orleans you'll never find in any guide book.
Rating: ★★★½
Airline Highway continues through February 8th February 14th at Steppenwolf Theatre, 1650 N. Halsted (map). Tickets are $20-$86, and are available by phone (312-335-1650) or online through their website (check for half-price tickets at Goldstar.com). More info at Steppenwolf.org.  (Running time: 2 hours 15 minutes, includes an intermission)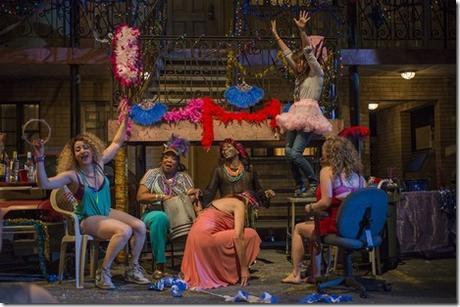 Photos by Michael Brosilow 
---
artists
cast
K.Todd Freeman (Sissy Na Na), Kate Buddeke (Tanya), Caroline Neff (Krista), Stephen Louis Grush (Bait Boy), Carolyn Braver (Zoe), Gordon Joseph Weiss (Francis), Scott Jaeck (Wayne), Tim Edward Rhoze (Terry), Judith Roberts (Miss Ruby), Jacqueline Williams, Robert Brueler, Toni Martin, Chris Daley, Terry Hamilton, Brenann Stacker (ensemble). Kate Harris, Kenn E. Head, Will Kinnear, Susan Monts-Bologna, Joel Reitsma, Gary Simmers, Elizabeth Stenholt, Maggie Corbett, Maggie Corbett  (understudies)  
behind the scenes
Joe Mantello (director), Scott Pask (scenic design), David Zinn (costme design). Japhy Weideman (lighting design) Fitz Patton (sound design), Malcolm Ewen (stage manager), Matt Hawkins (fight choreography), Josh Altman (assistant director), Christine D. Freeburg (assistant to the stage mananger) , Eva Breneman (dialect coach), Erica Daniels (casting), Danny Kerwick (poetry), Desiree Arnold (additional properties), Jessica Doan (additional wardrope), Diana Raiselis (script supervisor), Kathleen Barrett (stage management apprentice), Matthew Bauer, Chris DePaola, Gordon Granger, Ryan Luwe, Matthew Meldrem, Kailee Tomasic (additional carpenters), Zoe SHiffrin (assistant change artist), Kassie Davis (additional paint.), Michael Brosilow (photos)
14-1214