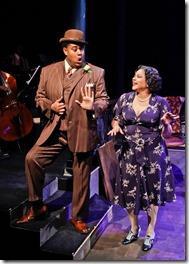 Ain't Misbehavin'
Conceived by Murray Horwitz, Richard Maltby Jr.
Music by Thomas 'Fats' Waller 
Directed and Choreographed by Brenda Didier
at Stage 773, 1225 W. Belmont (map)
thru March 9  |  tickets: $30-$44   |  more info
  
Check for half-price tickets 
  
  
   Read review 
---
An infectiously jubilant Fats Waller review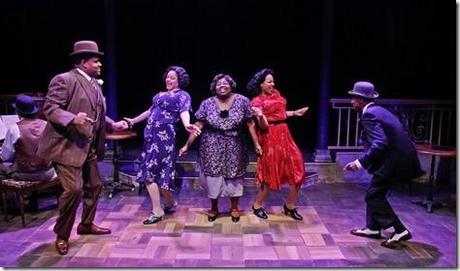 Porchlight Music Theatre presents
Ain't Misbehavin'
Review by Catey Sullivan 
The joint is indeed jumping at Porchlight Music Theatre with the raucous and infectiously joyful Ain't Misbehavin'. Directed and choreographed by Brenda Didier, this 31-song revue of Fats Waller tunes captures the ebullient spirit of a Harlem Renaissance rent party thanks to a five-person cast that truly understands the prolific composer's many moods, from the irreverent "Fat and Greasy" to the mournful "Black and Blue".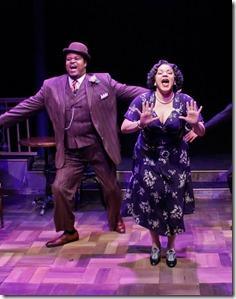 Conceived by
Murray Horwitz
and
Richard Maltby Jr
.,
Ain't Misbehavin'
is a fast-paced challenge of a show that demands seriously high energy singer/dancer/actors who can both radiate the joy inherent to Waller's music and beam it out to the very back row of the audience. A gift for nailing bluesy syncopations, jazzed-up scat riffs and an athletic ability to swing from tap to the Charleston and back again are requirements here, plus the ability to make all of the aforementioned look both spontaneous and effortless. All that is accomplished here, with sass, brass and belting to spare.
Under the musical direction of Jaret Landon and with help from a band that is all aces (Shaun Johnson, Rajiv Halim, Michael Weatherspoon, Chris Thigpen and the flying-fingered keyboardist Austin Cook on the piano), the cast – Robin DaSilva, Donterrio Johnson, Lina Wass, Sharriese Hamilton and Lorenzo Rush Jr. puts on a show that captures the free-wheeling dance floor of the Cotton Club at midnight during the height of the jazz era.
The group coalesces marvelously as an ensemble in numbers including "Handful of Keys" and that irresistible title tune. But everyone has a chance to shine individually as well: Wass brings ladylike lustiness to the upper register in "Squeeze Me," while Hamilton turns ultra-beguiling vixen shimmying through "Yacht Club Swing." Johnson moves like a snake through the seductive, (literally) smoking "Viper's Drag." And DaSilva brings the sugar and sizzle to "Honeysuckle Rose." As for Rush, he bears an eerie resemblance to Waller, and he's got the outsized personality and the vocals to match. His take a on "Your Feet's Too Big" is little less than uproarious.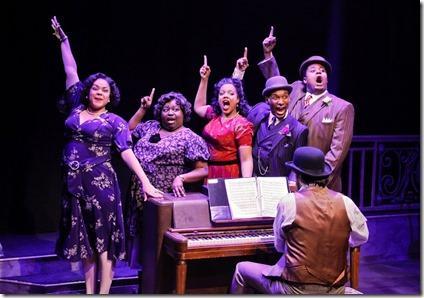 Ain't Misbehavin' doesn't neglect Waller's melancholy side: With "Mean to Me" and "Black and Blue," the cast slows things down, drenching the stage in sorrow that's just as intense and heartfelt as the exuberance that marks most of the production.
The show plays out on set designer Jeffrey D. Kmiec's set, which evokes a cabaret/nightclub of yesteryear (featuring a prominent framed photograph of Fats himself). Didier's exuberant choreography incorporates a wide range of styles from a persnickety promenade ("Lounging at the Waldorf") to a free-wheeling jitterbug. And when the cast unleashes the ebullient finale "Honeysuckle Band," it becomes impossible to keep your toes from tapping.
Rating: ★★★½
Ain't Misbehavin' continues through March 9th at Stage 773, 1225 W. Belmont (map), with performances Fridays at 8pm, Saturdays at 4pm and 8pm, Sundays 2pm.  Tickets are $30-$44, and are available by phone (773-327-5252) or online through Vendini.com (check for half-price tickets at Goldstar.com). More information at PorchlightMusicTheatre.org.  (Running time: 2 hours 15 minutes, includes an intermission)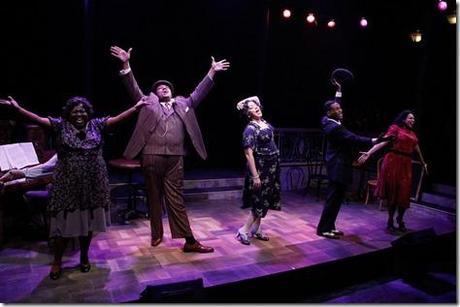 Photos by Kelsey Jorissen 
---
artists
cast
Robin DaSilva (Nell), Sharriese Hamilton (Charmaine), Donterrio Johnson (Andre), Lina Wass (Armelia), Lorenzo Rush, Jr. (Ken), Nicole Michelle Haskins, Christopher Jackson, Marjie Southerland (understudies)
band
Austin Cook (conductor, piano), Chris Thigpen (bass), Michael Weatherspoon (drums), Rajiv Halim (saxophone), Shaun Johnson (trumpet)
behind the scenes
Brenda Didier (director, choreographer), Jaret Landon (music director), Bill Morey (costume design), Nick Belley (lighting design), Jenna Moran (sound design), Kevin Barthel (wig design), Jeffrey D. Kmiec (set design), Craig V. Miller (asst. choreographer), Jill Yetsky (stage manager), Aaron Shapiro (production manager), Mati Johnson (technical director), Kelsey Jorissen (photos)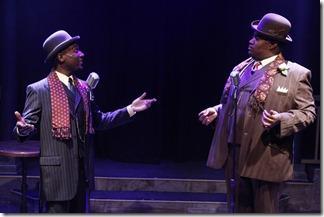 14-0208