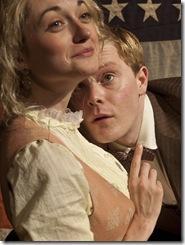 Ah, Wilderness!
Written by Eugene O'Neill 
Directed by Kevin Hagan
Athenaeum Theatre, 2936 N. Southport (map)
thru Sept 2   |   tickets: $28   |   more info
  
Check for half-price tickets 
  
  
   Read entire review
  
---
A warm and pleasant trip back in time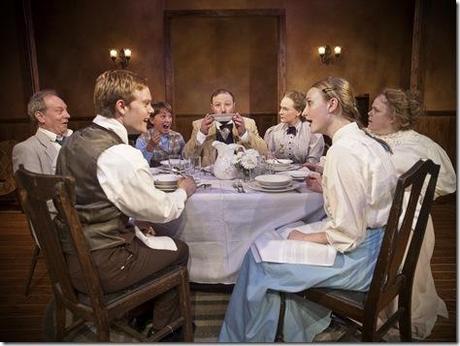 Eclipse Theatre presents
Ah Wilderness!
Review by Lauren Whalen 
While theatre continues to evolve in new and exciting ways, the art form is nothing without its roots. Eclipse Theatre Company takes this to heart, focusing each season on one playwright who laid the groundwork for what's to come. The company honors Eugene O'Neill this year, most recently with Ah, Wilderness!, O'Neill's only comedy. Though bumpy at times, the lighthearted romp is an all-American treat, and director Kevin Hagan highlights O'Neill's trademark existential melancholy while honoring the inherent folly of youth.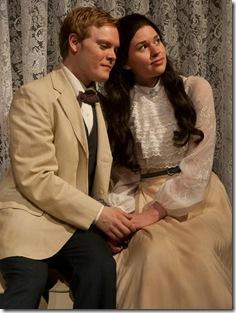 It's Fourth of July 1906, and the Millers, a boisterous Connecticut family, welcome the revelry with open arms. Well, except for Richard (
Alex Weisman
), a soon-to-be Yale freshman whose attempts to woo Muriel McComber (
Fiona Robert
) are met with resistance from Muriel's strict father (
Jerry Bloom
). Desolate and angst-ridden, Richard ignores his family's ribbing and seeks indulgence in literature, alcohol and loose women – with hilariously misguided results.
Hagan (who replaced ensemble member Steve Scott as director) has divided the three-act play into two halves, and the result is a little disconnected. Though I appreciate Hagan's cognizance of modern audiences (who may not be used to two intermissions) and honesty in laying out the exact acts and scenes in the program, it's still disconcerting when each act has a very clear break. The snarky bar girl Belle has much comic potential, but Margaret Grace explores none of it. As Richard's would-be love Muriel, Fiona Robert stumbles over her dialogue and appears generally uncomfortable (in her defense, the actress is cursed with a terrible wig). Finally, Eclipse managing director and ensemble member Kevin Scott seems very out of place as Miller family friend and resident lush Sid Davis.
Significant flaws aside, there's a lot to love about this Ah, Wilderness!  Hagan has a deft directing hand, acknowledging the otherwise jolly script's darker moments: the doomed relationship of alcoholic Sid and spinster Lily (Rebecca Bloom, a dead ringer for Meryl Streep), the utter seriousness with which Richard approaches everything and the sense of acute loneliness he feels when no one appears to understand. (Name an individual who didn't experience the latter as a teenager.) The Miller clan is extremely well-cast, resembling a real family in physicality and ease with one another, and each actor (even Ben Parkhill as preteen Tommy) brings a distinct and strong sense of humor. Though it's not a big role, Rae Gray holds her own as witty only daughter Mildred and Nick Vidal is delightfully pompous as snobby oldest brother Arthur. Cheri Chenowith's matriarch is appropriately softhearted and worrisome, and Brian Parry shines as fun-loving father Nat.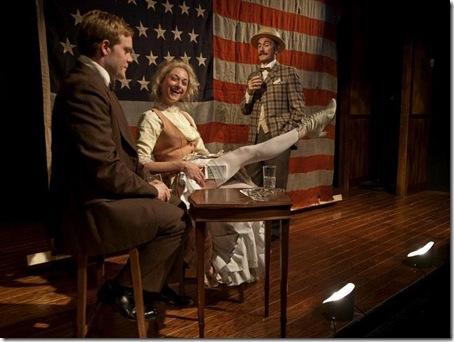 However, Weisman is the unquestionable star of the piece. His Richard isn't played for laughs, but in the grave manner unique to seventeen-year-olds who love to read, think a bit a too much and take themselves very, very seriously. As a result, Richard is both funny and relatable: when he drinks too much or fumbles with a girl, the audience giggles and winces, recalling awkward stages of yore and thanking their stars those days are over.
You don't see plays like Ah, Wilderness! much anymore: comedies that take time and care to introduce a plethora of complex characters. Eclipse Theatre Company's production is imperfect, but well-designed and warmhearted, invoking a lovely nostalgia even in those who weren't alive at the turn of the century. Kudos to this company for keeping O'Neill's work, and his ironic humor, alive.
Rating: ★★★
Ah Wilderness continues through September 2nd at Athenaeum Theatre, 2936 N. Southport (map), with performances Thursdays-Saturdays at 7:30pm, Sundays 2pm.  Tickets are $28 ($23 for seniors and groups, $18 for students), and are available by phone (773-935-6875) or online through OvationTix.com (check for half-price tickets at Goldstar.com). More information at EclipseTheatre.com.  (Running time: 2 hours 30 minutes, includes an intermission)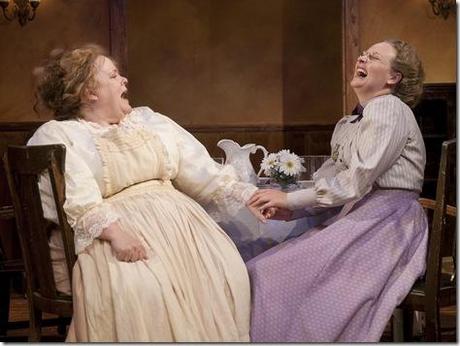 Photos by Scott Cooper 
---
artists
cast
Ben Parkhill (Tommy); Rae Gray (Mildred); Nick Vidal (Arthur); Cheri Chenoweth (Essie Miller); Rebecca Prescott (Lily Miller); Brian Parry (Nat Miller); Kevin Scott (Sid Davis); Alex Weisman (Richard); Jerry Bloom (David McComber, Salesman); Becca Drew Emmerich (Nora); Tony Rossi (Wint, Bartender); Margaret Grace (Belle); Fiona Robert (Muriel McComber)
behind the scenes
Kevin Hagan (director, set design); Nathaniel Swift (artistic director, co-producer); Kevin Scott (managing director, co-producer); Rachel Lambert (costumes); Mike Winkelman (lighting); Ian Sturges Milliken (sound design); Sara Carranza (stage manager); Rachael Gass (asst. stage manager); Heather Timmerman (props); Sarah Moeller (dramaturg); Scott Cooper (photos)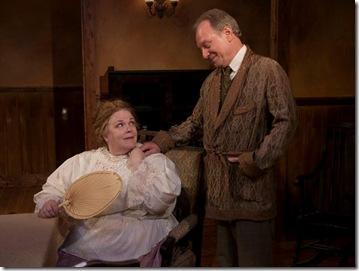 12-0744