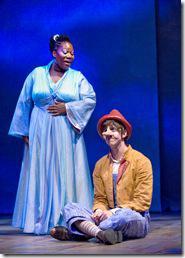 Pinocchio
Book by Brian Hill
Music/Lyrics/Music Directing by Neil Bartram 
Directed by Rachel Rockwell
at Navy Pier, 800 E. Grand Ave. (map)
thru August 28  | tickets: $18-$23  | more info
Check for half-price tickets
   Read entire review
---
Genuine, flawless family fun!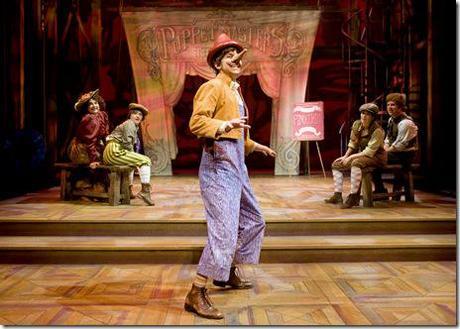 Chicago Shakespeare Theater presents
The Adventures of Pinocchio
Review by Katy Walsh 
Choices!  Life is about making choices.  Whether you are one day old, four years old, thirteen years old or seventy-two years old, everyday is an opportunity to choose a new adventure.  Chicago Shakespeare Theater presents the world premiere family musical The Adventures of Pinocchio.  Using the tree from his wife's grave, a lonely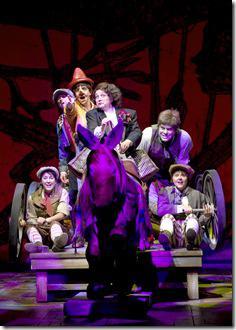 woodcarver crafts a puppet son.  Pinocchio arrives into the world ready to be a real boy!  Choosing to disobey his father, Pinocchio makes a series of bad decisions that lead him to ongoing misfortune.  Luckily for him, he is never far from a mysterious blue lady watching over him.  Luckily for the audience, Pinocchio's mishaps are a sequence of high-spirited, comical antics. 
The Adventures of Pinocchio
is not some wooden imitation, it's genuine… flawless, family fun!
The beloved classic is actualized on stage as a tightly, woven story.  A storyteller begins and ends the tale of the puppet with boy-envy.  Real and simulated puppets are imaginatively used to add visual depth.  The creative team of Neil Bartram (music and lyrics) and Brian Hill (book) make it a lively and colorful adventure.  Under the direction and choreography of Rachel Rockwell, the multi-talented cast has fun with this show!  (Well, all except Don Forston, who gives a heart-tugging performance as the loving but worried father and husband, Geppetto)  In the lead, Skyler Adams (Pinocchio) is pure animated mischief.  A very tall Adams is boyishly charming as he tries to make the right choices.   In short but outstanding scenes, Derek Hasenstab (Fox) and Heidi Kettenring (Cat) are a hilarious comedy duo.  Hasenstab and Kettenring punctuate timing and diction for continuous laughs.  Throughout the show, Melody Betts (storyteller) radiates magic.  Betts sings beautifully to Pinocchio about life lessons.  Later with an exasperated facial expression, Betts cracks the audience up!  Rockwell pulls the strings and the entire ensemble masterfully comes to life on stage.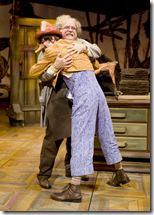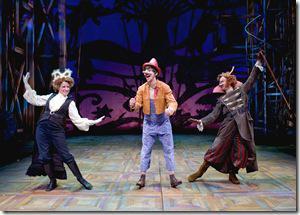 Adding to the visual, Scenic Designer Kevin Depinet has produced a dazzling, ever-changing set.  For the song "Terra Di Ragazzi," multi-colored lights flash and beach balls bounce for a festive, carnival vibe.  The merriment continues throughout the family-friendly show!  Although the witty details captivated me, my four year old niece had some trouble following the storyline.  Initially engrossed in the performance, she got antsy in the second half and even tried to initiate the finale by clapping. My twelve year old nephew was thoroughly entertained and enjoyed the quick-witted fox and cat banter best.  I'm not lying, because I don't want my nose to get any bigger, I would highly recommend this show for EVERYBODY over 5 years old!  There are plenty of choices this summer for entertainment, choose The Adventures of Pinocchio! 
Rating: ★★★★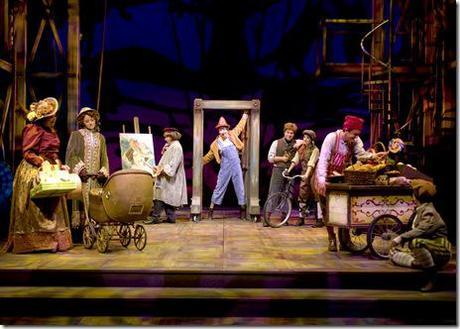 Chicago Shakespeare Theate's The Adventures of Pinocchio continues through August 28th at Navy Pier, 800 E. Grand Avenue (map), with performances Wednesdays at 11am and Thursdays-Sundays at 11am and 2pm. Tickets are $18-$23, and can be purchased from the theater's website. More information at ChicagoShakes.com.   Running Time: Seventy-five minutes with no intermission
All photos by Michael Brosilow 
---
artists
cast
Skyler Adams( Pinocchio), Melody Betts (Storyteller), Don Forston (Geppetto), Derek Hasenstab (Fox), Heidi Kettenring, Ericka Mac (Cat), Liz Pazik (Driver), Ron Rains (Puppet Master), Dylan Saunders (Lampwick), Hannah Sielatycki (Mary), Katie Spelman (Annette)
behind the scenes
Rachel Rockwell (director); Neil Bartram (music, lyrics, music direction); Brian Hill (book); Kevin Depinet (sets); Rachel Anne Healy (costumes); Jesse Klug (lighting); James Savage (sound); Meredith Miller (puppet design and direction); Melissa Veal (wigs, make-up); Deborah Acker (stage manager); Sheila Schmidt, Angela M. Adams (asst. stage managers); Michael Brosilow (photos)
Pinocchio Cast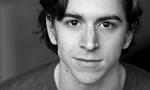 Skyler Adams
Pinocchio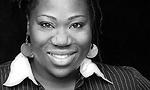 Melody Betts
Storyteller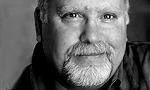 Don Forston
Geppetto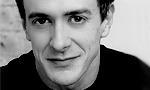 Derek Hasenstab
Fox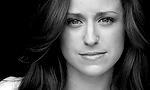 Heidi Kettenring
Cat (through July 31)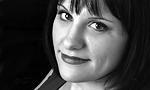 Ericka Mac
Cat (beginning August 3)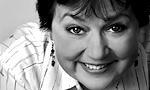 Liz Pazik
Driver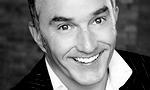 Ron Rains
Puppet Master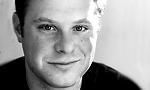 Dylan Saunders
Lampwick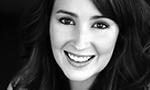 Hannah Sielatycki
Mary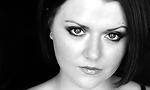 Katie Spelman
Annette
3 WORDS: Making the choice to visit from Indiana despite the heat wave, my family describes it with Matthew (12): 'Broadway the best', Grace (4): 'Awesome!' and mom (72) 'ever so clever.'