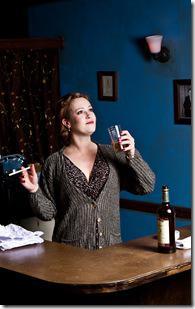 Absolute Hell 
Written by Rodney Ackland  
Directed by Sheldon Patinkin
The Gift Theatre, 4802 N. Milwaukee (map)
thru April 29  |  tickets: $22-$32   |  more info
  
Check for half-price tickets 
  
  
   Read entire review
  
---
'Absolute' dream of an ensemble

The Gift Theatre presents
Absolute Hell
Review by Lauren Whalen 
The Gift Theatre has long been a force in the Chicago scene, boasting many heavy hitters with a lust for work that challenge actors and audiences alike. And Absolute Hell is the grand slam of challenges. A large ensemble piece nearly three hours in length, with countless storylines, themes and conflicts, Absolute Hell is not so much a play as it is an endurance test. And The Gift not only passes with flying colors, it leaves spectators thoughtful, refreshed and energized at live theatre's endless possibilities.
London, 1945. The Germans have recently surrendered, but World War II continues in the Pacific and overshadows what should be a victorious atmosphere. On the city's West End, a private club called La Vie En Rose is a gathering place for a host of lost souls who seek to drink, dance and quip their troubles away. And those troubles are many. Even the well-endowed proprietress Christine (Lynda Newton) can't get through the evening without copious amounts of alcohol and chasing after younger men, leaving her beleaguered assistant Doris (Justine Serino) to run the show. Outside the confines of the club, a frumpy religious fanatic (Maria Stephens) loudly preaches, while an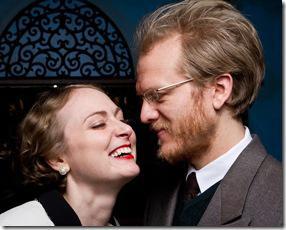 important election looms on the horizon – but the real drama is always within.
Absolute Hell enjoys its U.S. premiere with The Gift, after a rather checkered past: the play flopped badly in the early 1950's, only produced successfully in 1988 and presented in 1991 with the BBC and starring Bill Nighy and Dame Judi Dench. Indeed, the script isn't entirely perfect. The show is about half an hour too long, and a few characters and plotlines could easily be cut without sacrificing integrity. Absolute Hell is not just a play about another era, it's a play of another era, and at times the script shows its meandering age.
Thankfully, the ace cast and crew help time pass quickly and enjoyably. Absolute Hell's design team deserve the utmost kudos for transforming the Gift's small storefront space into a crumbling 1940's nightclub, complete with cracked walls, fading blue paint, antique photographs and a lovely wood bar. Scott Pillsbury supplements Ian Zywica's set design and Rita Thornton's props with lighting in festive pink and desultory fluorescent, and era-appropriate music with record scratches. Kate Murphy's luscious costumes are period-accurate and pitch-perfect to the last high-heeled shoe. Absolute Hell doesn't set one mood, it sets several and the design team displays a deep understanding of that.
At its core, Absolute Hell is an actor's dream: with so many characters comes motivation, nuance and plenty of action. Director and illustrious industry presence Sheldon Patinkin guides his ensemble with a sure hand – not one miscast actor in the bunch. Even among such a qualified group, there are several standouts: veteran stage and screen actress Marssie Mencotti brings a sourpuss vitality and a memorable lisp to the small but significant role of an elderly critic. Resembling a young Alan Cumming, Kurt Conroyd is a delightfully snaky and fey subordinate, and newcomer Joanne Dubach delightfully snarky as a bored and spoiled socialite. Serino cuts through the patrons' fakery with Irish sensibility and Patrick De Nicola's American soldier is all boyish charm. As a bohemian long on bonhomie but short on memory, Alexandra Main nearly steals every scene, drifting and humming in long skirts and funky headwear.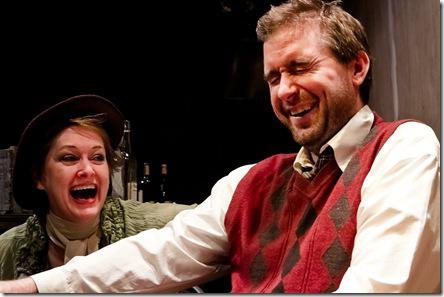 The most accolades, however, go to Gift ensemble members Brittany Burch, Lynda Newton and Gift artistic director Michael Patrick Thornton. As beautiful party girl Elizabeth Collier, Burch sweeps about in long silk dresses and strings of pearls with an easy laugh and practiced gaiety – only to severely crack when a dark secret from her past comes to light. Newton spirals downward from jolly barmaid to desperate attention-monger with the utmost, heartbreaking believability. And in the role of Hugh, a washed-up writer whose long-term closeted lover has recently abandoned him, Thornton – a captivating performer who single-handedly made last summer's Middletown bearable – alternates between fighting his sad fate and shrugging off his considerable troubles with a smirk, a joke and yet another drink.
It's a rare treat to see a true ensemble piece with strong character development and intelligent dialogue, and rarer to see one as superb as Absolute Hell. Experienced, enthusiastic actors chew beautiful scenery as they work through an almost-perfect script with the greatest of ease. These are the best nights of theater. These are the gifts.
Rating: ★★★½
Absolute Hell continues through April 29th at The Gift Theatre, 4802 N. Milwaukee   (map), with performances Thursdays through Saturdays at 7:30pm, Sundays 2:30pm.  Tickets are $22-$32, and are available by phone (773-283-7071) or online at King-Cart.com (check for half-price tickets at Goldstar.com). More information at TheGiftTheatre.org.  (Running time: 3 hours, which includes one 15-minute intermission)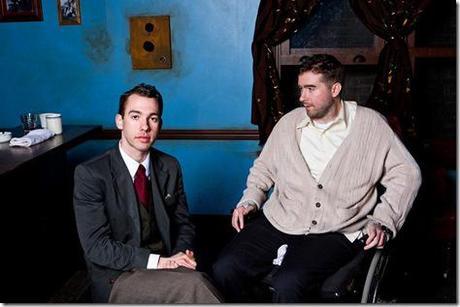 ---