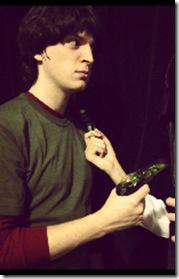 Tech Star of Wonder: 
   The Worst Noel! 
Written by C.J. Tuor; Story by Leslie Nesbit
Directed by Leslie Nesbit
at CI Theater, 1422 W. Irving Park (map)
thru Jan 14  |  tickets: $12 (BYOB)  |  more info
  
Check for half-price tickets 
  
  
   Read entire review
  
---
Sci-fi meets Christmas in this pun-filled fast-moving spoof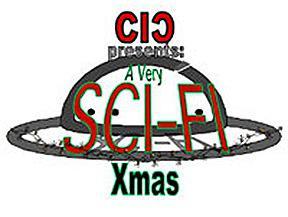 Chemically Imbalanced Comedy and Very Sci-Fi Christmas presents
Tech Star of Wonder: The Worst Noel!
Review by J.H. Palmer
Tech-Star of Wonder, Episode 27: The Worst Noel is a partly improvised, partly scripted sci-fi holiday spoof, influenced by an amalgam of TV shows like: "BattleStar Galactica", "Doctor Who", and "Star Trek" mixed with a healthy dose of material borrowed from classic holiday films and TV shows like: "A Christmas Story," "How the Grinch Stole Christmas", and "It's a Wonderful Life". Pun-filled and low-tech, the script is peppered with phrases like "oh my clause," "clause forsaken", and "you're pretty hot snowflakes, but you're still no Rudolph."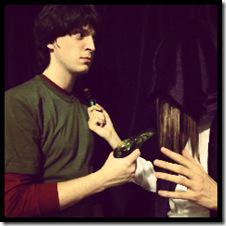 The audience sits close to the action in this one-act play; the border between onstage and offstage is blurred as the actors make entrances and exits using the main stage door. The fare is light, and the atmosphere festive. This is a BYOB show, and has the party-like energy of a school production.
As Captain, Clayton Faits brings a hint of Kyle McLaughlin to his performance, acting as the straight man to the slapstick performance of Mickey Bravo as Roger, and Lina Bunte's commanding presence as Victoria. Meegan Kelleher plays a robot with an enthusiasm for Christmas in costuming and makeup that put me in the mind of "The Jetsons", and Lauran Rapciak plays Myra, a space princess with hints of Leia who tries to downplay her royal ancestry. C.J. Tuor's role is the strongest, and the most catalytic. Tuor plays Mr. Black (whose full name is Mr. Jesus Black), the former friend and current arch enemy of the "Santa ship" who has taken it upon himself to destroy the space vehicle in a display of disdain for Christmas. The reason he hates this particular holiday so much is that it falls on his birthday, and as a result he only gets presents once a year.
There are numerous references to "the sleigh ship," which has the unfortunate tendency to sound like "the slave ship," – to my embittered ears anyway. The puns are fast and furious, as is the action and the storyline; in 45 brisk minutes the story opens, reaches its point of conflict, and finds resolution in a mashup of Whovile and Ewok dancing. With moments of cringe-inducing puns, Shakespearean acting this is not. But fans of improv comedy and holiday spoofs may enjoy this piece of theater. Anyone looking for something low-key that doesn't take itself too seriously, or a light opener to a night out on the town, could do worse than to spend 45 minutes taking in this imaginative spoof on the holiday season. And don't forget the booze!
Rating: ★★½
A Very Sci-fi Christmas continues through January 14th at Chemically Imbalanced Theater, 1422 W. Irving Park (map), with performances Fridays and Saturdays at 8pm.  Tickets are $12, and are available online (www.brownpapertickets.com) or by phone at 800-838-3006. More information at CIComedy.com.  (Running time: 45 minutes with no intermission)
---
artists