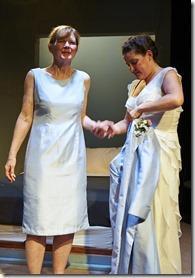 A Small Fire
Written by Adam Bock  
Directed by Joanie Schultz  
at Steep Theatre, 1115 W. Berwyn (map)
thru Aug 16  |  tickets: $20-$22   |  more info
  
Check for half-price tickets 
  
  
   Read review
  
---
A tragic illness stokes the flames of empathy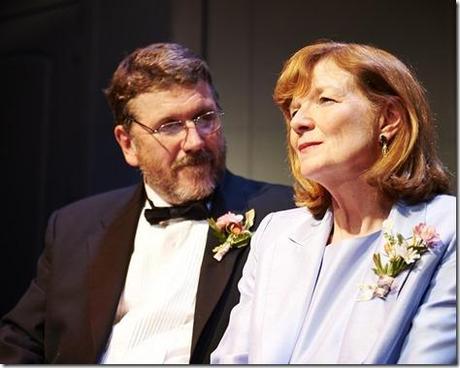 Steep Theatre presents
A Small Fire
Review by Keith Glab
Two years ago, playwright Adam Bock and director Joanie Schultz collaborated to give The Receptionist its Midwest debut at Steep Theatre. The two artists are back at it again; Bock's A Small Fire makes its Chicago premiere in the most intimately-staged Steep Theatre production I've witnessed.
Emily Bridges (Melissa Riemer) has a somewhat abrasive personality. She is a cut-throat boss, a domineering wife, and she insults her son-in-law. When a mysterious illness begins to gradually strip her of her five senses, her familial relationships get re-defined. Emily's rough edges soften as she loses her independence, while her husband and daughter find themselves overlooking her faults.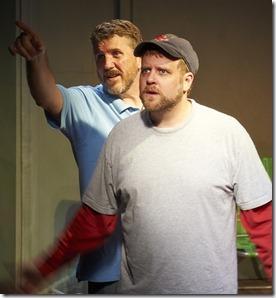 Reimer sets the stage by establishing her character quickly – so quickly, in fact, that Bock's early character detail scenes become tedious since we already get the picture. Her gradual personality changes occur with suitable subtlely, and she portrays dealing with loss authentically. It is
Robert Koon
who really wows the audience with his portrayal of Emily's husband John, however. Koon runs the gamut of emotions in playing the devoted husband of a woman who isn't easy to live with even prior to her affliction. We see frustration tempered with patience and anger tempered with love. One scene in which he tells his daughter he can't live without his wife and another in which he describes his daughter's wedding to the blind Emily stand out as particularly well-done.
Jenny also has a complicated relationship with her mother, and Julia Siple is able to realize this love/hate dynamic with authenticity. James Allen rounds out the cast as Emily's unfalteringly loyal work friend who helps to put the situation in perspective for John.
A Small Fire puts life in perspective for us in the audience as well. In witnessing a believable portrayal of a family riddled with loss, we become more appreciative of what we have. Bock's narrative ends on a similar message of hope– somewhat open-ended yet providing more closure than The Receptionist. This episodic piece feels a little disjointed at times, but the solid story is ably performed at a brisk pace. The audience feels empathy with the characters and the situations presented engender deep thought. This production will touch you, move you, and entertain you, as well.
Rating: ★★★
A Small Fire continues through August 16th at Steep Theatre, 1115 W. Berwyn (map), with performances Thursdays-Saturdays at 8pm, Sundays 3pm.  Tickets are $20-$22, and are available by phone (866-811-4111) or online through OvationTix.com (check for half-price tickets at Goldstar.com). More information at SteepTheatre.com.  (Running time: 80 minutes, no intermission)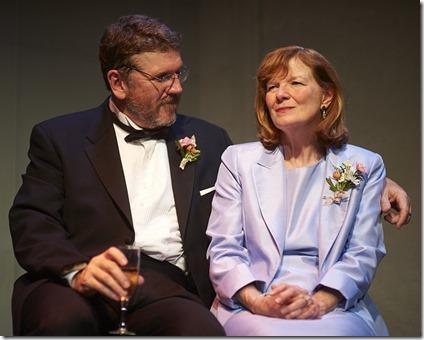 Photos by Lee Miller
---
artists
cast
James Allen (Billy Fontaine), Robert Koon (John Bridges), Melissa Riemer (Emily Bridges), Julia Siple (Jenny Bridges)
behind the scenes
Joanie Schultz (director), Julia Siple (production manager), Ellen Willett (stage manager), Chelsea M. Warren (set design), Heather Gilbert (lighting design), Alison Siple (costume deign), Thomas Dixon (sound design, original music), Andrew Lex (props design), Julie Allen (technical director), Arianna Soloway (asst. director), Kristin Leahey (dramaturg), Lee Miller (photos)
14-0707