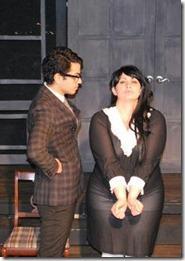 A Shot in the Dark 
Written by Harry Kurnitz
Adapted from L'Idiote by Marcel Archard
Directed by Kris Kontour
at The Den Theatre, 1333 N. Milwaukee (map)
thru March 31  |  tickets: $22   |  more info
  
Check for half-price tickets 
  
  
   Read entire review 
---
Funny. French. Farce. What else do you need to know?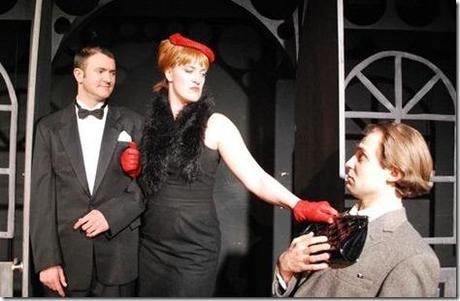 Leftend Productions presents
A Shot in the Dark
Review by Leah Zeldes 
A promising new theater company, Leftend Productions debuts with Harry Kurnitz's 1961 farce, A Shot in the Dark.  Adorable, dimpled Kari Warfield gives a delightful performance as the provocative parlor maid, Josefa Lantenany, accused of murdering her abusive Spanish lover.
The comic mystery, which was made into a film with Peter Sellers in 1964, is based on L'Idiote by French playwright Marcel Archard, so it's full of humorous French tropes.
On his first case in Paris, examining magistrate Paul Sevigne, earnestly played by Omer Abbas Salem, is under pressure to conclude the case quickly due to the influence of Josefa's wealthy employers (Lyn Scott and Rob Lynch). Everyone from his clerk (Evan Henderson) to his boss (Justin Vidovic) to his extravagant young wife (Annie Hogan) urges him to charge Josefa, the obvious perpetrator, and push her to confess. But Sevigne comes to believe she is innocent.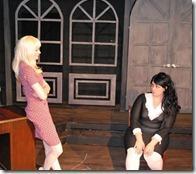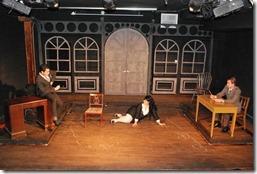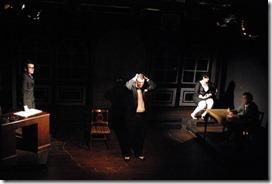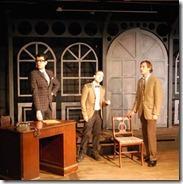 The interplay between Salem and Warfield, as the magistrate conducts his interrogation, makes up most of this three-act play, and Warfield's ebulliently expressive explanations are hilarious as her character tries to justify how she came to be unconscious and naked next to the corpse with the murder weapon in her hand. Her highly physical description of a Spanish bullfight is sidesplitting.
Salem' plays the straight man well, with Henderson's efforts at remaining deadpan a fine back-up. The cast mostly holds up to the French accents well, although Lynch comes off as more Texan than Parisian.
Director Kris Kontour gets the pacing right. As sound designer, Warfield chose charming incidental music, including some of Henry Mancini's better numbers, which enhances the show. This Wyoming native is worth watching, as is this welcome addition to Chicago's theater companies, which promises more comedy in the future.
Rating: ★★★
A Shot in the Dark continues through March 31st at The Den Theatre, 1333 N. Milwaukee (map), with performances Fridays-Sundays at 7:30pm.  Tickets are $22, and are available online through BrownPaperTickets.com (check for half-price tickets at Goldstar.com). More information on their Facebook page.  (Running time: 2 hours 30 minutes, includes two intermission. Note: performance space lacks wheelchair access).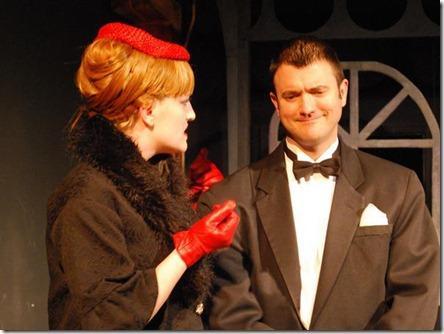 ---
artists
cast
Omer Abbas Salem, Evan Henderson, Justin Vidovic, Annie Hogan, Kari Warfield, Lyn Scott, Rob Lynch.
behind the scenes
Kris Kontour (director); Kari Warfield (sound designer); Krista Ulbricht (stage manager); Blake Paine (scenic designer); Aris Bordo (costume designer); Johnny Briggs (hair and make-up).
13-0301