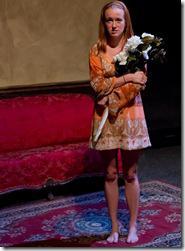 A Scent of Flowers 
Written by James Saunders  
Directed by Matthew Reeder
at The Building Stage, 412 N. Carpenter (map)
thru Aug 25  |  tickets: $22-$25   |  more info
  
Check for half-price tickets 
  
  
   Read entire review
  
---
'Flowers' haunts the viewer long after it's over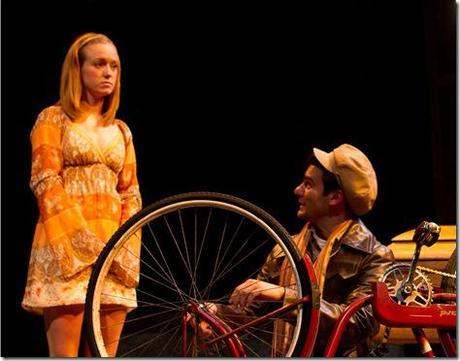 Backstage Theatre Company presents
A Scent of Flowers
Review by Lawrence Bommer
It's wonderful when risk gets rewarded, when an enterprising artistic director's faith in an unknown play by a forgotten writer pays off in every scene. Matthew Reeder fell in love with the underappreciated British playwright James Saunders' 1965 three-act A Scent of Flowers, and it's requited: You feel his devotion returned in almost all the 140 minutes of BackStage Theatre Company's season ender, a true "return engagement."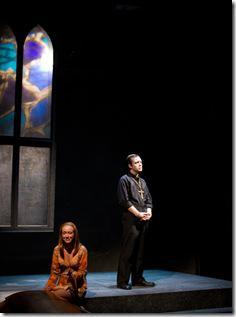 Lyrical to the point of floridity and evolving from addresses to the audience to intimate confessionals (signaled by dramatic lighting shifts), the play moves from a funeral parlor to a church to a gravesite. At the same time it moves backwards to show us a doomed young girl named Zoe (the ravishing
Jess Berry
). Did she ever have a chance to avoid the endgame that the play relates? That doubt is never resolved; reason enough why this play may haunt its watchers long after it's over.
All we're sure of at first is that funeral director Scrivens (Josh Hambrick) wants her obsequies to be pure enough to give Zoe a kind of retroactive righteousness. With each member receiving an elaborately novelistic introduction, Zoe's family all but defines her by what they're not. She comes to life by process of elimination: We gradually grasp how much she differs from how they see her.
Her stepbrother Godfrey (Patrick DeNicola) is an engineer who believes that things improve on people: He knows how they work and, even better, controls them too: His blunt talk, unfortunately, conceals no real affection for troubled Zoe. (Sometimes mean means mean.) Pushing around a shrunken caricature of his aged mother, Zoe's exuberant uncle Edgar (Michael Pacas) tells her fairy tales that transport her to unimagined bliss. But his peculiar interest in her is far from fictional. Her father David (Ron Butts) is a caricature of correctness in search of a heart, while her imperious stepmother (Mary Ann Bowman, more brooding than her mourning gown) demands that Zoe grow up as calculatingly cold as she is. She dismisses Zoe's every protestation of passion as insignificant drivel, without cause or effect.
Only two clown-like grave diggers (Eric Paskey and John Stutzman), who never knew Zoe, offer her a posthumous kindness, warmth she never knew when she was warm.
When Zoe falls haplessly for a married lecturer at her cathedral school, her family utterly fails her, offering the confused girl nothing but ridicule or denunciation, as if her love was automatically corrupted by its object. But in a gorgeous love scene with this unseen partner we see Zoe becoming herself by adoring him. Take that away and this pre-feminist anti-heroine has nothing to fall back on but desperate measures. "Be kind to me!," she urges Godfrey, but we know such hope is folly.
By process of elimination Zoe is driven into the coffin that presides over each setting. In the huge (but, unfortunately, not air-conditioned) Building Stage, Zoe seems even more lost: The action literally backs up, retreating from the bedraggled funeral parlor to a darkened church sanctuary, then to a tomb where Zoe discovers how little impact she had on those who barely mourn her.
Given a script that ranges from set speeches packed with Proustian disquisitions to a hilarious defense of bicyclists against motorists hired to kill them by the auto industry, the ensemble's commitment to Saunders' dazzle amounts to artistry on fire. This theater is not near any beaten theater paths and the overhead fans only stir the heat, but, well, the play's the thing. This one's lost nothing in nearly half a century.
Rating: ★★★★
A Scent of Flowers continues through August 25th at The Building Stage, 412 N. Carpenter (map), with performances Thursdays-Saturdays at 7:30pm, Sundays 3pm.  Tickets are $22-$25, and are available online through Vendini.com (check for half-price tickets @ Goldstar.com). More information at BackstageTheatreCompany.org.  (Running time: 2 hours 20 minutes, includes an intermission)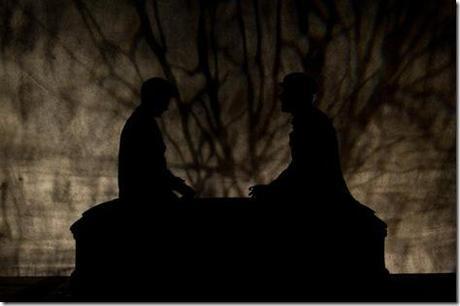 Photos by Heath Hays
---