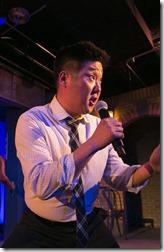 A Red Line
Runs Through It
Diverse cast helps us laugh at life in the Windy City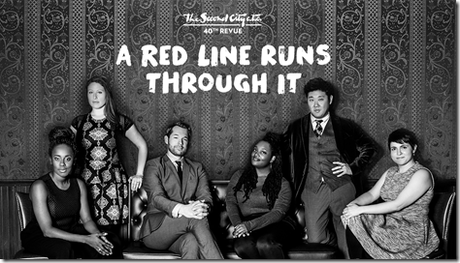 Just as the title suggests, A Red Line Runs Through It is a commentary on life in Chicago specifically, with a definite bias toward northside-near-the-lakefront life - and contemporary urban life in general, skewed toward that of the under 35 crowd. The take on life among these segments is that we're anxious - and more than a little angry. As a member of the over-35 crowd, some of the cultural references flew past me, but as a resident of the north side near the lake there was much that resonated. We're angry at our crumbling infrastructure (the Red Line el in particular), our politicians (Mayor Emmanuel very much in particularly) and anxious about our economic status.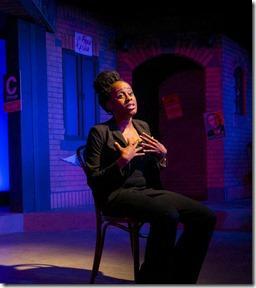 The cast of six is, in sketch comedy tradition, an assemblage of urban types - two African-American women, two white women and one Asian and one white guy - the openly gay
Peter Kim
and the other the openly straight but willing to do drag
Scott Morehead
. According to an article published in the Columbia College
Chronicle
, this show marks the first time since1988 that a Second City cast has included more women than men and that Kim is the first gay Asian male performer to be cast in a residential show at the theatre. This diversity opens up the material to a wide range of topics and characters that look like Chicagoans. After an opening bit in which the cast plays people stuck on a broken down el train - and is suddenly haunted by people in masks resembling those of the activist group Anonymous,
Lisa Beasley
and
Aasia LaShay Bullock
give us a witty scene between two African-American neighbors commenting on their tastes in men and interacting with a trying-to-be-black-hip cop played by Morehead. It'll resonate more for black women than non-blacks, I'd guess, but it's funny regardless. The entire cast takes part in a rant against Rahm that veers from a "Rahm-a-lahm-a-ding-dong" doo-wop through rap and into a mock hymn with the refrain "Gloria Emmanuel" that fully rips the Mayor over the Laquan McDonald video case. There's also a rap battle between President Obama and Mitch O' Connell.
The very talented Kim plays both straight and gay and Korean - doing a great bit in which Kim Jong-Un plays basketball to a quite predictable outcome. In straight mode, Kim is an economically challenged young guy trying to seduce a girl he just met after bringing her back to his $400 a month, 400 square foot studio near the Wilson Avenue el stop. Their moves from the "living room" to the "kitchen" and the "bedroom" are measured in inches as he plies her with music from his free trial subscription to Spotify or a video streamed from his father's Netflix subscription. In gay mode for another sketch, Kim takes part in a dish session over exes with some gal-pals at The Hangge-Uppe bar in the Rush Street area (I had no idea that place was still in business) and quite hilariously, introduces a straight guy played by Morehead to drag.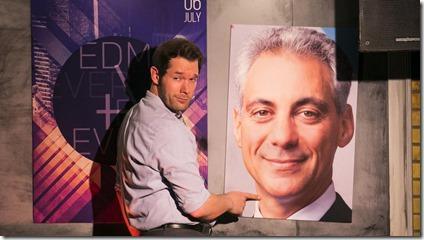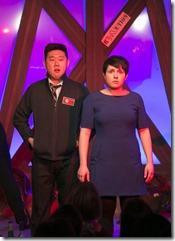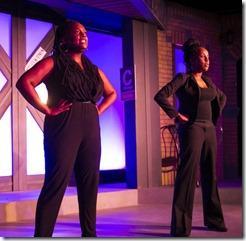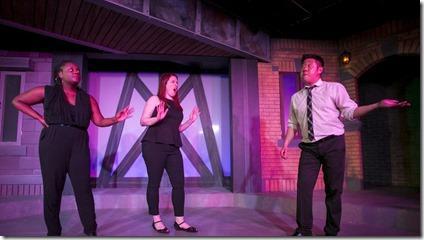 A Red Line Runs Through It has a good share of improv along with the scripted material devised by the cast. A fake local TV newscast commercial smartly parodying the slick over-researched and tightly formatted news shows and the predictable advertising techniques used to promote them, takes audience suggestions of different cities so the cast can replay the skit in a different locale. Thus, the bit which was first performed as a faux Chicago promo is repeated as it might be in done in Nashville, Tennessee or Berlin, Germany. One of the most effective improv bits had Morehead ask the audience what really bothers them most about life in Chicago and the cast improvised a full song and production number about the answer. The audience suggestion was crazy drivers. (The cast might possibly have seen that coming). And on the topic of crazy drivers, another segment had Julie Marchiano and Katie Klein improvise the conversation their characters might have had just prior to an auto collision in which they both lost their memory - based on suggestions of their names and what they hit.
The chance to gather in a comedy club with others who share these fears and anxieties, to let us know we're not alone in what for so many of us is a love-hate relationship with the Windy City, is a specialty of The Second City. In this spring of 2016, it's a particularly welcome comfort.
A Red Line Runs Through It is in an open ended run at e.t.c Theater, 1608 N. Wells (map), with performances Wednesdays 8pm, Thursdays 3pm & 8pm, Fridays 8pm, Saturdays 3pm & 8pm, Sundays 3pm. Tickets start at $23, and are available by phone (312-337-3992) or online through their website (check for half-price tickets at Goldstar.com ). More info at SecondCity.com. (Running time: 2 hours, includes an intermission)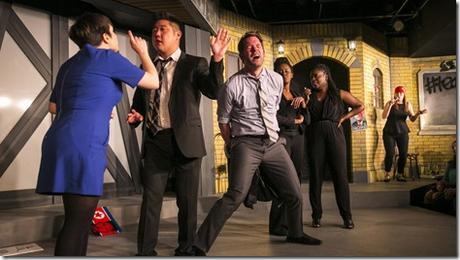 behind the scenes
(director), (musical direction, original music, sound design), (stage manager), Tabetha Wells (assistant to the director), Bob Knuth (set design), Kyle Anderson (lighting design), Nick Gage (additional music), Laura Deming (performer on cello recordings), Rachel S. Parent (stylist), Andrew Alexander (executive producer), Tyler Alexander (creative director), Alison Riley (producer), Jeremy Smith (associate producer), Robin Hammond (publicity, communications), Jana Liles (marketing), Todd Rosenberg (photos)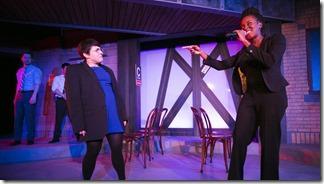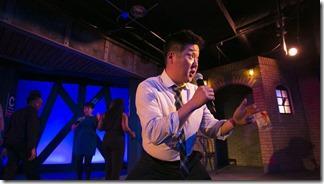 Tags: 16-0460, Aasia LaShay Bullock, Alison Riley, Andrew Alexander, Bob Knuth, Chicago improv, Jana Liles, Jeremy Smith, Jesse Case, John Olson, Julie Marchiano, Katie Klein, Kyle Anderson, Laura Deming, Laura Hum, Lisa Beasley, Matt Hovde, Nick Gage, Peter Kim, Piper's Alley, Rachel S. Parent, Robin Hammond, Scott Morehead, Second City, Second City e.t.c, Tabetha Wells, The Second City, Todd Rosenberg, Tyler Alexander