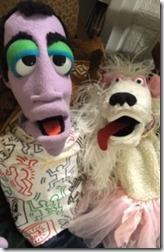 Written and Directed by Tristan Tom
Pride Arts Center, 4139 N. Broadway
thru Aug 27 | pay-what-you-can | more info


Sweet, friendly and lovingly positive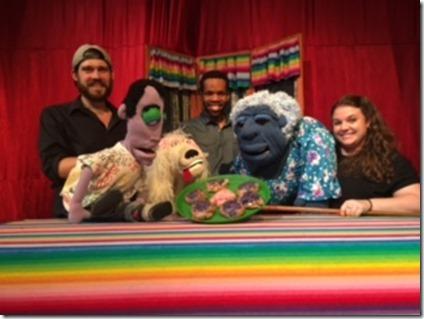 Review by Lauren Whalen
Acceptance and understanding start early. Pride Arts Center has taken this to heart, with their recent new series of plays for young audiences. Their most recent, , was a play for ages 10 and up that encouraged kids to see the world "through rainbow-colored lenses," according to the website. Pride Arts Center's newest children's show is a rainbow take on the traditional story hour, aiming for younger audiences with its messages of love and recognition. Incorporating puppets, audience interaction and carefully chosen books, A Puppet Playdate With Grandma D is a sweet multi-episodic storytime teaching young children the importance of being who they are and showing kindness to others.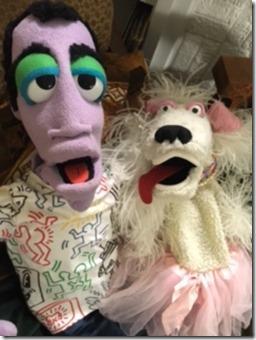 Audience members can sit in the traditional seats of Pride Arts Center's Broadway theater, or (if they are smaller) can perch on bright yellow mats on the floor, to get an up close and personal look at the action. We meet Grandma Dorothy, or Grandma D (
Katharine Jordan
), a retired inventor with vivid blue skin who just came up with the best invention of all: a book-making machine. Together with her fabulous, tutu-clad dog Fifi Lafontaine (
Khloe Janel
), her grandson Brandon (
Benjamin Ponce
) and her human caregiver Mr. T (
Tristan Tom
), Grandma D entices chosen audience members to pick objects out of her magic bag. Mr. T puts them in the book-making machine and poof! Out comes a story.
This weekend's children's book (over the show's four weekends, there will be a different book for each so audience members can attend multiple times) was I Am Jazz, the story of transgender teen Jazz Jennings, one of the youngest publicly documented people to be diagnosed as gender dysphoric (at age four). When Jazz was five, her parents decided to support her gender identity. Jazz was interviewed by Barbara Walters in 2007, when she was only six years old. Jazz and her family were the subject of a 2011 documentary, "I Am Jazz: A Family in Transition." In 2015, TLC launched the reality show "I Am Jazz," about Jazz and the Jennings family. The children's book version of Jazz's story is sweet and colorful, never talking down to its young audience, but telling Jazz's story in a positive, hopeful way. Read by the puppets and Mr. T (who also shows the pictures to the audience), I Am Jazz explains what it means to be transgender in a binary world.
The actors and puppeteers of A Puppet Playdate With Grandma D are wide-eyed and energetic, maneuvering their colorful puppets and breezily interacting with audience members. The story-hour show presents acceptance as a normal part of everyday life, and essential in every way. Never is the message too heavy-handed or saccharine. Those who attend multiple shows will get to enjoy several stories along the themes of I Am Jazz, read to them by a dynamic, dedicated crew. Running 20-25 minutes, A Puppet Playdate With Grandma D is friendly to tiny Chicagoans as well as grown-ups, and shows that loving one another is the most important lesson of all.
A Puppet Playdate with Grandma D continues through August 27th at The Broadway at Pride Arts Center, 4139 N. Broadway (map), with performances Saturdays and Sundays at 2pm. Tickets are pay-what-you-can (with suggested donation of $10), and are available at the door. More info at PrideFilmsandPlays.com or PrideArtsChicago.com. (Running time: 25 minutes, no intermission)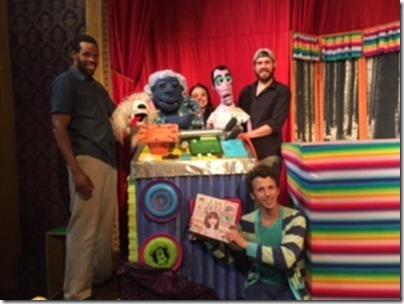 behind the scenes
Tristan Tom (writer, director), Mary Tarsitano (tech)
Tags: 17-0804, Benjamin Ponce, Chicago Theater, Katharine Jordan, Khloe Janel, Lauren Whalen, Mary Tarsitano, post, Pride Arts Center, Pride Films and Plays, puppets, The Broadway, Tristan Tom
Category: 2017 Reviews, Children's Theatre, Lauren Whalen, New Work, Pride Arts Center, Pride Films and Plays, Puppetry