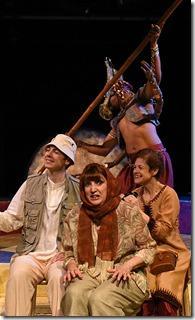 A Perfect Ganesh
Written by Terrence McNally  
Directed by Steven Fedoruk
Athenaeum Theatre, 2936 N. Southport (map)
thru Aug 23   |  tickets: $20-$30   |  more info
  
Check for half-price tickets  
  
  
   Read review
  
---
Talented cast helps save overbooked travelogue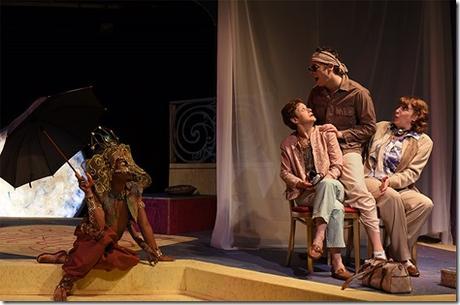 Eclipse Theatre presents
A Perfect Ganesh
Review by Clint May 
An indictment of the culture found in Oprah's fan favorite "Eat, Pray, Love" was released by Bitch magazine in 2010. Joshunda Sanders and Diana Barnes-Brown so perfectly sum up a genre they call 'priv-lit'—a genre that Terrence McNally's 1993 A Perfect Ganesh falls squarely into—that it's a prerequisite to really understand the underlying discomfort one might feel upon viewing.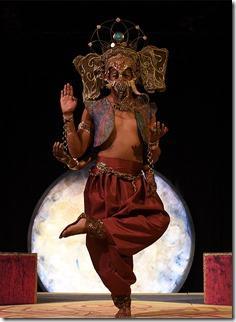 In it, the author's define the genre of 'priv-lit' as "literature or media whose expressed goal is one of spiritual, existential, or philosophical enlightenment contingent upon women's hard work, commitment, and patience, but whose actual barriers to entry are primarily financial."
A Perfect Ganesh concerns two wealthy women on a journey through India (the same location as the 'Pray' portion), seeking some kind of healing from deep psychic wounds and marital ennui. Priv-lit and the Western fetishization of Eastern thinking go hand in hand. Only one exchange in Ganesh speaks to this patronizing attitude when a remark about the 'beauty' of a carpet of the sleeping homeless of Bombay in the morning light is rebuked as probably *not* being seen as such by the people actually creating said vista.
Three years after her son was brutally beaten to death by six African Americans for being gay, Katherine (Jeannie Affelder) is tired of endless resort vacations and wants to get grittier by going to India with best pal Margaret (Elaine Carlson). There she believes she will find a measure of peace about her non-acceptance of her son's homosexuality and not being there when he died. Perhaps she will finally work up the courage to kiss a leper, a dream she has oddly had since she was a young woman.
Ganesh himself (Michael Allen Harris) figures prominently in the women's journey as the god of overcoming obstacles. He becomes many of the strangers* the women encounter in their journey, offering tidy insight into their emotional needs in these guises. Several men (Phil Higgins), including a gay man with her son's name as his middle (who just so happens to also be on retreat for health reasons) walk into and out of the lady's lives. Even the deceased son himself returns to commune with his mother.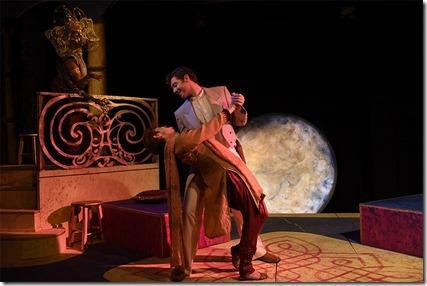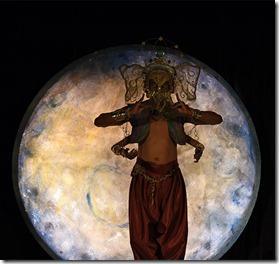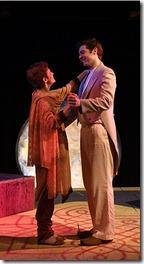 Figuring out just how the two main characters ended up friends and traveling companions is not entirely elucidated. We know they both married wealthy and have taken many trips before, but their personalities are so different that the more haughty and aloof Margaret is forced to admit that while they love each other, they don't particularly like each other. Catherine is annoyingly prone to bouts of wonderment, constantly citing the first lines of Shakespeare's Henry V —"O for a Muse of fire!"—whenever she can't find the words to describe the sight before her. Margaret can't stop commenting acerbically on everything, until finally confronted with the Taj Mahal's grandeur (which surpasses the disappointment she felt at the Eiffel Tower).
A Perfect Ganesh suffers prominently from a case of the 'overs': overwrought, overstuffed, and overlong. At twenty minutes shy of three hours, the indulgence of so many additional sub-themes (not only is Catherine homophobic, she's racist too) and the profundity so ham-fisted (the Ganges' death and life mingling prompts reflection on the totality of existence as contained in a river) that the characters' fundamental unlikeability is besides the point.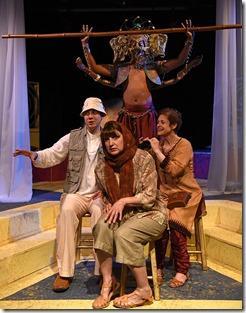 By the time their catharsis arrives, one is still wondering why we should care about people who treat India as apparently existing purely for their own self-discovery. I'd love to see the story told from the leper's point of view, to see how he feels being a prop for Katherine's attempts to kiss him and, by extension, free herself of her diseased inner self by embracing a diseased person's outer self. When she wises up and gives him money instead, the act of acknowledgement that other people don't exist for one's own needs doesn't land with the correctly tuned impact. In fact, it feels more like a critique of rich privilege – their giving of money rather than engaging – that I would have loved to see this hammered home much more thoroughly. Though not an expert in Hindu mythology, I found it hard to entertain the idea that the jovial god Ganesh would be so concerned with these obstacles.
Ganesh's saving grace is Eclipse's cast, as directed by Steven Fedoruk. Higgins does a great job flitting into and out of characters and accents at a moment's notice, as does Harris, who must do so with the additional difficulty of working behind a very beautiful Ganesh mask. Carlson begins with an almost cartoonish huff puffery as Margaret that eventually softens into something approaching likeability. Affelder is the real star, turning a character that on paper reads as unsympathetic, managing to wring every drop of pathos from her. Affelder's face is a marvel of grief and anguish, and it is her performance that transcends the flaws of Ganesh.
True to their mission of doing one playwright per season, this is the second of three of McNally's works from Eclipse in 2015. Ganesh was actually a Pulitzer finalist and, putting it into context of the early 90s, it's interesting to see parallels with Kushner's Pulitzer-winning Angels in America from the same period. Both involve supernatural elements, are country specific, have homosexual themes and contain people trying to cope with guilt. Another article could be written for why Angels feels more timeless. One of the key differences is that Kushner leaned into the pure fantastic and transformed a case of the 'over-s' from a liability to an essential part of the work's aesthetic.
Even with the many arms of Ganesh, there are too many spinning plates for them all to maintain inertia. The production shoots for profundity but must settle for cloying sentiment and unearned purgation.
Rating: ★★½
A Perfect Ganesh continues through August 23rd at Athenaeum Theatre, 2936 N. Southport  (map), with performances Thursdays-Saturdays at 7:30pm, Sundays 2pm.  Tickets are $20-$30, and are available by phone (773-935-6875) or online through OvationTix.com (check for half-price tickets at Goldstar.com). More information at EclipseTheatre.com.  (Running time: 2 hours 40 minutes, includes an intermission)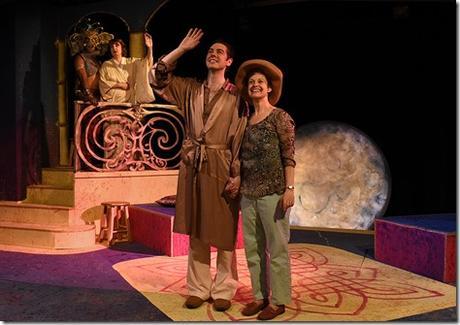 *From the article: "Priv-lit perpetuates several negative assumptions about women and their relationship to money and responsibility. The first is that women can or should be willing to spend extravagantly, leave our families, or abandon our jobs in order to fit ill-defined notions of what it is to be "whole." Another is the infantilizing notion that we need guides—often strangers who don't know the specifics of our financial, spiritual, or emotional histories—to tell us the best way forward."
Photos by Scott Dray
---
artists
cast
Jeannie Affelder (Katherine Brynne), Elaine Carlson (Margaret Civil), Michael Allen Harris (Ganesha), Phil Higgins (man)
behind the scenes
Steven Fedoruk (director), Kevin Scott (managing director, co-producer), Nathaniel Swift (artistic director, co-producer), Ashley Bowman (stage manager), Emily Ioppolo (assistant stage manager), Mike Winkelman (set design), Michael C. Smith (lighting design), Cooper Forsman (sound design), Rachel Lambert (costume design), Zachary Alexander (costume design), Vanessa Thomas (properties design), Ellyzabeth Adler (choreography), Katie Vandehey (dramaturg), Stephen Dale (fight choreographer), JP Pierson (casting director), Lindsay Bartlett (dialect coach), Scott Dray (photos)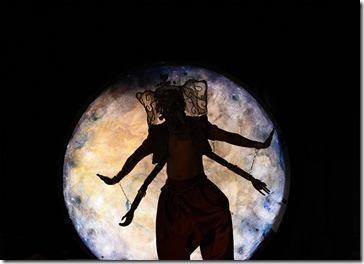 15-0728