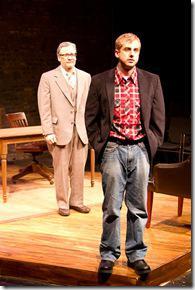 A Number 
Written by Caryl Churchill
Directed by Karen Kessler
The Building Stage, 412 N. Carpenter (map)
thru Feb 11  |  tickets: $25   |  more info
  
Check for half-price tickets 
  
  
   Read entire review
  
---
'A Number' explores multiple issues, identities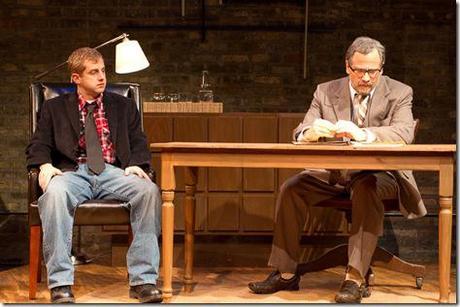 Backstage Theatre Company presents
A Number
Review by Melody Udell
A Number, Caryl Churchill's potent one-act play produced by Karen Kessler for the Backstage Theatre Company, manages to merge both topical bioethical controversies with a complicated father-son dynamic — all in a brief 70 minutes. But the true effect of the play takes place long after, when audience members are still left stung by the questions haunting us in the show's wake: What is it that makes us truly unique, and what would it mean if we lost it?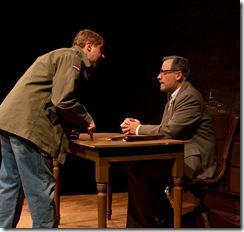 At its core,
A Number
is about a father and his disjointed relationships with his sons. Churchill uses the issue of cloning — an even more hot-button topic when the play was originally produced in 2002 — to explore just how far a man will go for redemption and a chance at a fresh start. And if that weren't enough to ponder after closing curtain, Churchill leaves us mulling over debilitating parental guilt and a revisiting of nature versus nurture.
Patrick Blashill's Salter, the father, opens the show in discussion with his son, Bernard (Tony Bozzuto). The son has just learned that he was cloned at birth, and 20 copies of him are out there existing, living their lives, believing themselves to be individuals. The truth is revealed slowly, painstakingly, as Salter tells his son that Bernard is actually a clone of his first son, also named Bernard. The additional clones were the result of an ethically dubious scientist in the name of progress.
During their confrontation, father and son communicate through harsh words and clipped sentences; Churchill's script abandons verbal flow for the stunted, angry dialog that sets the play's severe tone, and the few attempts at callous humor go largely unnoticed.
Later, Salter is taken by surprise when his estranged first son, the elder Bernard, arrives at his doorstep, angry at being put into foster care when he was 4. In his rage, elder Bernard learns of his younger clone and leaves even angrier, maddened by the fact that his father wanted not him, but another genetically identical son.
Blashill takes us along for the ride during Salter's hastening deterioration, all of which takes place on Angela M. Campos' fittingly stark set resembling a near-empty home office.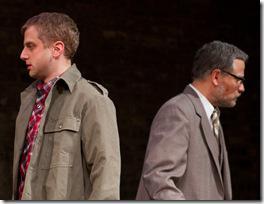 The audience learns of Salter's duality: a negligent alcoholic who delivers the elder Bernard to foster care and a reformed, loving parent to the younger Bernard. Only after the two sons confront each other — with a devastating outcome — does Salter truly realize the consequences of his Jekyll-and-Hyde parenting. Salter is left broken, a beleaguered King Lear figure, signifying one of Blashill's finest moments in the show.
Bozzuto's performance as each of the Bernard clones struggles to balance the distinctiveness of each clone while maintaining the common thread that binds the two: anger. The younger Bernard says it best to Salter when he recognizes the one personality trait he shares with his clone-brother: "We both hate you. But what he feels as hatred and what I feel as hatred are two different things."
In the end, every character in A Number has lost his sense of self. Cloning is the tool that allows us to dive into questions of identity and what it means to those who love us. But with all the identity crises that take place during the show, one thing is certain: You won't leave The Building Stage theater without a little quiet introspection of your own.
Rating: ★★★
A Number continues through February 11th at The Building Stage, 412 N. Carpenter(map), with performances Thursdays-Saturdays at 7:30, Sundays at 3pm.  Tickets are $25, and are available online at Vendini.com (check for half-price tickets at Goldstar.com). More information at BackstageTheatreCompany.org.  (Running time: 70 minutes with no intermission)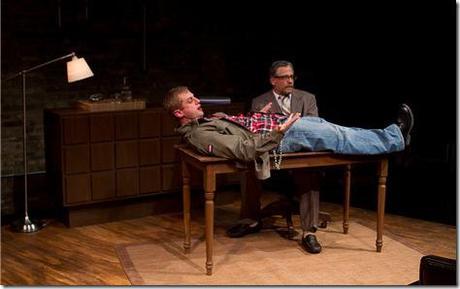 ---
artists
cast