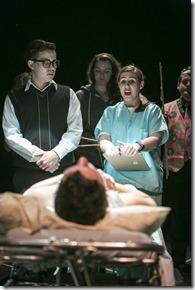 A New Brain
Written by William Finn and James Lapine  
Directed by M. William Panek  
at Rivendell Theatre, 5779 N. Ridge (map)
thru March 9  |  tickets: $25   |  more info
  
Check for half-price tickets 
  
  
   Read review
  
---
Sharp delivery of lesser-known musical with a great score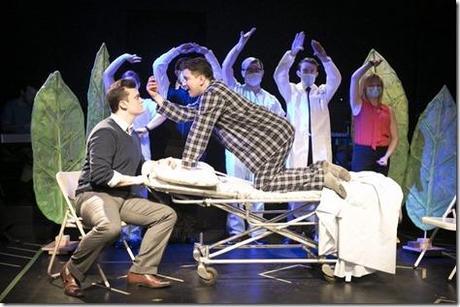 Brown Paper Box Company presents
A New Brain
Review by John Olson
In between his critically successful Falsettos and his popular hit The 25th Annual Putnam County Spelling Bee, composer-lyricist William Finn wrote A New Brain. It didn't last long in New York, running just under two months off-Broadway, but it delivered one of the best musical comedy scores of the last 20 years – with a cast recording that has an honored place in many a musical theater fan's CD collection or iPod. It's been presented professionally at least three other times in Chicago, the last in 2006. This production by Brown Paper Box Company gives Finn's sung-through score a terrific reading and does a good job of putting across the sketchy book by Finn and James Lapine.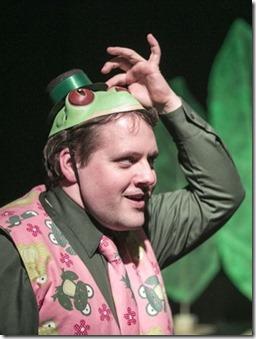 Finn took the story from some events in his own life, when he suffered a brain tumor and feared he might die or lose his ability to write. He shaped these experiences into the story of one Gordon Schwinn, a gay man and songwriter for a children's TV show starring an insufferable actor dressed as a frog named Mr. Bungee. In the midst of a writer's block, Schwinn has a seizure and learns he has an Arterio-Venous Malformation – a condition requiring immediate brain surgery from which he might not survive, or could emerge disabled. Between the first symptoms of the condition and Schwinn's survival and recovery, he reflects on the quirky people in his life – agent Rhoda, his controlling and possessive mother, Mr. Bungee, his all-too-perfect Waspy boyfriend Roger and various other people inside and around the hospital. Scenes occur in Schwinn's conscious hours (mostly in the hospital) and in his memory and hallucinations. Finn's music is generally bright, fast-paced and syncopated, and a lot of the musicalized scenes and numbers have anything but a traditional song structure. Within the score are at least five very accessible gems, though, and this cast nails them all as well as executing the more difficult sections of the score flawlessly.
Jason Richards is Schwinn, and he brings a solid voice and presence to the role of the insecure and genuinely frightened-for-his-life composer, selling two of the big numbers "Heart and Music" and "I Feel So Much Spring." Though Schwinn is the central character, the show is equally about those around him. Paul G. Miller is lovably nasty as the diva-ish Mr. Bungee, having fun with Finn's pastiches of kids show songs, and Billy Dawson is golden-voiced as golden boy Roger, delivering the show's breakout love ballad, "I'd Rather Be Sailing." Neala Barron, as a panhandler who works outside the hospital, knocks her big song "Change" right out of the park. Denise Tamburrino does a fair job as Schwinn's mother, Mimi, who gets to sing the torch song "The Music Still Plays On," in which she reflects on the husband she lost and the son she fears she'll lose. It seems, though, that Tamburrino, Barron and Jillian Weingart (who play the agent Rhoda) all fall a little short in giving their characters the quirkiness that Schwinn and Finn surely see in them, though. There are opportunities for each of those three roles to be quite funny, which these actresses didn't entirely find. Johnny Kyle Cook has better luck as the male nurse who describes himself in song as "poor, unsuccessful and fat."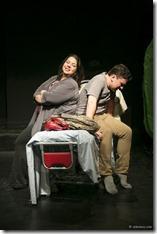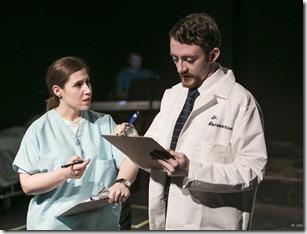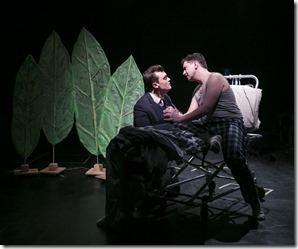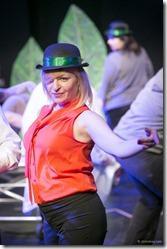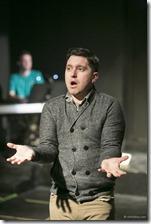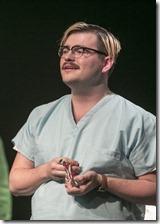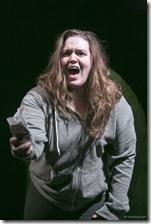 Director M. William Panek and choreographer Danny Spagnuolo keep the cast moving as quickly and precisely as this score demands for its compact and packed 110 minutes of stage time. Music director T.J. Anderson and Justin Harner back up the vocals with a synthesizer and piano, and those two keyboards are all Finn's score really needs. Visually, the production is spare. Jaime Giovannone provides a few pieces of furniture and a group of giant size lily pads to serve as walls or hospital screens. It's a practical solution for the small stage at the storefront Rivendell, but in a perfect world this piece could use a bit more scenery or projections and some more elaborate lighting design to help distinguish between the real-life action and the fantasies or memories in Schwinn's mind. Panek's blocking, however, does a lot to keep the storytelling of this terse book clear.
At the end of the day, though, A New Brain is all about the music, and this cast delivers it thrillingly. And isn't late February and early March of this brutal and soon-to-be-over winter a great time for a musical whose finale is the hopeful "I Feel So Much Spring"?
Rating: ★★★
A New Brain continues through March 9th at Rivendell Theatre, 5779 N. Ridge (map), with performances Thursdays-Saturdays at 7:30pm, Sundays 2pm.  Tickets are $25, and are available online through BrownPaperTickets.com (check for half-price tickets at Goldstar.com). More information at BrownPaperBox.org.  (Running time: 1 hour 50 minutes, includes an intermission)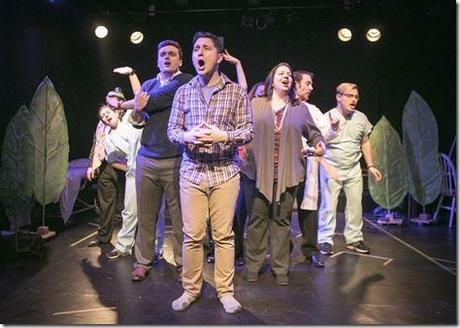 Photos by CB Lindsey 
---
artists
cast
Neala Barron (Lisa), Johnny Kyle Cook (Richard), Martin J. Hughes (Doctor), Paul G. Miller (Mr. Bungee), Jason Richards (Gordon Schwinn), Anna Schutz (Waitress, Nancy D.), Nick Shoda (Minister), Denise Tamburrino (Mimi), Jillian Weingart (Rhoda), Billy Dawson (Roger)
behind the scenes
M. William Panek (director), T.J. Anderson (musical director, synthesizer), Danny Spagnuolo (choreographer), Jaime Giovannone (set design, prop design), Cat Wilson (lighting design), Michael Montgomery (stage manager), Justin Harner (asst. musical director, piano), Michelle Kritselis (dramaturg, marketing), Luke Michael Grimes (casting associate), Patrick J. Butterfield (house manager), Charlie Sheets (graphic design), Stephanie Rohr (asst. director), CB Lindsey (photos)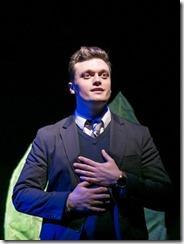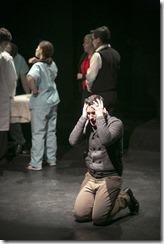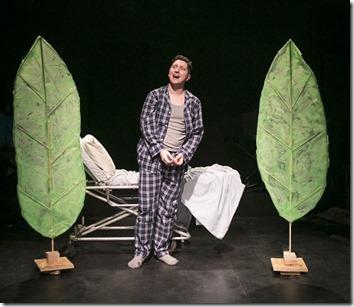 14-0239