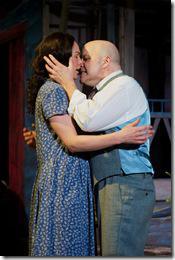 A Moon for the Misbegotten 
Written by Eugene O'Neill 
Directed by Kevin Theis 
Irish American Heritage Ctr, 4626 N. Knox (map)
thru April 29  |  tickets: $24-$28   |  more info
  
Check for half-price tickets 
  
  
   Read entire review
  
---
'Moon' shines with whiskey-soaked unrequited possibilities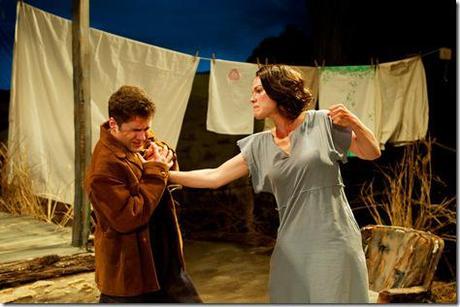 Seanachai Theatre presents
A Moon for the Misbegotten
Review by Katy Walsh 
The other day, I heard a story about Eugene O'Neill.  I've been reading a lot about his tragic life.  He had three wives, alcoholism, and depression.  His two sons committed suicide.  He disowned his daughter when she hooked up with Charlie Chaplin.  His brother drank himself to death.  Eugene O'Neill's life was one long, dramatic play.  According to Bob T.,  Eugene frequently arrived at an NYC pub at 10am… shaking.  A bartender would give him a shot and a scarf.  He looped the scarf around his neck and used it as a pulley.  His trembling hand required assistance to get the shot to his lips.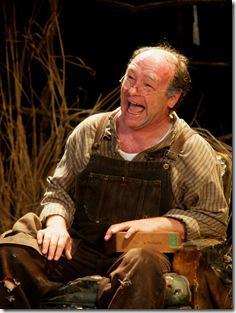 Seanachai Theatre presents
A Moon for the Misbegotten
.  Josie is a spitfire.  Her brother thinks she's a slut.  She doesn't care.  She lives life on her own terms.  Although she has helped all her brothers escape from home, Josie remains.   She takes care of her pa, Phil.  He's an amicable man unless he's been drinking.  And he's always drinking!  Phil enjoys his booze with a side of scam.  He often convinces Josie to join him in a little shakedown.  Knowing the landlord is coming into some estate money, he becomes their new target.  Phil will get James Tyrone, Jr. drunk.  And Josie will seduce him.  What could possibly go wrong? Well…. everything!  When the day starts with an *eye opener* of whiskey for breakfast, chances are nothing will go as planned. 
A Moon for the Misbegotten
shines with whiskey-soaked unrequited possibilities. 
Playwright Eugene O'Neill penned a day-in-the-life-of a poor Irish family circa 1940's in Connecticut.  The dialogue between the daughter and father is playfully mean-spirited. The story is the long con shifting from one head-game to another.  Under the direction of Kevin Theis, the ensemble plows through the plethora of dialogue with energetic purpose.  Towards the end of the show, the emotional mayhem left me completely exhausted and craving a little whiskey *eye opener*.  The game-playing is a sobering reality.  In the lead, a fiery Carolyn Klein (Josie) commands the stage, literally with a club in hand.  Klein gives a powerful performance as a hard ass riddled with snippets of sheer vulnerability.  Klein's delivery allows the audience to be there in-the-moment-with-her when Josie realizes what her future looks like.  It's bittersweet.  A rascally Brad Armacost (Phil) owns drunken patriarch.  Twinkly-eyed, Armacost has a gift for the gobshite.  He favors a traditional caricature of an Irish sot.  Steve Pickering (James) endears as a complex boozer.  Is he lovable or not?  Pickering woos Klein with confident authority and later whiskey-induced woes.  
The drama unfolds in the shanty yard created by scenic and prop designers Ira Amyx and Merje Veski.  The wooden shambles and overgrown brush masterfully tell the story of the family's home-life before the first word is uttered.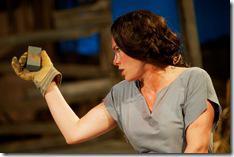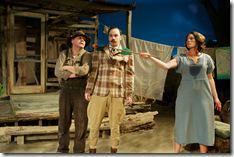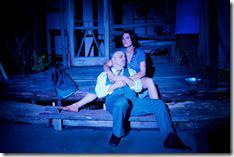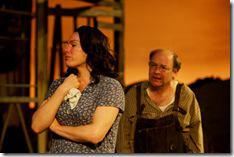 O'Neill wrote a dialogue driven drama.  Is it timeless or dated?  Some of the content will always be relevant.  Relational dynamics engages on many levels.  But drinking to oblivion, as illustrated by the movie flop of "Arthur 2", went out in the 80's.  And being an enabler is not considered any better. So, the play's fundamentals are in conflict with a modern sensibility.  Despite this, Theis does a masterful job of creating a look at shanty life for an Irish family in the depressing era.  A Moon for the Misbegotten is an Irish tragedy.  
Eugene O'Neill is definitely all that in Chicago!  In 2011, The Artistic Home mounted A Touch of the Poet (review) and Remy Bumppo put up Mourning Becomes Electra (review).  In 2012, Eclipse Theatre has selected O'Neill for their *one playwright, one season* with the first show, Beyond The Horizon, currently running (review).  And Goodman Theatre is currently in rehearsals for the much anticipated The Iceman Cometh, starring Nathan Lane and Brian Dennehy.
Rating: ★★★
A Moon for the Misbegotten continues through April 29th at The Irish American Heritage Center, 4626 N. Knox (map), with performances Thursdays-Saturdays at 7:30pm, Sundays 3pm.  Tickets are $24-$28, and are available by phone (866-811-4111) or online at ovationtix.com (check for half-price tickets at Goldstar.com). More information at seanachai.org.  (Running time: 2 hours 30 minutes, which includes one intermission)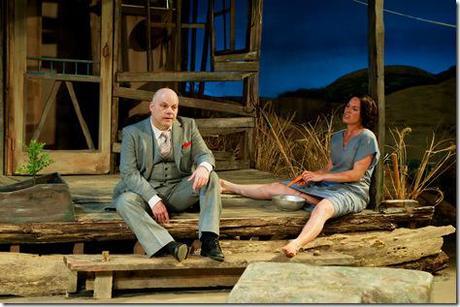 ---
artists