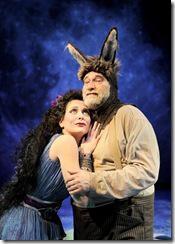 A Midsummer's Night Dream 
Written by William Shakespeare  
Directed by Gary Griffin 
at Chicago Shakespeare, Navy Pier (map)
thru April 8  |  tickets: $44-$75   |  more info
  
Check for half-price tickets 
  
  
   Read entire review
  
---
Things are getting hilariously Pucked up!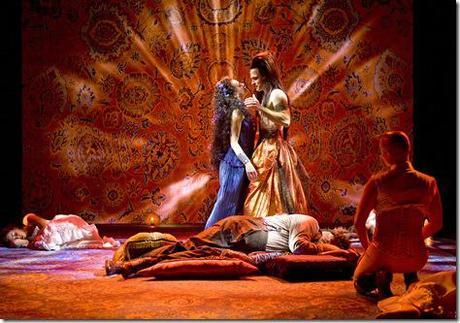 Chicago Shakespeare Theater presents
A Midsummer's Night Dream
Review by Katy Walsh 
And, most dear actors, eat no onions nor garlic,
for we are to utter sweet breath; and I do not doubt
but to hear them say, it is a sweet comedy.
No more words: away! go, away!   – Nick Bottom
Chicago Shakespeare Theater presents A Midsummer's Night Dream.  Three worlds collide over love.  In the actor world, Peter Quince gathers the local talent to produce a show.  In the mortal world, Helena wants Demetrius who wants Hermia who wants Lysander.   In the fairy world, King Oberon is mad at Queen Titania. Oberon elicits his sidekick Puck to create some magical mayhem.  Puck's meddling extends into all realms. An actor turns ass.  A lover turns cold.  A Queen turns fool.  Lives are getting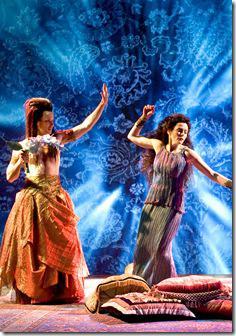 hilariously pucked up! 
A Midsummer's Night Dream
is a wildly innovative romp in the woods.  
Director Gary Griffin masterfully takes William Shakespeare's classic and actualizes every possible comedic element.  The dialogue is witty precision.  The action is slapstick buffoonery.  And the visual is wacky fairy fun.  Set in the 1920's, the costumes, designed by Mara Blumenfield, are stylish elegance.  Whether courting, hunting or lounging, the mortals are dressed exquisitely.  The fairies, on the other hand, look like something right out of a kid's imagination: striped silk pajamas, sunglasses and distinctively different head garb.  The vibrantly clad group add to the dreamy illusion of the play.  In contrast, Oberon and Titania rule their oddballs dressed in beautiful flowing enchantment.  On a sparse set, the huge and talented cast are the scenery.  The visual is gorgeous. 
And then there's Puck.  
Puck makes an unexpected entrance.  (I won't say anymore because I enjoyed the amusing surprise.)  But once he arrives, the magic really starts.  Elizabeth Ledo (Puck) is amazing.  Ledo blurs the gender divide with visual and vocal alterations.  Despite opening night hoarseness, Ledo delivers a high-energy and uproarious performance. Her small stature zips around the stage like a sprite on pixiedust.  The chemistry between her and Timothy Edward Kane (Theseus/Oberon) cackles with jocularity.  Kane plays it deliciously arrogant and manipulative.  The duo is a vaudevillian-style hoot.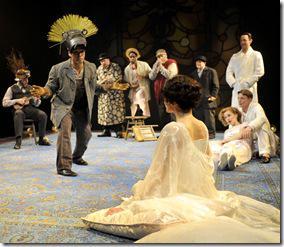 The target of Kane's prank is the lovely
Tracy Michelle Arnold
(Hippolyta, Titania).  As duchess or queen, Arnold commits to the joke with sophisticated deadpan.  She is bewitched into loving
Ron Orbach
(Bottom). The fairy flower is potent because it affects the entire audience.  Everyone falls for Orbach as one lovable ass!
Tim Kazurinsky
(Peter Quince) is another standout.  Kazurinsky brings his well-known humorous persona and 'Shakes' it up.  The results are hysterical.  
Griffin paces it for non-stop laughs. The merrymaking ensemble swirls and twirls through the madcap romances.  This show charms with frolicsome fun!  A Midsummer's Night Dream is a sweet comedy!
Rating: ★★★★
A Midsummer's Night Dream continues through April 8th at Chicago Shakespeare Theater,800 E. Grand, Navy Pier (map), with performances Tuesdays-Fridays at 7:30pm, Saturdays at 8pm, and matinees on Wednesdays at 1pm, Saturdays at 3pm, and Sundays at 2pm.  Tickets are $44-$75, and are available by phone (phonenumber) or online here (check for half-price tickets at Goldstar.com). More information at ChicagoShakes.com.  (Running time: 2 hours 30 minutes, which includes one intermission)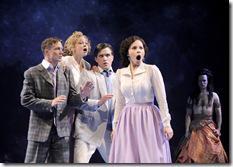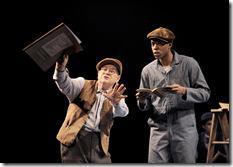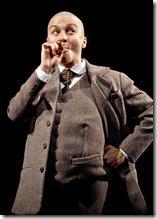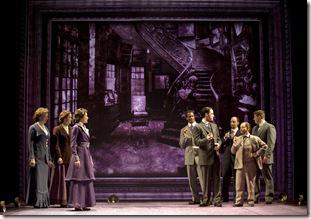 All photos by Liz Lauren
---