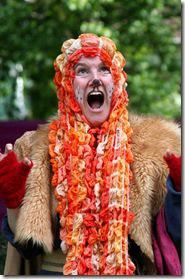 A Midsummer Night's Dream 
Written by William Shakespeare 
Directed by Arin Mulvaney  
Chippewa Park, 6748 N. Sacramento (map)
thru June 17  |  tickets: $15  |  more info
  
Check for half-price tickets 
  
  
   Read entire review
  
---
The Bard (and Fury) must go on!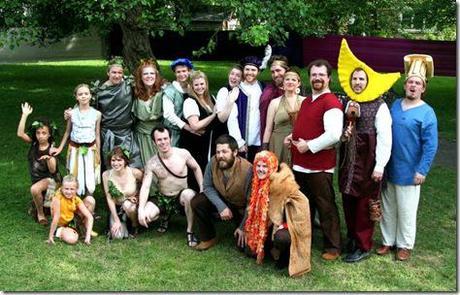 Fury Theater presents
A Midsummer Night's Dream
Review by K.D. Hopkins
Fury Theater Company brings summer fun and mighty mirth to their production of A Midsummer Night's Dream.  It is a great way to spend a warm evening under the stars. Fury Theater's original site for Midsummer was Indian Boundary Park. Then came a catastrophic fire on May 20th that threatened to stop the show.
But the Bard (and Fury) will not be denied!   The show moved to Chippewa Park, also in Rogers Park. The weather was rainy on the evening I attended, and the decision was made to move the show inside. It would have been nice to be outside and I may go see it again just to see theater alfresco – but the show inside the field house was a lot of fun. The design team created a verdant and magical atmosphere in the great room of Chippewa Park. The cyc wall was covered in moss and twinkling lights set against the dark timber ceiling, perfectly setting the scene for Shakespeare's tale of love, ribaldry, and mischievous supernatural creatures.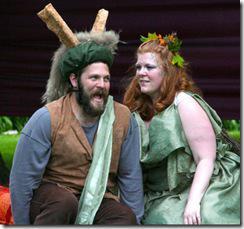 The evening begins with a strumming troubadour by the name of
Tim Duggan
, performing songs of Romeo and Juliet, and That Scottish Play – but with a modern folk twist. Duggan fits the bill quite well, singing to the audience and setting the scene for an intimate theater experience. It's as if the audience is in a small town similar to how the original productions were staged. The lyrics are funny and sly, with a good dose of humor. (It was unfortunate that the ladies in the front row were chatting and unwrapping possibly an
amplified snack wrapper
while he was jamming. But the show goes on….
Director Arin Mulvaney weaves a lovely spell with Shakespeare's crazy quilt of characters. The cast is superb, maintaining an energy level that never goes over the top. A Midsummer Night's Dream is a story within a story, with star-crossed lovers as the first storyline. Jenny Tremblay plays the lovely Hermia in an initially tentative performance. Shakespeare's dialog requires a nimble tongue and rhythm. The words must roll into one another in a spoken melody. Tremblay very quickly gets the rhythm in her scenes with Matthew McDaniel as Lysander. The duo plays the role of sweet-and-in-love well together. Nathan Thomas as Lysander's rival Demetrius is equal parts smarmy and opportunistic; it's hilarious!
Ellen Cribbs, as the lovelorn Helena, definitely steals any scene she's in. Here is the original stalker and doormat, yet Cribbs gives the character a wonderful empathy that rises above Demetrius' misogyny. The scenes with the two couples are well choreographed and practically seamless. There is nothing like a good catfight and this may be the genesis of Krystle Carrington versus Alexis or Sammi Jo on "Dynasty".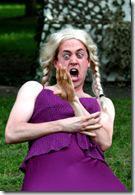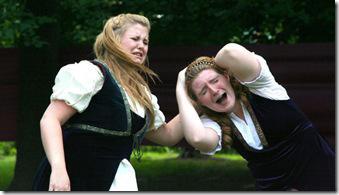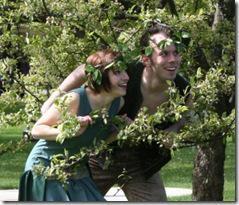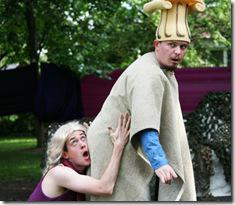 The players of the second arc of the story within the story are perfect as the motley band of community thespians. Brian Conley as Peter Quince leads these merry makers. Samuelson does double duty as Tom Snoot –a Tinker. This character is the polar opposite of Egeus. Snoot ends up as a barely animated wall in Quince's final production. It is Spicoli from "Fast Times at Ridgemont High" meets a Renaissance town grifter. The audience was all but on the floor watching one exchange with him and Keath David Hall. (Somehow the 'smell my finger' shtick worked perfectly. It didn't seem crass or juvenile.)   Hall is priceless as the town ham and weaver Nick Bottom. His physical comedy is quite good and brings the house down a couple of times.
I found Andrew Lund to be my favorite of the traveling thespians. He has a face made for comic expression similar to the great clowns in true theater tradition like Bill Erwin or Buster Keaton. Not every guy can slap on a fraulein wig and do funny drag, but Lund does gender bender with great panache. When he steps out in that lovely purple frock, his chest hair peeking over the plunging neckline, it's hard to stop laughing.
My favorite part of this play has always been the magical earth inhabitants. Shakespeare's portrayal of ancient Greece is rather traditional, but when you mix in the old English inspired wee folk world of faeries and sprites, every character becomes enchanted. Betty Lorkowski plays the Queen Fairy Titania with sensual élan. Mark Dodge is equally seductive, with a touch of malevolence that is in the legend of the fae.
Sprites and other mythical wee folk have a mischievous nature. Alex Levin's Puck has a bit of satyr edge to it. It's how Shakespeare did sex and it works well.  Levin pounces about the stage with crazy agility. The body art and loincloth gird the character even further. Levin also does double duty as Philostrate the Master of Revels in the house of Theseus. They are two different characters but both are assigned with stirring things up and keeping the surroundings full of fun.
Fury Theater serves up a good portion of fun and magic with this production. A Midsummer Night's Dream is a fairy tale where love really does conquer all and it's always strange when dreams come true.
Rating: ★★★
A Midsummer Night's Dream continues through June 17th on the great lawn in Chippewa Park (weather permitting), 6748 N. Sacramento (map), with performances Fridays and Saturdays at 7pm, Sundays at 3pm.  Tickets are $15 (or $49 for a family pass of up to 6 people), and are available at the door or online through BrownPaperTickets.com. More info at FuryTheaterCo.com.  (Running time: 2 hours, includes 10-minute intermission)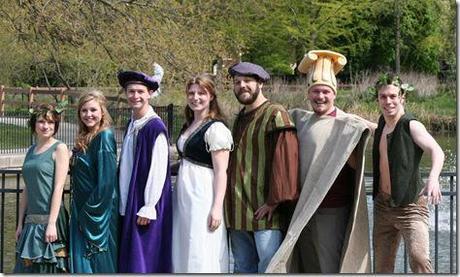 ---
artists