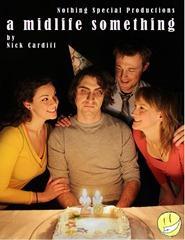 A Midlife Something
Written by Nick Cardiff 
Directed by Mikey Laird 
The Den Theatre, 1333 N. Milwaukee  (map)
thru April 20  |  tickets: $   |  more info
  
Check for half-price tickets 
  
  
   Read entire review
  
---
A tale of the aftermath of death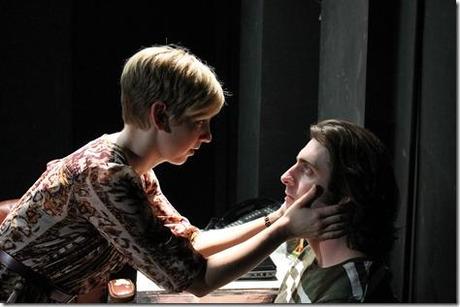 Nothing Special Productions presents
A Midlife Something
Review by Katy Walsh 
Nothing Special Productions presents the world premiere of A Midlife Something. Bob is in a funk.  Since his father died, his grief is keeping him down. He can't cook. He can't work. He can't f#ck.  On his 25th birthday, he believes his life is half over.  He wants to get a new job, new city, new life. He just can't get unstuck.  Who is holding him back?  His mom, his best friend, his girlfriend, or the hiring gatekeeper at Shirts and Giggles?  Bob wants to blame someone – but whom?  A Midlife Something paints an intimate portrait of a man in mourning.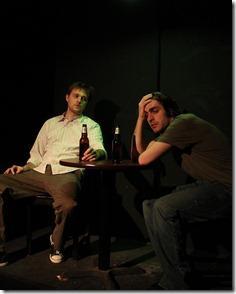 Playwright
Nick Cardiff
pens a tale of the aftermath of death.  In stories and life, emphasis is often placed on the emotion encircling the funeral.  Cardiff broadens the sphere and showcases the devastating impact a loss of life has on the survivors a year out.  The perspective is engaging.  The characters are believable.  The interactions are true to life. There is humor, cussing and the occasional broom swat.  Director
Mikey Laird
keeps it real as these people seek a cathartic release for their pain.  In the lead,
Casey Kells
(Bob) dominates in a role that seems written for him.  Kells plays it perfectly vacant until his crazy disruptive outbursts.  Imagine Jason Schwartzman dealing with death, his mom, and a job interview: that is Kells; vulnerable and obnoxious! I want to hug him and slap him simultaneously… and continuously.
The chemistry between Kells and best bud Adam Overberg (Mike) is authentic. They not only physically and verbally fight, they have that non-communicative bond that doesn't require words. More than a sweet bromance, it looks like a tried and true bro-marriage. A gregarious and protective Overberg tries to fill the emotional gaps left by the patriarch's death. Looking too young to be the mom of a 20something, Ann Marie Heiman (Marie) embraces a tough and helpless maternal stance. In one scene, Heiman screams about her inability to feel. In another, she silently has dinner with 'her husband.' Heart-breaking! This trio's entanglements are at the core of the show. Their unknotting engages for the very human, hot mess of it all.
A Midlife Something is something. It's the mourning after… a year. The pain is real and buried deep.  Cardiff's story could be tightened and a couple secondary characters fleshed out more. Still, A Midlife Something is a true depiction of life lost.
Rating: ★★★
A Midlife Something continues through April 20th at The Den Theatre, 1333 N. Milwaukee (map), with performances Friday-Sunday at 7:30pm.  Tickets are $12-$17, and are available online through HerokuApp.com (check for half-price tickets at Goldstar.com). More information at NothingSpecialProductions.com.  (Running time: 2 hours 10 minutes, includes an intermission)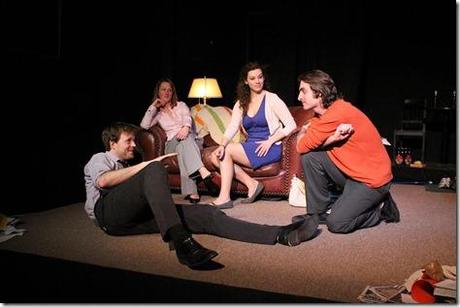 ---
artists
cast
Casey Kells (Bob), Ann Marie Heiman (Marie), Sarah Shirkey (Ana), Adam Overberg (Mike), Becca Kravitz (Allie)
behind the scenes
Mikey Laird (director, set design), Kit Ryan (stage manager), Brian Rohde (production manager), Madison Percival (costumes), Melissa Schlesinger (sound design), Erik S. Barry (lighting), Celeste Burns (props), Eric Holman-Opper (master carpenter), Stephen Wisegarver (asst. director, fight choreography)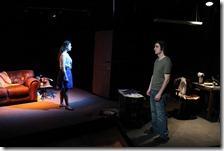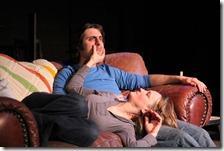 13-0401