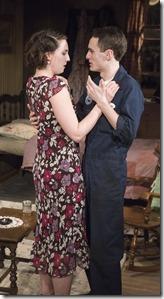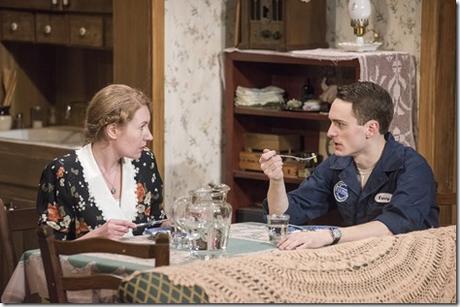 Playwright William Inge is best known for Picnic and Bus Stop, both of which were made into movies in 1956. Inge's play is not nearly as produced, despite the fact that its 1959 Broadway premiere launched the career of a then-unknown young actor named Warren Beatty. Centering on an actress' visit to Depression-era Kansas, A Loss of Roses has old-school characteristics - lots of expository dialogue; characters who appear in one scene and are never seen again - but carries a quiet resonance that's still very appealing. Raven Theatre 's production boasts strong direction, production values and actors, resulting in a lovely evening at the theater.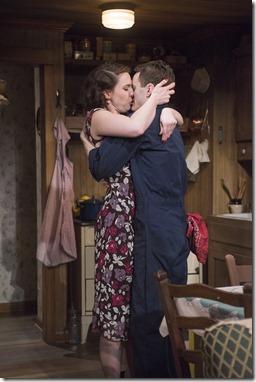 Not much happens in this small Kansas town, and since the Depression hit there's even less growth, potential and excitement. At twenty-one, Kenny Baird (
Sam Hubbard
) works at a gas station by day and cavorts by night, eschewing a bigger life in Wichita or Kansas City in favor of the home he's known since a young age. His widowed mother Helen (
Abigail Boucher
) pleads with her son to seek a better job or make at least one meaningful life choice, but things remain stagnant until the arrival of Lila Green (
Eliza Stoughton
). A glamorous but down-on-her-luck actress, Lila temporarily moves in with Kenny and Helen while waiting for another role. She had taken care of baby Kenny as a young girl and is still grateful to Helen for rescuing her from an abusive family situation. But Kenny isn't a baby anymore, and Lila just wants someone to love. Is this a romance for the ages, or simply a pleasant distraction?
Director (whose 2013 rendition of remains one of my favorite Chicago productions) applies his signature sharp intelligence to Inge's little-produced script. In , not much happens...yet everything happens. Estle is a master of infusing the most mundane words and gestures with a deep significance, whether it's Kenny rejecting the pie his mother bought rather than made or Lila undressing after a long and arduous day on the road. The play is a little long, but overall Estle keeps the action unfolding at a pace that's both leisurely and intriguing.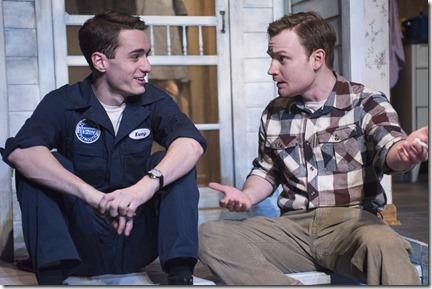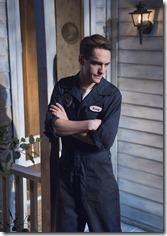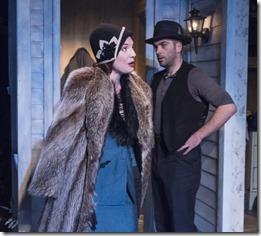 Estle has assembled a stellar production team, who transform Raven Theatre into Depression-era Kansas with large and small flourishes. In particular, Jeffrey D. Kmiec's set design is simply exquisite. No detail of the Bairds' rustic but comfortable home is lazy or lacking deliberation, and this care pays off: we're immediately thrown into a past era and long to stay. It's no wonder Lila is drawn to the Bairds, because even from an audience's perspective, their house feels like home.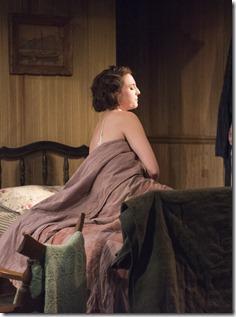 The cast is equally magnificent, with one exception:
Barbara Roeder Harris
, playing a Russian roadshow performer, is a bit amateurish with no trace of an accent.
Antonio Zhiurinskas
has some funny moments as Kenny's freeloading friend Jelly, and
Joel Reitsma
is appropriately imposing as Lila's boyfriend Ricky, who's villainous onstage and off. Though he only appears in one scene,
Lane Flores
steals it as a flamboyant "juvenile" actor. The three main actors give complex performances appropriate to Inge's multilayered writing. Hubbard's Kenny makes a bumpy but compelling journey from grown child to young adult over the course of the play, and Boucher's Baird is equal parts sympathetic and frustrating. As Lila, whose polished exterior and creamy chatter hides a trembling vulnerability with varying degrees of success, Stoughton is a star. Every syllable she utters and every facial expression contain entire monologues.
A Loss of Roses is old-fashioned in nature, but rich in text and interpretation. Raven Theatre's production, while a bit long, displays subtle strength and intellect at every turn. It's no quick fix, but rather, a rewarding slow burn.
A Loss of Roses continues through April 2nd at Raven Theatre, 6157 N. Clark (map), with performances Thursdays and Fridays at 8pm, Saturdays 3:30pm & 8pm, Sundays 3pm. Tickets are $42 ($39 online), with discounts for seniors ($34-$37) and students/teachers/military ($18). Tickets are available by phone (773-338-2177) or online through OvationTix.com (half-price tickets available at Goldstar.com ). More information at RavenTheatre.com. (Running time: 2 hours 20 minutes, includes an intermission)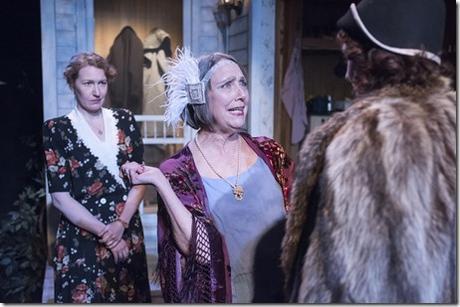 Abigail Boucher (Mrs. Helen Baird), Lane Flores (Ronny Cavendish), Barbara Roeder Harris (Mme Olga St. Valentine), Sam Hubbard (Kenny Baird), Joel Reitsma (Ricky Powers), Eliza Stoughton (Lila Green), Antonio Zhiurinskas (Geoffrey "Jelly" Beamis), Bobby Bowman, Ann Clements, Rich Holton, Erin Lovelace (understudies)
behind the scenes
(director), Tara Malpass (stage manager), Emily Scott Simpson (production manager), Jeffrey D. Kmiec (set design), Greg Hofmann (lighting design), Christopher Kriz (sound design, composer), Mary O'Dowd (properties, set dressing), Alexia Rutherford (costume design), David Woolley (fight choreographer), Eileen Rozycki (scenic artist), Stephen Johnson (dramaturg), Spencer Ryan Diedrick (assistant director), Kelli Kovach (assistant stage manager), Rob Stepek (assistant lighting design), Cody Ryan (master electrician), Jessica Doyle (electrics crew), Alan Weusthoff (technical director), Dennis Belz, Nathan Waters (carpenters), Conor Clark (assistant technical director), Dean La Prairie (photos)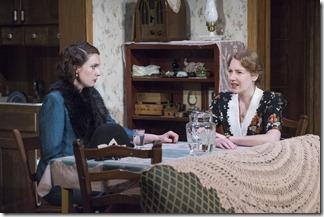 Tags: 16-0255, Abigail Boucher, Alan Weusthoff, Alexia Rutherford, Ann Clements, Antonio Zhiurinskas, Barbara Roeder Harris, Bobby Bowman, Chicago Theater, Christopher Kriz, Cody Estle, Cody Ryan, Conor Clark, David Woolley, Dean La Prairie, Dennis Belz, Eileen Rozycki, Eliza Stoughton, Emily Scott Simpson, Erin Lovelace, Greg Hofmann, Jeffrey D. Kmiec, Jessica Doyle, Joel Reitsma, Kelli Kovach, Lane Flores, Lauren Whalen, Mary O'Dowd, Nathan Waters, post, Raven Theatre, Rich Holton, Rob Stepek, Sam Hubbard, Spencer Ryan Diedrick, Stephen Johnson, Tara Malpass, Warren Beatty
Category: 2016 Reviews, Lauren Whalen, Raven Theatre, Raven Theatre West Stage, Video, William Inge, YouTube