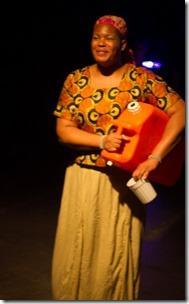 A Long Walk for Water
Adapted and Directed by Jerry Miller
at City Lit Theater, 1020 W. Bryn Mawr (map)
thru July 14  |  tickets: $20-$22  
  
Check for half-price tickets 
  
  
   Read entire review
  
---
Dual narrative depicts ongoing hardships in South Sudan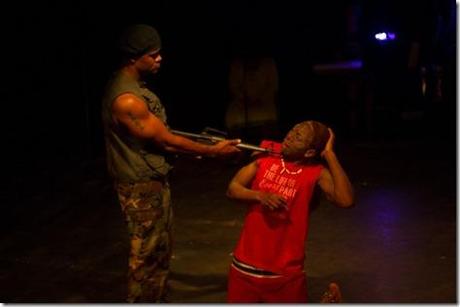 Jerry Miller Productions presents
A Long Walk for Water
Review by Keith Glab
In 2010, Linda Sue Park published "A Long Walk to Water", a novella based on the true stories of two Sudanese children. Jerry Miller Productions has adapted the novella into a full-length play that premiered last year in Oak Park and returns this summer at City Lit Theater.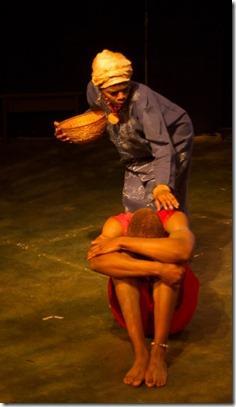 Salva (
Patrick Agada
) is a member of the Dinka Tribe in mid-80s civil war-torn South Sudan. One of the Lost Boys who gets separated from his family due to the conflict, Salva must journey hundreds of miles across rivers and deserts, facing armed rebels, rival tribesmen, starvation, and thousands of mosquitoes along the way to refugee camps in neighboring countries.
Nya (Nicole Michelle Haskins) is an 11-year old girl living in South Sudan in 2008. Like all girls of the Neur Tribe, she cannot attend school because she must endure a half day of travel daily to gather water for her family. The water she collects is muddy and tainted, causing her younger sister to fall ill. As a spoiled American who drinks up to four and five gallons of clean water every day, I am going to have nightmares about this part of the story.
These characters narrate their actions in these dual arcs, plus Alexandria Alyse Granderson provides additional narration accompanied by real images of Sudan displayed on a television set upstage. I'm not sure this second layer of narration is necessary, and it bogs down the energetic performances of Agada and Haskins.
The entire seven-person ensemble delivers strong performances, including their vocals accompanied by Dorie Ellzey Blesoff. While Agada and Haskins do an admirable job of carrying the action during their frequent solo times onstage, the most interesting moments of the production occur when we get to see characters interact. Watson Swift highlights these moments in a brief-but-gripping scene as Salva's father.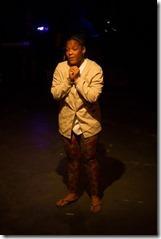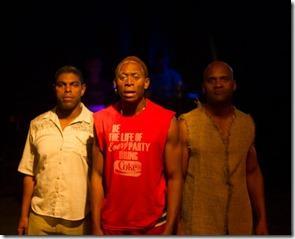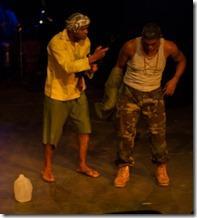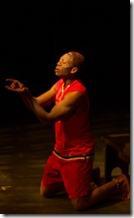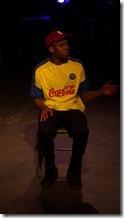 What lets this production down is a bizarre choice for the lighting design. While we see images of the bright African sun on the television upstage, the downstage action is lit more like a romantic dinner. Not only does the lighting fail to evoke the actual setting, but at some points it gets so dim that you cannot see the actors' faces even from the front row.
Logistical problems aside, A Long Walk for Water is a moving story about a problem that most Americans know little about – a story that needs to be told. As depressing as the subject matter is, Miller finds a couple of moments of levity in his show and offers a message of hope at the story's conclusion. Moreover, a portion of all ticket sales go towards a non-profit organization benefitting South Sudanese women. This admirable endeavor may not be perfectly executed, but it nevertheless offers a lot to an audience that is willing to stay with it.
Rating: ★★½
A Long Walk for Water continues thru July 14th at City Lit Theater, 1020 W. Bryn Mawr (map), with performances Fridays-Saturdays at 7:30pm, Sundays 3pm.  Tickets are $20-$22. Call 773-426-1168 for more information.  (Running time: 100 minutes, no intermission)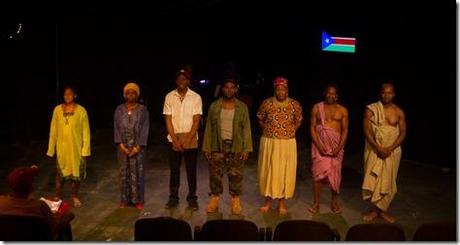 Photos by Aaron Stigger
---
artists
cast
Patrick Agada (Salva), Breon Arzell (Uncle), Frankie Cox (Nya's Father, Marial, Soldier), Alexandria Alyse Granderson (Narrator, Nurse), Nicole Michelle Haskins (Nya), Katrina V. Miller (Auntie), Watson Swift (Teacher, Salva's Father)
behind the scenes
Jerry Miller (director); Dorie Ellzey Blesoff (composer, lyricist, accompanist), Jos N. Banks (costumes), Carl Spight (sound design), Andrew Vanderbye (lighting), Rachel Holland (stage manager), Aaron Stigger (photos)
13-0644