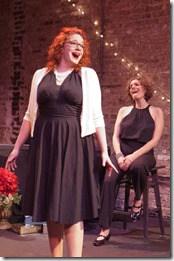 A Kokandy Christmas 
Created by Michael Potsic, Allison Hendrix  
at Theater Wit, 1229 W. Belmont (map)
thru Dec 23  |  tix: $30  | more info
  
Check for half-price tickets  
---
An evening of sweet holiday spirit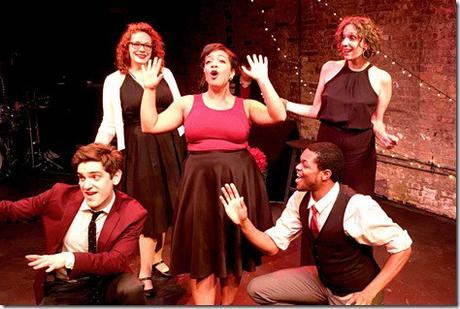 Kokandy Productions presents
A Kokandy Christmas
Review by Lauren Whalen 
When it comes to Christmas shows in Chicago, don't be afraid to look beyond downtown. Kokandy Productions has provided quality musical theater since its 2010 inception, quickly building a sterling cadre of artists, designers and staff. A Kokandy Christmas is a sweet, up-tempo holiday cabaret with five wonderful voices, three instruments and a lot of heart. It's the perfect alternative for those seeking an alternative to A Christmas Carol or The Nutcracker, or who want to expand their holiday horizons with a new-old classic.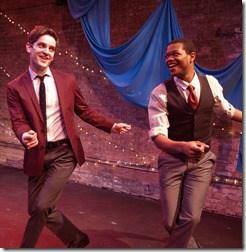 Created by
Michael Potsic
and Kokandy Co-Artistic Director
Allison Hendrix
,
A Kokandy Christmas
is a winning mix of traditional Christmas carols, more contemporary hits, personal stories from performers and musicians and friendly audience participation. Potsic and Music Director
Aaron Benham
(the latter also tickles the ivories and shares his favorite Christmas memory) provide lovely musical arrangements of a wide variety of songs, from sacred hymns like "O Holy Night" to a sultrier version of Mariah Carey's "All I Want for Christmas is You." Two singers go head to head with a fun mash-up of "Jingle Bells" and "Sleigh Ride" that progressively gets faster and more frantic, and the audience is encouraged to join in on a lovely rendition of "Silent Night."
Potsic wisely keeps production values simple, emphasizing the musical arrangements and performances. Stage manager Kait Samuels keeps everything running at the perfect pace: quick but not frenetic, inviting the audience to remember their own holiday experiences. Brandon Wardell's lighting design is modest but inspired: Christmas lights strung on the two trees and the theater walls change subtly with the music, creating an effect both beautiful and profound. Potsic pairs and groups musicians and cast members in different arrangements, while giving each his or her time in the spotlight, choices that emphasize the holidays as both personal and communal.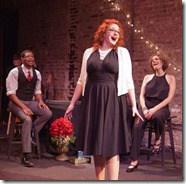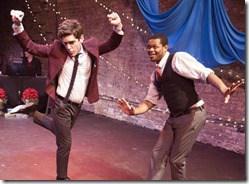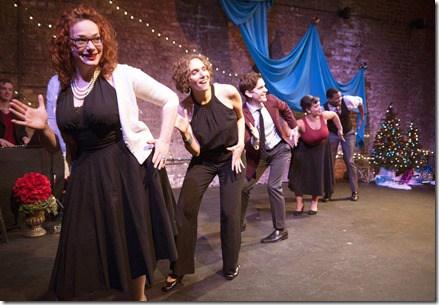 A Kokandy Christmas' press release describes its cast as "five of Chicago's brightest musical theater talents" – a most accurate description. Emily Grayson relays a heartwarming holiday memory that leads into a haunting version of Joni Mitchell's "The River." Kokandy vet Garrett Lutz (the phenomenal lead of last spring's The Full Monty) talks of the importance of biological and chosen families before serenading the audience with his ukulele and soaring tenor. As always, Jaymes Osbourne is joy personified, and his cover of "That's What Christmas Means to Me" rivals Stevie Wonder's rendition. Christina Hall's emotional story of a Christmas tree has authenticity in every syllable, and Sasha Smith's enthusiasm and engagement with the audience matches her skilled vocals.
Kokandy Productions has done it again. True to their mission of growing non-Equity musical theater in Chicago, Scot Kokandy's small but mighty company presents a charming holiday show. No matter your faith (or lack thereof), A Kokandy Christmas has something for everyone: cheer, reflection and the unique coming together of the season. Hopefully, A Kokandy Christmas will become a tradition for the company and for Chicagoans, their families and friends. This December, join Kokandy Productions in celebrating the best parts of the holidays.
Rating: ★★★½
A Kokandy Christmas continues through December 23rd at Theater Wit, 1229 W. Belmont (map), with performances Wednesdays-Fridays at 8pm, Saturdays 3pm and 8pm, Sundays 3pm and 7pm.  Tickets are $30, and are available by phone (773-975-8150) or online at TheaterWit.org (check for half-price tickets at Goldstar.com). More information at KokandyProductions.com.  (Running time: 75 minutes, no intermission)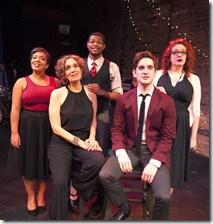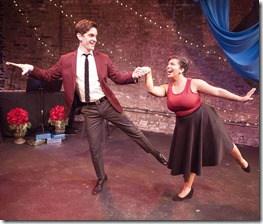 Photos by Samuel Rose
---
artists
cast
Emily Grayson, Christina Hall, Garrett Lutz, Jaymes Osbourne, Sasha Smith
band
Aaron Benham (piano), Scott Simon (drums), Ben Dillinger (bass)
behind the scenes
Michael Potsic (director, arranger), Aaron Benham (music director, arranger), Kait Samuels (stage manager), John Buranosky (props, set dressings designer), Brandon Wardell (lighting design), Michael J. Patrick (sound design), Samuel Rose (photos)
15-1208