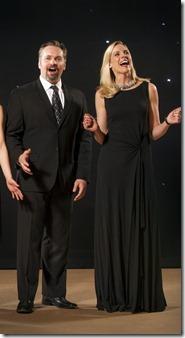 A Grand Night for Singing 
Music by Richard Rodgers
Lyrics by Oscar Hammerstein II 
Directed and Choreographed by Kevin Bellie  
at Mercury Theater, 3745 N. Southport (map)
thru March 20  |  tickets: $25-$59   |  more info
  
Check for half-price tickets 
  
  
   Read entire review
  
---
A pleasant prelude to a new life in a revamped space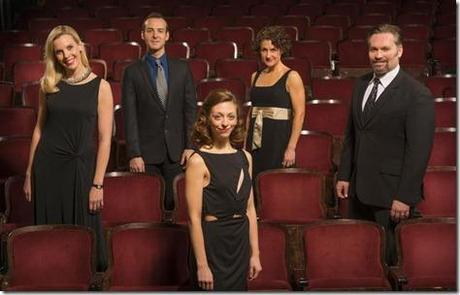 The Mercury Theater presents
A Grand Night for Singing
Review by Clint May
Big news for musical theater in Chicago: The Mercury Theater, long a rental venue, launched its own season of musical theater under the helm of Porchlight Music Theatre veteran L. Walter Stearns. For an opening salvo across the decks of Chicago's theater scene, A Grand Night for Singing seems more like an appetizer than a sumptuous feast with its pared-down production values and bare minimum book. With Barnum and The Color Purple yet to come (ending the season with the always popular The Christmas Schooner), one can hope that they can find ways to up the level of daring in the limited space. As it is, while Grand Night is a tepid (read: safe) choice, it's more than competently performed and entertaining enough to leave one wanting more.
Featuring 30 songs by the inestimable duo of Richard Rodgers and Oscar Hammerstein II, Grand Night highlights several well-known hits from Oklahoma! to The King and I and the less-known Flower Drum Song and Me and Juliet. Pieced together in a loose format to create a vague meta-narrative of romance's delights and perils from first meeting to marriage to children, it's a sweet valentine that might make a perfect date night on, well, Valentine's (there's two productions that day so schedule early if that gives you an idea for your musical-loving sweetheart). The chemistry of the cast and the energy of the orchestra are the real show savers here, elevating a cabaret-style revue to a genuine and heartfelt ode. Leah Morrow in particular is a physical presence of impish delight with her neotenic face and fearless energy. She's matched by Stephen Schellhardt who, though he drops off at times, has a similar command of the stage. Heather Townsend has a powerhouse voice to match Robert Hunt's, while Marya Grandy brings a sassy and brassy flair where appropriate.
Playfully appropriate choreography by director Kevin Bellie give another layer of life to these numbers, which sometimes suffer without their appropriate context. No set changes or elaborate costumes here. A Grand Night for Singing, taken as a whole, is an elegant homage suitable for fans of Rodgers and Hammerstein and as an intro course in their charms for new inductees. It will be fascinating to see the evolution of this jewel box space as it creates "some enchanted evenings" for what we can hope is years to come.
Rating: ★★★
Grand Night for Singing continues through March 10th at Mercury Theater, 3745 N. Southport (map), with performances Thursdays 2pm and 7:30pm, Fridays 8pm, Saturdays 2pm and 8pm, Sundays 2pm. Tickets are $25-59, and are available by phone (773-325-1700) or online through Vendini.com (check for half-price tickets at Goldstar.com). More at MercuryTheaterChicago.com. (Running time: 2 hours, includes an intermission)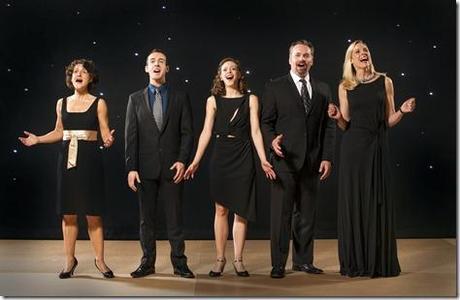 Photos by Michael Brosilow
---
artists
cast
Robert Hunt, Stephen Schellhardt, Marya Grandy, Leah Morrow, Heather Townsend
musicians 
Elizabeth Doran (Piano/Conductor), Laurel Humiston (Cello), Jennifer Ruggieri (Harp), Lindsey Williams (Percussion), Anthony Parsons (Woodwinds), Sam Filip (Bass)
behind the scenes
Kevin Bellie (Director/Choreographer), Eugene Dizon (Musical Director), Elizabeth Doran (Assistant Musical Director), Jason Epperson (Scenic & Lighting Design), Kathryn-Sarah Phillips (Costume Design), Mike Ross (Sound Design), Brad Jackson (Dance Captain), Michael Brosilow (photos)
13-0130