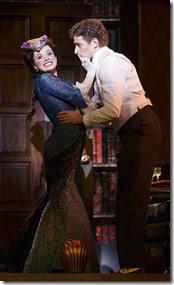 A Gentleman's Guide
to Love and Murder 
Book/Lyrics by Robert L. Friedman
Music/Lyrics by Steven Lutvak
Bank of America Theatre, 18 W. Monroe (map)
thru Oct 11 | tix: $33-$100  | more info
  
Check for half-price tickets  
---
It's a killer!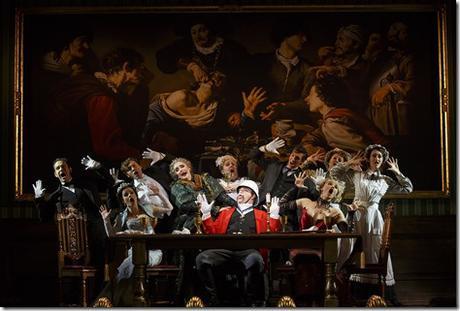 Broadway in Chicago presents
A Gentleman's Guide to Love and Murder
Review by John Olson
If ever a Broadway musical was conceived with less consideration for marketability, I'd like to know what it was. A Gentleman's Guide to Love and Murder – a perplexing title that doesn't suggest a musical (and I guess that's why they designed their show logo around a grand piano) – is based on the 1907 British novel "Israel Rank: The Autobiography of a Criminal" by Roy Horniman. Not exactly the sort of source material to promise a huge advance sale. The novel was adapted as the 1949 film "Kind Hearts and Coronets" which starred Alec Guinness, and must have some recognition among movie buffs as it's listed among the British Film Institute's 100 best British films of all time and Time Magazine's Top 100 films of all time anywhere. But this is one of those cases where the stage rights came from the novel rather than the film, and the film is not listed among the musical's credits. Indeed, despite a rave review from The New York Times when it opened in the fall of 2013, ticket sales were anemic until it won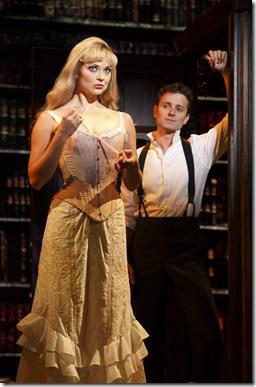 the Tony Award for Best Musical
the following June
. After that, sales took off and it headed toward what will be a very respectable run when it closes on Broadway in January. And rightfully so – this is one of the smartest and freshest new musicals I've seen in a long time.
The story of a poor Londoner in Edwardian times learning that he is a member of the wealthy D'Ysquith family and heir to a fortune (if only he can get the eight heirs ahead of him out of the way) is told in British music hall tradition. The concept sounds a little too precious and, in fact, it is a pastiche of that style, but the writing is sharply satiric in a way that resonates today with its pokes at classism, racism and sexism. The songs by Robert L. Friedman and Steven Lutvak are melodic and charming and Darko Tresnjak's staging is inventive and witty, if not exactly spectacular by current Broadway standards. This touring cast – in the first few weeks of its road trip – is incredibly precise and spot-on in its interpretation of the material. Though the cast list boasts no big names, its professionalism is as good or better than most of the touring companies we've seen coming through town.
The eight members of the D'Ysquith family to be done in – six men and two women – are all played by one actor, as they were in Kind Hearts and Coronets. In that film, the actor was no less than Sir Alec Guinness and the original Broadway production of A Gentleman's Guide…it was the estimable Jefferson Mays (of I Am My Own Wife). Here it's the newcomer John Rapson who ought to become well known very soon. He's a hoot as all eight – from the haughty men of the family, through the addled Reverend Lord Ezekial D'Ysquith and two statuesque matrons of the clan. Their murderer is the handsome and charming Monty Navarro, whose mother was a D'Ysquith but was disowned by the family after marrying an Italian opera singer. Kevin Massey, who understudied the leads in Broadway's Memphis and Tarzan, is the first-team lead here, and he has the requisite charm and vocal chops to be a satisfying leading man. His main love interest – Sibella Hallward – is easily Monty's match in deviousness and is played devilishly by Kristen Beth Williams. The woman he loves less, but marries for her family name, is winningly played by Adrienne Eller.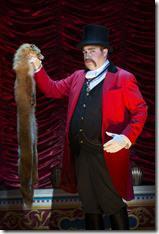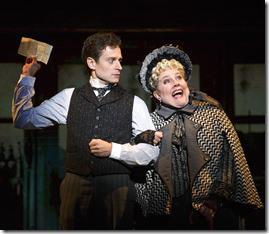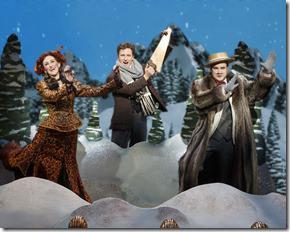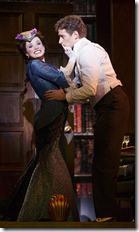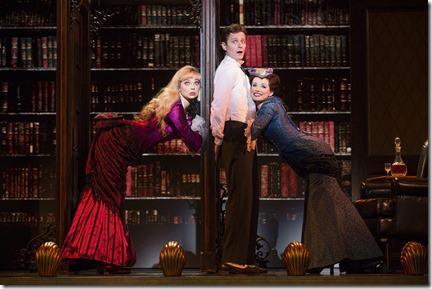 The action occurs mostly within a false proscenium suggesting a music hall stage, but inside that stage we're taken all over the place thanks to Alexander Dodge's bright and inventive sets. We start in Monty's prison cell, from which he pens his diary (or "gentleman's guide") to the garret he occupies when he first learns of his prestigious lineage from the cunning Miss Shingle (the delightful Mary VanArsdel). We see the luxurious homes of the D'Ysquiths, the top of a church spire, a wintry lake (where actors hilariously appear to skate) and a country estate. Linda Cho's Tony Award-winning period costumes are gorgeous and projection designer Aaron Rhyne ingeniously found a way to show bees swarming on stage.
Director Darko Tresnjak, who also earned a Tony for his work here, has pulled together all of these strong design elements and performances into a satisfying whole. It's a confection, to be sure, but a tart one that makes for a fun two and a half hours. 
Rating: ★★★½
A Gentleman's Guide to Love and Murder continues through October 11th at Bank of America Theatre, 18 W. Monroe (map).  Tickets are $33-$100, and are available by phone (800-775-2000) or online through Ticketmaster.com (check for half-price tickets at Goldstar.com). More info at BroadwayInChicago.com.  (Running time: 2 hours 30 minutes, includes an intermission)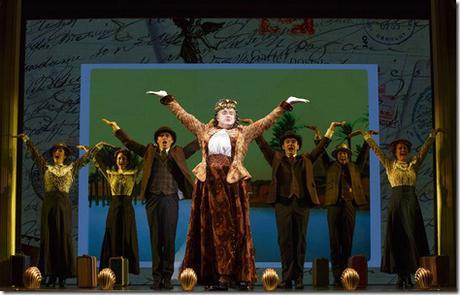 Photos by Joan Marcus 
---
artists
cast
John Rapson (The D'Ysquith Family), Kevin Massey (Monty Navarro), Kristen Beth Williams (Sibella Hallward), Adrienne Eller (Phoebe D'Asquith), Mary VanArsdel (Miss Shingel), Lesley McKinnell (Miss Barley), Kristen Mengelkoch (Lady Eugenia), Christopher Behnke (Magistrate), Sarah Ellis (Swing, Dance Captain), Matt Leisy (Tom Copley), Megan Loomis (Tour Guide), Dani Marcus, David Scott Purdy, Chuck Ragsdale, Ben Roseberry (Swings)
orchestra
Lawrece Goldberg (music director), Albin Konopka (asst. music director, piano), Eric Kang (piano, librarian), Michele Lekas (violin 1, concert master), Lisa Fako (violin 2), Loretta Gillespie (viola), Jocelyn Davis-Beck (cello), Wagner Campos (clarinet), Amy Barwan (oboe, English horn), Peter Brusen (bassoon), Tim Burke (trumpet), Sharon Jones (French horn), Paul Dallas (acoustic bass), Mike Folker (percussion)
behind the scenes
Darko Tresnjak (director), Peggy Hickey (choreographer), Alexander Dodge (scenic design), Philip S. Rosenberg (lighting design), Dan Moses Schreier (sound design), Linda Cho (costume design), Aaron Rhyne (projections design), Brian Strumwasser (makeup design), Charles G. LaPointe (hair & wig design), Jonathan Tunick (orchestrations), Dianne Adams McDowell and Steven Lutvak (vocal arrangements), Lawrence Goldberg (music direction) Seymour Red Press (music coordinator), Paul Staroba (music supervisor), Tripp Philips (production supervisor), Daniel S. Rosokoff (production stage manager), Eric H. Mayer (stage manager), Sarah Helgesen (asst. stage manager), Joey Parnes, Sue Wagner, John Johnson, Joan Raffe & Jhett Tolentino, Jay Alix & Una Jackman, Rhoda Herrick, Kathleen K. Johnston, Jamie deRoy, Richard Winkler, John Arthur Pinckard, Catherine Adler, Jamie & Bruce Bendell, Michael T. Cohen, Joseph & Carsonn Gleberman, William Megevick, Ron Simons, Stewart F. Lane & Bonnie Comley, Ted Snowden, Joe Sirola (producers), Joan Marcus (photos)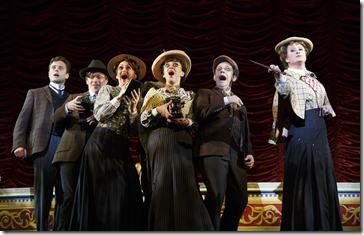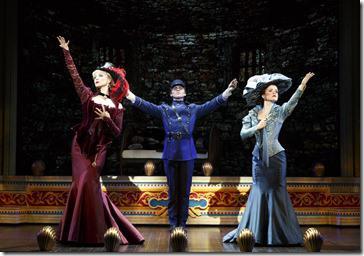 15-0965