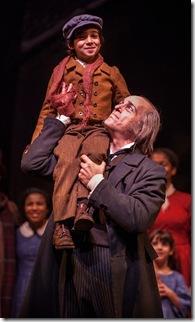 A Christmas Carol 
Written by Charles Dickens
Adapted by Tom Creamer
Directed by Steve Scott  
at Goodman Theatre, 170 N. Dearborn (map)
thru Dec 29  |  tickets: $25-$82   |  more info
  
Check for half-price tickets 
  
  
   Read entire review
  
---
Warmhearted 'Carol' a well-earned Chicago Christmas must-see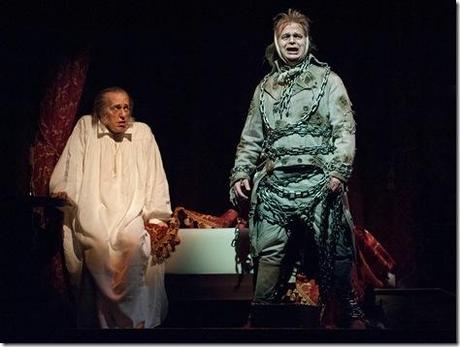 Goodman Theatre presents
A Christmas Carol
Review by Lauren Whalen 
It almost doesn't matter what I think of Goodman Theatre's A Christmas Carol.  Scratch the "almost". The annual production has been a Chicago holiday tradition (and Gooman Theatre cash cow) for 35 years now. Knowing this means less pressure for me as a critic. With this in mind, I felt free to emit copious giggles and tears while watching A Christmas Carol. I didn't take many notes. I just experienced it – and what a warm, jolly experience it was.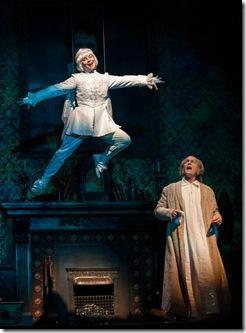 What makes Goodman's
Carol
so successful is its reverence for Dickens' classic story, which is perfect in structure (grumpy old miser learns the value of generosity and cheer) and suspense (what spooky surprises are around the corner?).
Tom Creamer
's adaptation doesn't mess with the flawless, but enhances it with live music, consistent narration and fun comic moments just when the situation grows too dire. The coldhearted Ebenezer Scrooge (
Larry Yando
) will achieve redemption – but with the help of three spirits, he must first find compassion.
Though it's definitely family friendly, Carol doesn't shy away from the frightening. Lighting Designer Robert Christen illuminates the gruesome figure of Scrooge's former crony Jacob Marley (Joe Foust), now trapped in a purgatory of his own making.  And with a massive black robe, giant stature and faceless countenance, the Ghost of Christmas Future (Jordan Brown) is truly terrifying – next to this spirit, the formerly imposing Scrooge is nothing more than a quivering miniature.
Creamer and director Steve Scott also highlight Carol's wealth of emotion without being cloying or manipulative – quite a feat considering the show's last line is uttered by the adorable, squeaky Tiny Tim (Matthew Abraham). Scenes with Bob Cratchit (Ron Rains) and his ebullient family are intimate and authentic: though they must resort to pawning family treasures and sending the two oldest children to work, they delight in one another's company and happily drink a toast to Mr. Cratchit's bully of a boss. When a young Scrooge (Michael Saguto) is rescued from boarding school by nurturing older sister Fan (Ariana D. Burks), their happiness reaches to the back row. And Scrooge's tentative olive branch to nephew Fred (Demetrios Troy), in the form of a stuttering request, wraps karma, forgiveness and family ties in one heartwrenching package.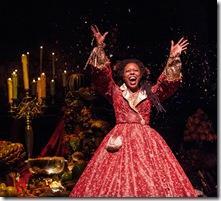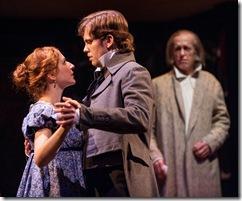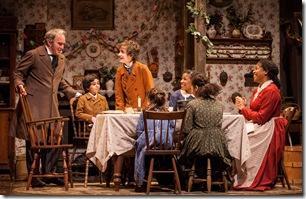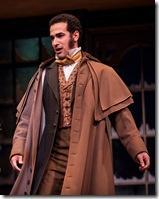 As always, Carol boasts a beautifully diverse cast to deliver Dickens' message with energetic aplomb. Yando combines a terrifying scowl, foot-stomping stubbornness and shaky vulnerability with utter ease, in his fifth year as Scrooge. Troy is sweetly enthusiastic and generous as the long-suffering Fred, and Penelope Walker is a stunning, glitter-throwing Ghost of Christmas Present. Brown captures the essence of Scrooge as a young man/miser-in-training and greatly resembles Yando, and the always-delightful Ora Jones lends her stirring speaking voice and stellar timing to the roles of Scrooge's charwoman and the giddy Mrs. Fezziwig.
One hiccup in an otherwise smooth production: the Ghost of Christmas Past. Though the spritely Elizabeth Ledo is nothing short of excellent, her costume is a bizarre amalgam of Peter Pan and Clark Griswold's house. The rest of Heidi Sue McMath's costumes are rich and stunning, but the Ghost of Christmas Past looks like she belongs in a different show altogether. Strange outfit aside, Goodman Theatre's A Christmas Carol continues to earn its place among the best of Chicago holiday traditions. If it matters what I think, I love that it's still here.
Rating: ★★★½
A Christmas Carol continues through Date at Goodman Theatre, 170 N. Dearborn (map), with performances Tuesdays at 7:30pm, Wednesdays at 7:30pm, Thursdays at 2pm and 7:30pm, Fridays at 8pm, Saturdays at 2pm and 8pm, and Sundays at 2pm and 6:30pm. Tickets are $25-$82, and are available by phone (312-443-3800) or online through their website (check for half-price tickets at Goldstar.com). More information at GoodmanTheatre.org.  (Running time: 2 hours, includes an intermission)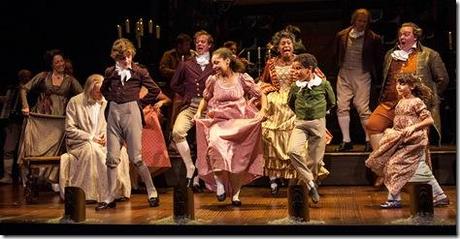 Photos by Liz Lauren
---
artists
cast
Matthew Abraham (Tiny Tim Cratchit); Justin Amolsch (Musician, Mr. French); Melanie Brezill (Martha Cratchit); Jordan Brown (Scrooge as a Young Man, Ghost of Christmas Future); Ariana D. Burks (Fan, Belinda Cratchit); Dana Cruz (Abby, Mrs. Dilber); Jeff Cummings (Scrooge alternate); Nora Fiffer (Belle, Young Woman); Joe Foust (Ghost of Jacob Marley, Chestnut Seller); Rashaad Hall (Dick Wilkins, Tree Seller, Young Man); Greg Hirte (Musician, Mr. Spinet); Ted Hoerl (Percy, Undertaker); Anish Jethmalani (Mr. Ortle); Ora Jones (Charwoman, Mrs. Fezziwig, Catherine); Patricia Lavery (Miss Crumb); Elizabeth Ledo (Ghost of Christmas Past); Michael Aaron Linder (Poulterer, Mr. Fezziwig); Francesca Mereu (Pratt, Emily Cratchit, Want); Ron Rains (Bob Cratchit); Tania Richard (Mrs. Cratchit), Malcolm Ruhl (Music Director, Musician, Mr. Keys); Michael Saguto (Scrooge as a Boy, Peter Cratchit); Scott Stangland  (Schoolmaster, Topper, Old Joe); Demetrios Troy (Fred); Oscar Vasquez (Child in Doorway, Turkey Boy, Ignorance); Penelope Walker (Ghost of Christmas Present); Claire Wellin  (Musician, Adelle), Larry Yando (Ebenezer Scrooge)
behind the scenes
Steve Scott (director); Tom Creamer (adaptation); Todd Rosenthal (set designer); Heidi Sue McMath (costume designer); Robert Christen (lighting designer); Richard Woodbury (sound designer); Andrew Hansen (composer); Alden Vasquez (production stage manager); Jamie Wolfe (stage manager); Robert Falls (Goodman Theatre artistic director); Liz Lauren (photos)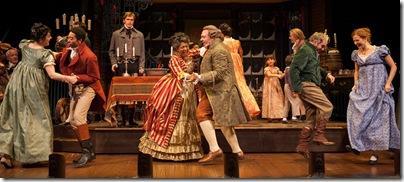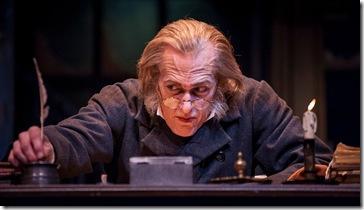 12-1161