A Chorus Line 
Book by James Kirkwood, Nicholas Dante
Marvin Hamlisch (music), Edward Kleban (lyrics)
Directed by Mitzi Hamilton  
at Paramount Theatre, Aurora (map)
thru Feb 5  |  tickets: $35-$47   |  more info
  
Check for half-price tickets 
  
  
   Read entire review
  
---
'A Chorus Line' with heft and heart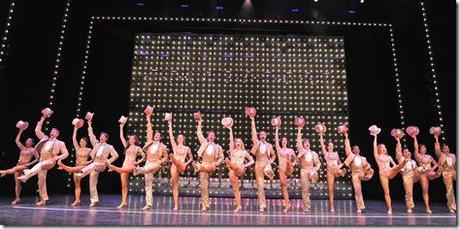 Paramount Theatre presents
A Chorus Line
Review by Melody Udell
With such an iconic musical as A Chorus Line, most audience members know exactly what they're going to get: a heart-wrenching, brutally honest portrayal of competing chorus dancers vying for thankless parts in the ensemble of a splashy musical. Yet each revisiting of this classic show has a life of its own, a spark that drives us to light a fire underneath our own impossible dreams or remember with fondness the years spent trying to achieve them. The Paramount Theatre's production sticks fiercely close to the show's original iteration — even hiring original London cast member Mitzi Hamilton to direct. With A Chorus Line, what you see is what you get, there isn't much room for interpretation. But as with most great musicals with an extensive Broadway shelf life, there's a reason you don't mess with a perfectly good show.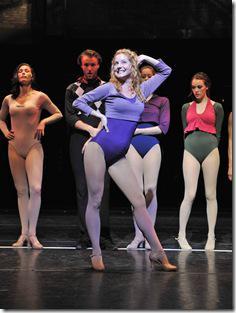 The story is familiar: Impatient director Zach, the husky-voiced
Luis Perez
, is casting the chorus line for his new musical, and the 17 faces competing for spots take turns positing on anything and everything, from lackluster childhoods to traumatic memories of coming out, endless strings of auditions, moving to New York and more.
Tommy Bracco
makes a charming, goofy Mike, whose story about stealing his sister's dance shoes is far more sweet than compelling. But others show a more serious side.
Kristina Larson-Hauk
's frosty Sheila manages to make the character more relatable than previous versions; her strong personality steered by a genuine desire to succeed. And
Pegah Kadkhodaian
brings an fiery strength to Diana; her voice is also one of the strongest in the cast. Her sweetly sung "What I Did for Love" does justice to
Marvin Hamlisch
's memorable score.
But the show's true heartbreak comes in the form of Cassie (Jessica Lee Goldyn), a wayward stage vet with enough talent for leading roles but the frustrating inability to land them. Unleashing her frustration from two years spent desperately searching for work, Cassie's intensity and drive reaches new heights in the superbly danced "The Music & the Mirror." Her heartbreak is your own.
The strength of A Chorus Line is its inherent ability to profoundly affect anyone who has struggled with their dreams and what it takes to achieve them. Leave the boundary-pushing, edgy plotlines to a show with a little more energy and a lot less heart. A Chorus Line is raw and real, but most of all, it's a distinctive classic, earning its own well-deserved role in a line-up of timeless musical productions.
Rating: ★★★
A Chorus Line continues through February 5th at Paramount Theatre, 23 E. Galena, Aurora (map).  Tickets are $35-$47, and are available by phone (630-896-6666) or online here (check for half-price tickets at Goldstar.com). More information at ParamountAurora.com.  (Running time: 2 hours 30 minutes, which includes one 15-minute intermission)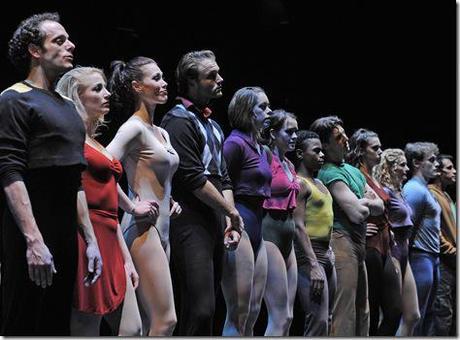 All photos by Liz Lauren
---