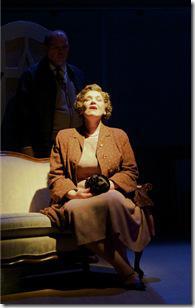 A Catered Affair 
Book by Harvey Fierstein 
Music and Lyrics by John Bucchino
Directed by Nick Bowling 
at Stage 773, 1225 W. Belmont (map)
thru April 1  |  tickets: $38   |  more info
  
Check for half-price tickets 
  
  
   Read entire review
  
---
More than just a white wedding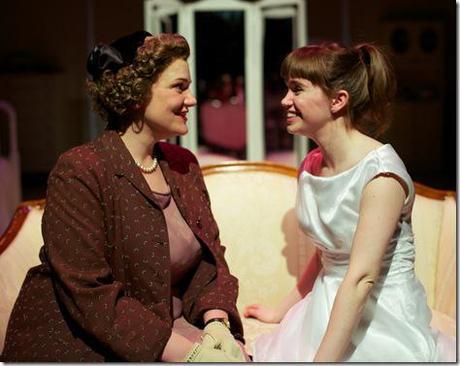 Porchlight Music Theatre presents
A Catered Affair
Review by Melody Udell
The premise is simple: Tom and Aggie Hurley are in the midst of planning their only daughter's elegant wedding. But A Catered Affair isn't all white satin gowns and baby's breath. For this Bronx couple in the early 1950s, their daughter's wedding is simply a façade that masks a larger unhappiness, a lapse in family devotion. This somber show, produced by Porchlight Music Theatre, shows us the gritty exterior of married life and the toll it takes on a family.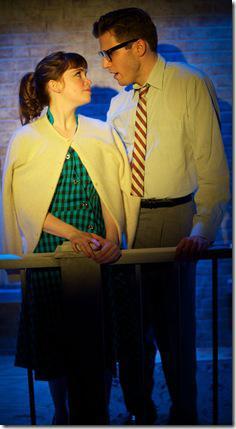 Rebecca Finnegan
's turn as the hardened, remorseful Aggie is a brilliant portrayal of a lifetime filled with regret. Playing her disconnected husband, Tom,
Craig Spidle
gives a fine performance as a salty cab driver who long ago replaced wistfulness with roughened practicality. Aggie and Tom butt heads as they make increasingly more expensive decisions to the chagrin of their daughter, Janey, played by a buoyant
Kelly Davis Wilson
. Janey just wants a simple courthouse wedding, but Aggie insists on throwing a lavish party with hundreds of guests to impress Janey's new in laws, convince the neighbors they can afford the spectacle and — most of all — to make up for her own lackluster nuptials that produced an even more lackluster marriage.
Throwing a wrench into the neat plotline is Aggie's brother Winston (Jerry O'Boyle), a gay bachelor whose lack of direction lands him under Aggie's roof for the majority of the Hurley's marriage. Winston is hurt that Janey doesn't consider him an immediate family member. Unfortunately, the role should've had more of an impact; instead, it comes off as unfocused and cliché. Also not adding much is John Bucchino's music and lyrics. While O'Boyle and the rest of the cast are excellent singers (especially Finnegan), the score is unmemorable at best.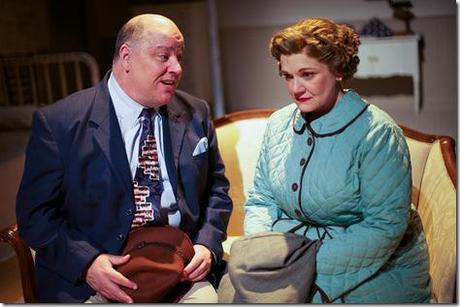 Evoking tight-knit, urban apartment living, Brian Sidney Bembridge's subtle set design helps the show capture its bleak tone: the expanding Formica kitchen table, a sepia photo of the Hurley's son, who died in battle during the Korean War. The small stage adds to the show's intimacy, although Director Nick Bowling's clunky blocking often results in characters facing away from the stage during a pivotal line or song.
A Catered Affair is a dismal slice of Americana. While weddings are usually a glorious distraction from the day's worries, in this case, a wedding is the main cause of them. But it reminds us that there's beauty in simplicity, and even though life can be a scary roller coaster ride, you have to open your eyes to see the view.
Rating: ★★½
A Catered Affair continues through April 1st at Stage 773, 1225 W. Belmont (map), with performances Fridays at 7:30pm, Saturdays at 8pm and Sundays at 2pm.  Tickets are $38, and are available by phone (773-327-5252) or online at PrintTixUSA.com (check for half-price tickets at Goldstar.com). More information at PorchlightMusicTheatre.org.  (Running time: 90 minutes with no intermission)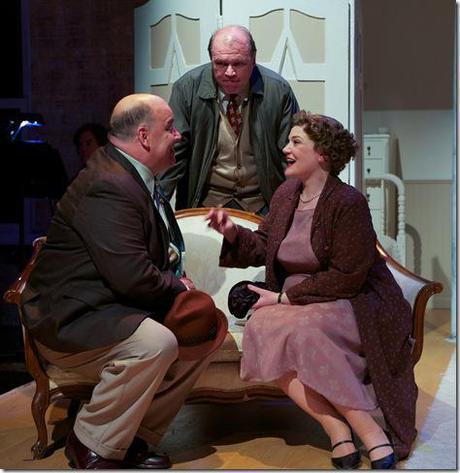 All photos by Brandon Dahlquist 
---