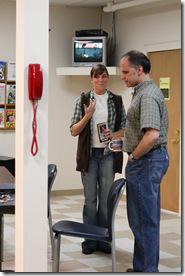 A Bright New Boise 
Written by Samuel D. Hunter
Directed by Joshua Aaron Weinstein
Greenhouse Theater Ctr, 2257 N. Lincoln (map)
thru Dec 17  |  tickets: $15-$20   |  more info
Check for half-price tickets 
  
  
   Read entire review
  
---
How the sadder half lives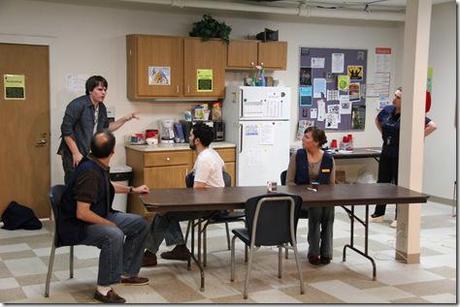 LiveWire Chicago Theatre presents
A Bright New Boise
Review by Lauren Whalen 
According to the press release for LiveWire Theatre's Chicago premiere of A Bright New Boise, TimeOut New York called the play "a clear-eyed comedy [that] will lift your heart." TimeOut saw a different play than I did. Though mostly well-executed by its players with the help of a stunningly accurate set, A Bright New Boise has a few early chuckles but largely explores the darker sides of faith and human nature. Not a comedy by any stretch of the imagination.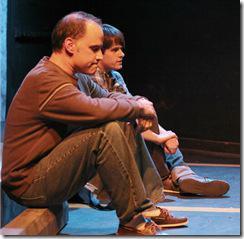 Hapless but haunted Will (
Tom Hickey
) takes a job at the conservative Christian chain Hobby Lobby. Armed with a resume of grocery store jobs and an accounting position for an unnamed church, Will has relocated to Boise in hopes of connecting with his teenage son Alex (
Jackson Challinor
), who also works at the craft emporium. In the break room Will connects with and alienates various employees including confrontational artist Leroy (
Brian Rad
), high strung Anna (
Faith Hurley
) and no-nonsense manager Pauline (
Allison Cain
). As Will and Alex's relationship slowly progresses, secrets are revealed and faith in God, music and chain stores is questioned – while unnamed corporate drones chatter away on the break room TV when the satellite isn't showing ear operations instead.
I'm not in love with the recent trend of intermission-less shows. Any longer than 90 minutes without a break – 100 is pushing it – and my attention wanders, particularly if the script is as intense as A Bright New Boise. Though it's no fault of the cast and crew, the play is a lot to take in without time to breathe. Transitions between scenes often don't occur in blackout, resulting in long and awkward stretches of characters putting on deodorant or sadly locking away their laptops, accompanied by instrumental piano that doesn't fit with the tone of the show and cuts off abruptly when the next scene begins.
The star production value is Anders Jacobson's and Judy Radovsky's set and props design, which mimics a corporate chain break room with flawless accuracy, down to the working coffeemaker and the motivational kitten poster on the wall. In lieu of an intermission, audience members can take a mental break by studying the sad fliers for church bake sales, the employee roster whiteboard and the refrigerator magnets. Jacobson's set is a work of realist modern art.
A Bright New Boise has the feel of an indie film similar to 2002's "The Good Girl;" a cadre of quirky employees with complicated inner and outer lives, congregating in a chain store environment. At times, the characters feel a bit paint-by-numbers, from the sad sack wannabe dad to the socially awkward cashier to the perpetually ticked off sales associate who has the best knowledge of the store stock. However, the dialog is realistic and certain relationships – such as Leroy's combative protection of Alex – come across as emotionally true.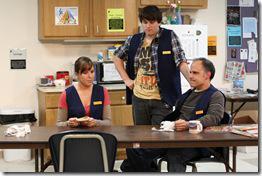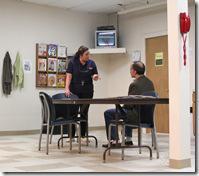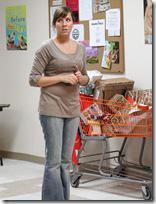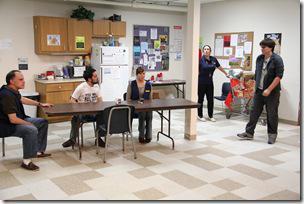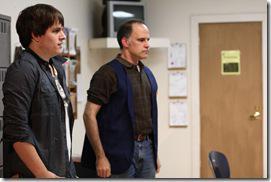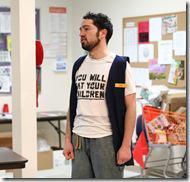 Though he occasionally overacts, Hickey brings a craggy complexity to Will, reminiscent of Billy Bob Thornton. As Will's long lost son Alex, real-life high school senior Challinor tries his best but his interpretation is left wanting. Though playing a teenager is extremely difficult, casting an actual teenager among more experienced professional actors isn't always the solution. Hurley's Anna is sweetly endearing, though a bit sheiky for the studio space. The cast's two standouts are Allison Cain and Brian Rad. Cain's store manager Pauline is pitch perfect, from her ill-fitting khakis to her bawdy politically incorrect jokes to her brilliantly delivered monolog on why this store means so much to her. And Rad commands attention from his first moment onstage, in equal measures sarcastically funny, fiercely caring and genuinely angry.
A fair-minded analysis of what draws lost souls to extreme religion and the delicacy of connection, A Bright New Boise provokes and saddens with little relief. Earnest performances and an eye-catching set lend to a thoughtful interpretation of a difficult script. Just don't expect a comedy.
Rating: ★★★
A Bright New Boise continues through December 17th at Greenhouse Theater Center, , 2257 N. Lincoln (map), with performances Thursdays-Saturdays at 8pm, and Sundays at 3pm.  Tickets are $15-$20, and are available by phone (773-404-7336) or online at tix.com (check for half-price tickets at Goldstar.com). More info at livewirechicago.com.  (Running time: 1 hour 45 minutes with no intermission.)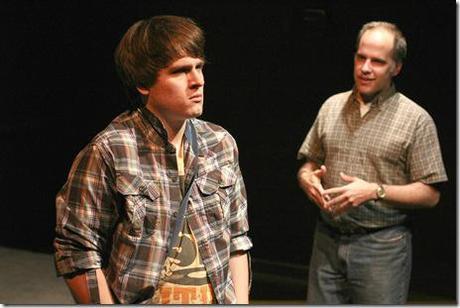 All photos by Austin Oie 
---
artists