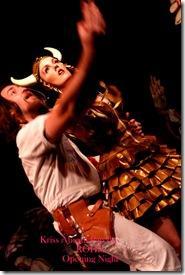 Rollin' Outta Here Naked:
   A Big Lebowski Burlesque  
Written and Directed by Keith Emroll  
Viaduct Theatre, 3111 N. Western (map)
thru Sept 22  |  tickets: $17   |  more info
  
Check for half-price tickets 
  
  
   Read entire review
  
---
Dude….Where's my pants???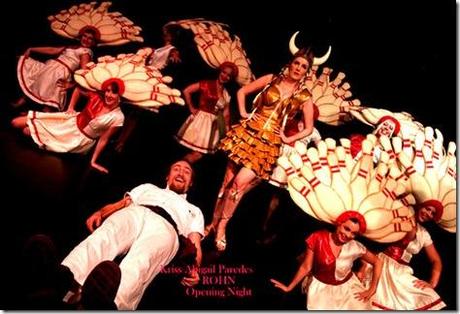 Vaudezilla presents
Rollin' Outta Here Naked:
   A Big Lebowski Burlesque
Review by K.D. Hopkins
Vaudezilla is known for putting on the best authentic burlesque shows in Chicago. A Big Lebowski Burlesque is no exception. Vaudezilla founder Red Hot Annie sets the standard for theme burlesque. The themes are contemporary but the dancing and striptease are a throwback to the 1940's, with the exception of a male element affectionately called 'boylesque'.
For those familiar with the film, "The Big Lebowski" is a stoner cult classic about a man called The Dude with the last name of Lebowski. The film is a dark and hilarious farce about mixed identities, a whacked out veteran, a missing trophy wife, some nihilists, pot, and bowling. Vaudezilla takes the characters up a notch on the crazy scale. Logan Conner plays The Dude and does a spot-on Jeff Bridges imitation. Conner and the Bowling Showgirls reenact a really cool musical sequence. I wondered beforehand if they would be able to pull it off and to my delight they did. It is a surreal bit of genius in costuming and choreography. Red Hot Annie does a stellar Bunny in a Viking outfit that turned my visions of Wagner upside down.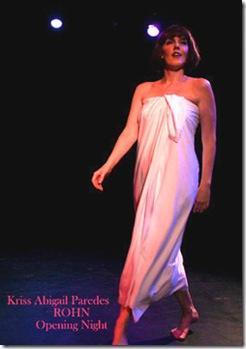 Tara Ractyl
gender bends the role of Walter the psycho Vietnam vet who observes the Shabbat. Ractyl is in a fat suit with a beard drawn on but she channels John Goodman expertly. It is a perverse shock to see a gorgeous sexy woman emerge from behind the yellow tinted aviators and hunter's vest.
Brendan Yulkins
plays Brandt as if he were polishing something with his butt cheeks, and that is exactly what his character is supposed to be like. When Yulkins says 'soiled', there is an imperceptible cheek squeeze in his voice and body language. It's comic gold.
Mia D. Vine
plays the AWOL trophy wife Bunny. Her jubilant dance to "Viva Las Vegas" glows with insouciance and bad girl sass.
There is only one Nihilist in this production and that is all that is needed. Trixie Sparx causes the audience to roar when she fakes cutting off her toe and screams 'Nein! Nein! Nein!' Sparx never breaks character, even during the trivia segment when she is the prize bearer. She has perfected a manic limp and crazed expression. I really want to hear Walter say, "You want a toe? I can get you a toe!" I will bet a toe that "The Big Lebowski" fans will groove on it.
The role of uber macho bowler Jesus Quintana is played by Mister Junior. I find his clothed portrayal more funny and intriguing than his striptease. There is no mystery once he strips off the jumpsuit. There is a full view of his buttocks (very nice!) but then it's all butt flashing while wearing a strategically placed sock. To be clear, there are never any genitalia in true burlesque so the sock was accurate. There just wasn't a whole lot of lead up to the final strip down. (Possibly dance a little more or deconstruct the jumpsuit so that it comes off slower?)
Finally, there would be no show without the glorious Red Hot Annie doing her graceful and seductive signature striptease. Annie has burlesque down to an art with a knowing facial expression and sultry moves. Sally Rand provides her feathered fan props and Annie does the trick with a flowing toga. She sweeps the toga over people in the audience and swirls about the stage before revealing her daintily placed pasties. One of the things that I like most about Vaudezilla is that the women come in all shapes and sizes. Do not expect anorexic pole dancers. There is muscular, sylphlike, luxuriantly cushioned, and many other varieties of figures. They all display the beauty that is the human body through setting the stage and artful illusion. Kudos and applause to the entire cast. Every Vaudezilla show is prefaced by Rollin' Out of Here Naked, which teases that there is a touch of raunchiness. The humor is blue and there is definitely a naught vibe going on with the show. I recommend checking out A Big Lebowski Burlesque for a great time and maybe a few ideas to get your own dancing groove going.
Rating: ★★★
A Big Lebowski Burlesque continues through September 22nd at Viaduct Theatre, 3111 N. Western (map), with performances Fridays and Saturdays at 10pm.  Tickets are $17, and are available online through BrownPaperTickets.com (check for half-price tickets at Goldstar.com). The show is for 18 and over and Viaduct does have a bar for those 21 and over.  More information at Vaudezilla.com.  (Running time: 90 minutes, no intermission)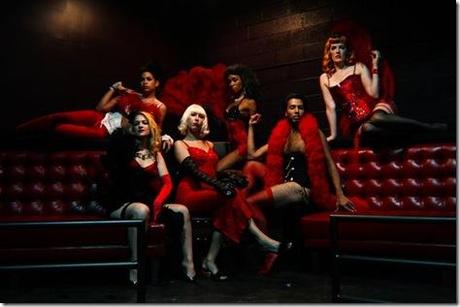 Photos by Kriss Abigail
---
artists
cast
Logan Conner (The Dude), Tara Ractyl (Walter), Dirty Devlin (Donny), Red Hot Annie (Maude) Serena Starr (Maude Understudy), Brendan Yukins (Brandt), Mia D. Vine (Bunny), Mister Junior (Jesus Quintana), Trixie Sparx (Nihilist), Mark Lancaster (The Stranger/Burkhalter/Marty the Landlord Understudy), Raven Gemini (Marlena/Bowling Showgirl), Aisha Kandisha (In & Out Burger Employee and Bowling Showgirl), Kyle Greer (Knox Harrington), Matt Leuck (Mr. Lebowski), Keith Emroll (Marty the Landlord/Mr. Lebowski Understudy), Paprika AMe, Po' Chop, Christina Hyena, Lulu Loose, Titty Perkins, and Marci Vous-Plait (Bowling Showgirls)
behind the scenes
Red Hot Annie (executive producer, hair/makeup), Dick Dijon (executive producer), Keith Emroll (writer/director/program design) Logan Conner, Matt Leuck (additional material), Jen Schalliol (assistant to the director), Ed Schweitzer (lighting design), Po' Chop (bowling showgirl choreography) Erin Gallagher, Limebarb,com, Donna Touch (costume design), Titty Perkins (costume alterations/hair/makeup), Ariel Hartman (light/sound operator), Marci Vous-Plait (hair/makeup), Oomph Design (graphic design), Kriss Abigail (photos)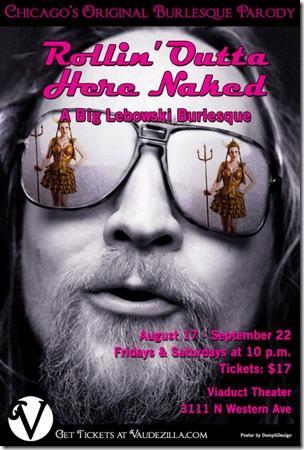 12-08280