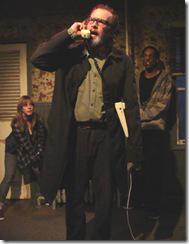 A Behanding in Spokane 
Written by Martin McDonagh  
Directed by Rick Snyder  
at Profiles Theatre, 4147 N. Broadway (map)
thru Dec 4  |  tickets: $35-$40   |  more info
Check for half-price tickets 
  
  
   Read entire review
  
---
Cox's superb performance not enough to save one-note wonder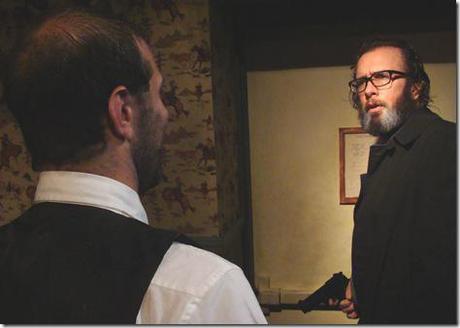 Profiles Theatre presents
A Behanding in Spokane
Review by Catey Sullivan 
From the title onward, A Behanding in Spokane is marked by the idiosyncratic hyper-violence and twisted black humor that defines the dark and glorious works of Martin McDonagh. But as McDonagh's works go, Behanding is a trifle. There's no shocking familial backstory to unpack a la Pillowman. No family dysfunction boiling toward matricide as in the Beauty Queen of Leenane. A Behanding in Spokane is a smaller story, the tale of a simple man whose wants are few. Carmichael (Darrell W. Cox) just wants to get his long lost hand back.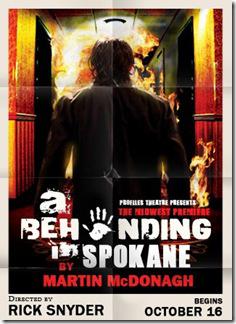 The one-handed fellow has been attempting to locate his missing appendage for the whole of his adult life. The hand was severed when a passel of neighborhood bullies held it down in the way of an oncoming train. Adding insult to injury, the toughs waved Carmichael goodbye – flapping his own hand in farewell as they ran off down the road.
And so Carmichael has spent years on a singular mission that won't stop until he regains that which was so brutally (and literally) ripped from him. His modus operandi is to take out ads and promise rewards. And he has been hopeful enough at times to accrue a battered suitcase filled with dozens of hands in various stages of decay. None seem to be his. The quest continues at curtain up, when we meet Carmichael holed up in a seedy hotel room, vocally pistol-whipping somebody he's got tied up in a closet. This being the world of McDonagh, you know it's only a matter of time before the gun actually goes off.
But the gun is hardly the only means of inflicting stress and torture on the teenage nitwits (Sara Greenfield, Levenix Riddle) trying to collect a $500 in exchange for a bogus hand. There's also a jerry-rigged can of gasoline involved, and the imminent threat of the hotel room blowing a pair of inept teenage (would-be) con-artists to kingdom come.
There are two primary problems with the intermittently entertaining Behanding. The first is it's just too bizarre to take seriously. McDonagh is always over the top, but this time around, he's both over the top and over the shark, which he jumps well before his characters start lobbing the contents of that fetid suitcase in a sort of necrotic food fight. Carmichael's quest never reads as particularly truthful, despite a performance by Cox, who disappears into the role with supreme effectiveness (he's truly unrecognizable here.) In addition to the maximum weirdness of the story itself, McDonagh inserts a monolog midway through that seems to have wandered in from another script entirely. As hotel clerk Mervyn (Eric Burgher) stops the show for a bit of direct address backstory that is about as structurally consistent as, oh, a massive set of Golden Arches atop the Eiffel Tower. It just doesn't fit, despite Burgher's unparalleled ability to create characters that are needy, wounded and not exactly Mensa material.
Problem Two lies with the overall tone of the piece. Directed by Rick Snyder, Behanding is largely a one-note wonder, all shrill screaming and no emotional conviction. At times, watching the piece is akin to being stuck at a prolonged stoplight next to one of those asshats who insist on sharing their taste in music via five-bazillion mega-watt bass amps strong enough to rattle the fillings from your teeth.
As directors go, Snyder is about as good as it gets hereabouts. But he's not at his best here – volume is a poor substitute for emotional honesty and truthful storytelling.
Rating: ★½
A Behanding in Spokane continues through December 4th at Profiles Theatre, 4147 N. Broadway (map), with performances Thursdays and Fridays at 8pm, Saturdays at 5pm and 8pm, and Sundays at 7pm.  Tickets are $35-$40, and are available by phone (773-549-1815) or online at TicketWeb.com (check for half-price tickets at Goldstar.com). More information at ProfilesTheatre.org.  (Running time: 95 minutes, with no intermission)
All photos by Wayne Carl
---
artists
cast