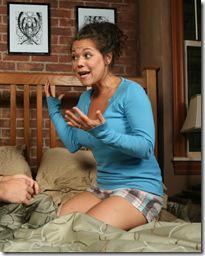 A Beautiful Spell
Written by Greg Kalleres
Directed by Ian Streicher
at Royal George, 1641 N. Halsted (map)
thru Aug 7  |  tickets: $15-$25   |  more info
Check for half-price tickets
   Read entire review
---
Love test in the wee hours casts its spell on the audience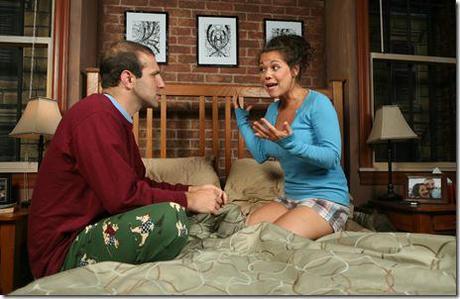 Rare Terra Theatre presents
A Beautiful Spell
Review by Lawrence Bommer
Saint Augustine called it "the dark night of the soul," – that dread-before-dawn when the world feels dead: Haunted by the black thoughts about mortality and more that daylight dispels, you wish you were too. That happens, instantly and toxically, to Franny, a sixth-grade school teacher who's been married for nine years to claims adjustor Jim, and who has an adored 5-year-old son named Jack.
But at 4 a.m. none of that matters. Seething with a panic attack, she looks at sleeping Jim as if he was a stranger, a guy with "stupid" hands who she can't recognize as the man she chose to live with for the rest of her life.
For the next 90 minutes the New York couple, in this engrossing world premiere one-act by Greg Kalleres, try to fix her sudden loss of love. At first Jim, groggy and disoriented, thinks it's something she ate or a change of habit. But the exchanges between them start to metastasize. They begin to dig up pet peeves and, worse, suspicions of jealousy with friends and colleagues. He reassures that their partnership is built to last, his pragmatism balancing her spontaneity. But a few minutes later he's slamming the pillows into the bed in impotent rage.
Franny, shocked by her immunity to passion, is now convinced that their love was just a "beautiful spell–from which she's awakened just before dawn." She argues that evolution invented love as a mutual delusion, a bond to keep them together long enough to raise children. Fine if you fall for it—but it seems she made the mistake of breaking the spell.
Increasingly desperate, Jim tries roleplaying in order to kick start some make-up sex—and the play turns both hilarious and moving as they go from a clumsy claims adjustor/client fantasy to a more serious one in which they simulate sex between each other's imagined rivals.
The playwright is too honest to think that any late night/early morning heart-to-heart or even body-to-body negotiation can cure this very early midlife crisis. It may just be a matter of letting the sun shine in: The sheer force of reassuring habit resets the relationship (if not returns it to the factory specifications).
Maybe love starts as a spell, but the sheer persistence of marriage regulates it into a comfortable and controllable illusion. As the British say about the monarchy, "You should never shine daylight on magic." But here the former works to preserve the latter.
Ian Streicher's perfectly pitched staging insures that Eric Burgher's ardent and anguished Jim and Maggie Corbett's insouciant Franny are on top of every swift change in Kalleres' warm and witty dialogue. Admittedly, much of this is familiar from several scenes in The Fourposter Bed and its musical I Do! I Do!, as well as the film "Before Sunset." But Rare Terra's clever and pointed drama does cast a spell. Given this tiny gallery space, it's likely to run well into the fall, if not transfer to a bigger venue. Its great strength will be the post-show debates it triggers in the couples who see it.
A Beautiful Spell could be their test too.
Rating: ★★★★
Rare Terra Theatre's A Beautiful Spell continues through August 7th at Royal George Theatre, 1641 N. Halsted (map), with performances Thursdays thru Saturdays at 8pm and Sundays at 5pm. Tickets are $15-$25, and can be purchased by phone (312-988-9000) or online through Ticketmaster. More information at RareTerraTheatre.com.
Photos by Anthony Robert La Penna
---
artists
cast
Eric Burgher (Jim), Maggie Corbett (Franny)
behind the scenes
Ian Streicher (director); Emma Casey (costumes, production coordinator); K. Hannah Friedman (asst. director); Kelley Anne Keough (stage manager); Jeffrey Levin (sound, original music); Sotirios Livaditis (sets); Lyndsey Lyddan (lighting); Anthony Robert La Penna (photos)