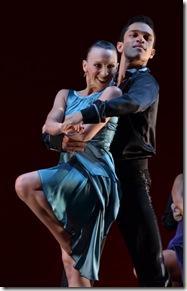 Giordano Fall Program 
Artistic Director: Nan Giordano
at Harris Theater, 205 E. Randolph (map)
thru Oct 27  |  tickets: $15-$60   |  more info
  
Check for half-price tickets 
  
  
   Read entire review
  
---
A testament to pure frenetic energy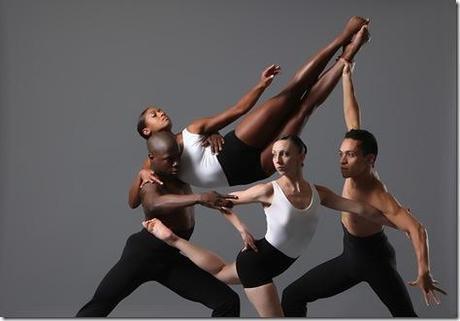 Giordano Dance Chicago presents
50th Anniversary Season Fall Program
Review by Lauren Whalen 
Intensity can also be fun. After last weekend's beautiful but deathly serious double bill of the Joffrey Ballet's Human Landscapes (my review) Hubbard Street Dance's One Thousand Pieces (review), Giordano Dance Chicago's fall program was a breath of fresh, flexible, well-choreographed air. The renowned jazz and contemporary dance ensemble kicks off its 50th anniversary season with seven bright pieces – including one world premiere, four full company works, and a solo tribute to late founder Gus Giordano – that prove that happiness and skill can go hand in hand.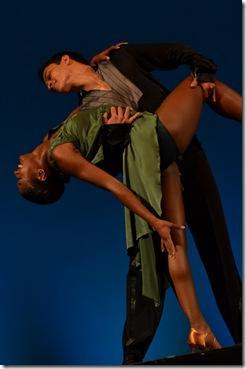 The evening opens with "Le Grand Futur is Here!", choreographed in 1999 by
Mia Michaels
. Anyone who's seen "So You Think You Can Dance" is familiar with Michaels' distinctive style: eclectic organized chaos. Michaels demands the utmost flexibility and athleticism of any dancer who dares to attempt her work, and Giordano Dance Chicago is more than up for the challenge. Clad in simple white leotards and light blue briefs designed by
Branimira Ivanova
, the dancers have an otherworldly quality while remaining firmly and strongly in the ground. Michaels' style may seem wacky to some, but as these able dancers prove, it works remarkably well.
"Wings" and "G-Force", the next two numbers, prove a study in contrasts. Giordano artistic associate Autumn Eckman performs "Wings" as a tribute to company founder and choreographer Gus Giordano, who created the piece in 1978. Set to Joan Baez's a cappella rendition of "Swing Low, Sweet Chariot", "Wings" is a prayerful tribute rich with sustained balances, and Eckman's arabesques and attitude turns are understated and exquisite. Eckman is also the mastermind behind the world premiere of "G-Force", a full company work.
Scored with house music, "G-Force" utilizes the dancers like molecules, as they bang together, lurch apart and feed off one another's energy and strength. Thanks to Ivanova's costume design, the company resembled 1950's superheroes and Eckman's choreography showcased an intimate knowledge and deep appreciation of her fellow dancers and their unique abilities. The program's first half concludes with the glittery "Sabroso". Del Dominguez and Laura Flores' steps are a seamless blend of salsa, swing and disco, an energetic combination of styles and eras. The company was all big smiles and sharp turns, particularly Zachary Heller and Meredith Schultz.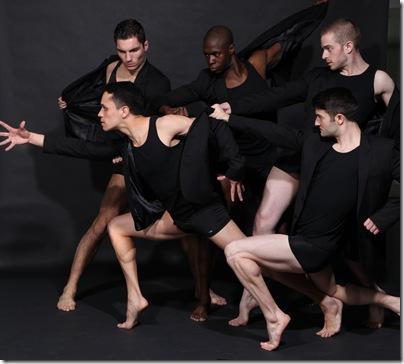 Mark Swanhart's "Sidecar", the second half's opener, is both the program's most whimsical number and a shining example of success in both concept and execution. Starting off with giggly whimsy, the number feels like a bizarre circus dream from the 1950's – but never gets overly cute or saccharine. Ivanova's gorgeous Parisian outfits include Converse sneakers, flouncy skirts and striped knee socks, and the company displays a winsome innocence as they twirl through a sweet narrative. Company member Lindsey Leduc choreographed the pas de deux "Gravity", a pas de deux with a nice arc that's emotional but not melodramatic. Leduc's steps lovingly illustrate Sara Bareilles' lyrics without outright enacting them, and she and Sean Rozanski display wonderful chemistry and remarkably soft landings. Though "JOLT" (also choreographed by Eckman, from Artistic Director Nan Giordano's concept) is a bit underwhelming, it contains some genius bits involving coffee cup percussion and is an enjoyable end to a fast-paced evening.
Giordano Dance Chicago has begun a landmark season with a burst of vivacity. Each full company work showcases the ensemble's true cohesiveness and their playful but focused collective nature. The fall program's two hours of "wow" – living, breathing and leaping proof that this powerful company will be around for decades to come. Gus Giordano would be thrilled with this legacy.
Rating: ★★★½
50th Anniversary Fall Program continues through October 27th at Harris Theater, Millennium Park, 205 E. Randolph (map), with performances Friday/Saturday at 8pm. Tickets are $15-$60. More information at GiordanoDance.org.  (Running time: 2 hours, includes an intermission)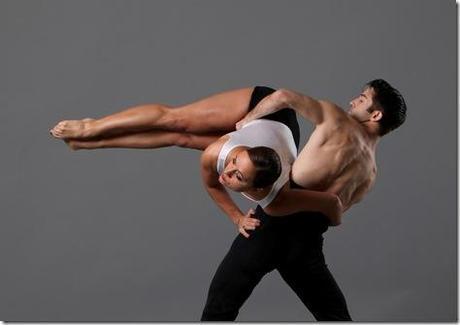 Photos by Kam Hobbs, Gorman Cook Photography, Kat Fitzgerald, Mystic Images Photography
---
artists
perforers
Devin Buchanan, Joshua Blake Carter, Autumn Eckman, Zachary Heller, Lindsey LaFountain, Lindsey Leduc, Maeghan McHale, Ashley Rockwood, Sean Rozanski, Meredith Schultz, Martin Ortiz Tapia, Katie Rafferty
behind the scenes
Gus Giordano (Founder), Nan Giordano (Artistic Director), Michael McStraw (Executive Director); Kam Hobbs, Gorman Cook Photography, Kat Fitzgerald, Mystic Images Photography (photos)
For "Le Grand Future is Here!"
Mia Michaels (Choreography), Amon Tobin (Music), Branimira Ivanova (Costume Design), John Imburgia (Lighting)
For "Wings"
Gus Giordano (Choreography), Joan Baez (Music), Kevin Dreyer (Lighting)
For "G-Force"
Autumn Eckman (Choreography), Starkey (Music), Branimira Ivanova (Costume Design), Kam Hobbs (Lighting Design)
For "Sabroso"
Del Dominguez and Laura Flores (Choreography), Monguito Santamaria, Tito Rodriguez, Tito Puente, Eddi Palmieri, Machito (Music), Branimira Ivanova (Costume Design), Kevin Dreyer (Lighting Design)
For "Sidecar"
Mark Swanhart (Choreography/Sound Design), Yann Tiersen, The Platters, Jon Brion, Solex (Music), Branimira Ivanova (Costume Design), Todd Clark (Lighting Design)
For "Gravity"
Lindsey Leduc (Choreography), Sara Bareilles (Music), Kam Hobbs (Lighting Design)
For "JOLT"
Autumn Eckman (Choreography), Nan Giordano (Concept/Structure), Evan Bivins (Original Music), Nina G. (Costume Design), Kam Hobbs (Lighting Design)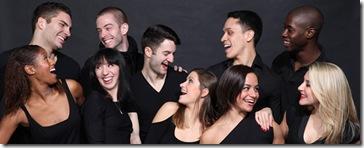 12-1072