Hey Beauties!!!
I hope everyone's having a good day. I am going to be reviewing a product that was sent to me from
BornPrettyStore.com
. If you've never heard of them, there a website with all different nail supplies, tool, stickers, stampking kits, brushes,etc. If you are into doing nail art and designs like myself you'll really like the site and what they have to offer.
I was contacted by them about a month ago asking if I would be intrested in trying out one of their products to review and of course I said yes. I had never heard of them until they contacted me. When I took a look at the site to pick out a product, I immedieatly saw there Dotting Tool Set and knew I wanted to try this product.
It had 5 different dotting tools, one end has a larger ball and the other end has a smaller ball and each tool has different sizes. You can use these dotting tools for more than just dots too. Plus I like the pretty marble design they came with.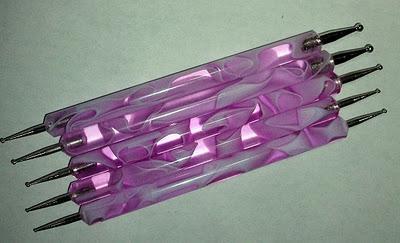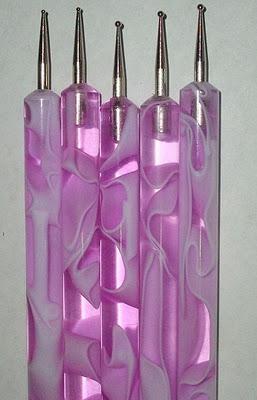 I opened my mailbox today and looked through the junk mail as usual and the last thing was a package from
BornPrettyStore
 and I got so excited like a little kid on Christmas morning! I opened them right away and started playing around with them on my nails. It was good that i was about to take off my nail polish today so it didn't matter. My goal wasn't for perfect or neat, I really just wanted to test them out.  I grabbed any 3 colors to use and started dotting away.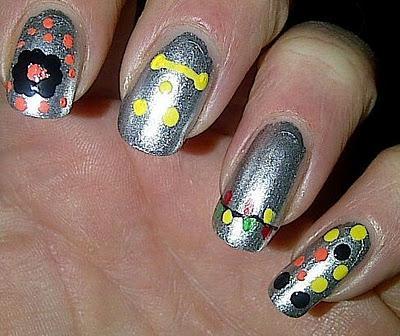 Again..don't mind the sloppy job I did. It was just to test out the tools, however I do like that I can use them for the Christmas lights design on my ring finger. 
I love the fact that there's different sizes to make different size dots/designs and that you can use them for even detailed nail art. (i.g the christmas lights design on my ring finger). I used one of the smaller dotting tools to shape the light bulbs into more of a narrow shape rather than a circle. 
I would have had no problem purchasing these if they weren't sent to me. The price for all 5 of these dotting tools is only $4.74, I think that's a great price. 
There's only one thing I'm a little confused about. On the website is says and shows that each end is a different size but I got 2 large ends, one medium end and 2 small ends. The opposite sides of the tools are all the same. This honestly doesn't bother me at all though and isn't really a big deal. There's actually an advantage to having 2 of the same sizes. you wont have to worry about cleaning off each end while in the middle of doing your nails. Thats how I look it anyway and there really easy to clean off too. Just dip the end of the dotting tool into nail polish remover for a few seconds and wipe it off with a paper towel.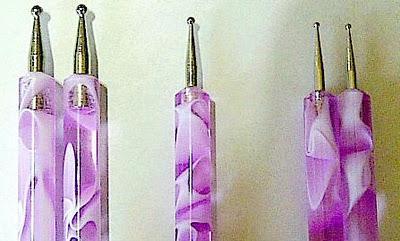 Anyway, I'm so happy to have these and use them in my future NOTD posts! Like I said if you're looking for some dotting tools I strongly suggest using this site. Not because I was given them for free, but because $4.74 for 5 dotting tools is a great price and it gets even better..They dont charge for shipping!!!!! I know!!! Usually  after purchasing something online that you thought was a good deal turns out to be a lot more bc they add shipping which always brings the total price way up. 
I'm impressed with this site and can't wait to order some more stuff. Here are all the links so you guys can check them out for yourseves.
BornPrettyStore.com Site
Dotting Tool Set Link
Do you guys own these dotting tools or any other dotting tools? Let me know how you like them!
DISCLAIMER: 
I was sent this product upon review and had the choice of picking out the product I wanted to try. In no way did that change my opinon of thi s product. I will always be 100% honest no matter if I purchased the product myself or not.
Click the links below :) 
Follow via GFC
Follow me on Twitter