If "Saturday Night Live" had been around since the founding of our country, this revue gives an idea of the treatment that might have been given to George Washington and all those who followed him .The list of 19th century one-term presidents (many who ascended from the vice-presidency following the death of the president) are particularly good fodder for the short scenes and songs that comprise this educational and frequently quite funny show. They're not all skewered, of course. There's much respect and even awe for the accomplishments of the Roosevelts (Teddy and FDR), horror at Truman's use of the atomic bomb, sadness over the assassinations of Lincoln and Kennedy and even an unlikely tribute to Richard M. Nixon. For the most part, though, there are good laughs to be had at the bald ambition or accidents of history that led many of these 44 men to take the office and the obvious incompetence of more than a few of them (Zachary Taylor, Millard Fillmore, William McKinley and Warren Harding come to mind).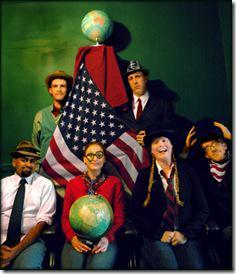 The show, which was first staged by 
the Neo-Futurists
 in 2002 and has been updated for some 35 productions over the past ten years (and an additional 49 in 2012), begins, of course, with the father of our country, George Washington. We see General Washington assuming the office by donning a military coat which will serve as a symbol for the presidency throughout the show. Actors will fight over it; even rip it into to pieces to symbolize the battles for the office which President Washington says should seek the man to fill it. Of course, the reverse becomes true quite quickly, as John Adams wins the presidency over Thomas Jefferson in a contentious battle.
The 44 plays comprise a variety of forms, with the ensemble of four men and two women playing presidents, candidates and others without regard to gender. At 2 to 5 minutes each for each play, there's no time for a complete survey of each president's legacy, but the writers tersely summarize whatever it is the leaders are remembered for – whether that's their legislation, scandals, personality or unusual circumstances of ascending to the office. The first of many highlights has Ben Franklin (Joe Dempsey) as a smarmy talk show host giving Thomas Jefferson a hard time for having fewer accomplishments than Franklin. The Abraham Lincoln play is a song (by Andy Bayiates) that includes a haunting and rhythmic chant of all the untimely deaths in Lincoln's life – beginning with his mother's death when Lincoln was nine years old, and moving through the deaths of his sister, first wife, two sons and finally his assassination. Theodore Roosevelt is honored as a multi-talented and prolific president through projections designed by Michael Fernandez. There's a clever song touting Nixon's surprisingly progressive accomplishments (balanced with a routine mocking his administration's corrupt practices). Jimmy Carter's poor relations with Congress are shown when all the cast members save Dempsey as Carter hide behind a door. One of the best scenes, though, has a moderate George H.W. Bush being corrupted by political consultant Lee Atwater into using the infamous "Willie Horton" TV ad that attacked opponent Michael Dukakis for once having granted a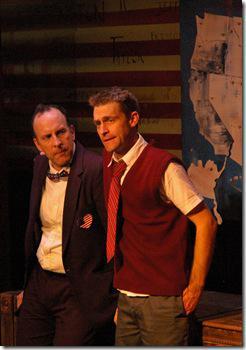 prison furlough to a convicted murder who committed more violent crimes during his furlough. The plays continue through a parody of Bill Clinton that mocks his trademark empathy; a George W. Bush (
Ryan Walters
), who blithely plays around while the rest of the ensemble displays the deep red and blue ideological divisions that developed at a great pace during his tenure; and conclude with a skit in which Barack Obama is forced to play increasingly hard playground games while his critics stand by. There's no direct mention of the current election campaign, but the show ends with a narrator reminding us that leadership is not provided solely by those who elect, but by the citizenry's participation in elections, and the cast hands out voter ID cards.
The ensemble is decked in school uniforms to support the idea that they're giving us a history lesson. They make use of a wallboard in which outline cutouts of the states are affixed to the board as they were added to the union – an effective reminder of how young our country in its current form actually – and how much smaller it was during the first few decades of its existence. In addition to the four original songs, there's also melodic transition music by Mike Przygoda and some clever use of pop songs of the period.
44 Plays for 44 Presidents is a fun, sometimes touching and moving work that packs an enjoyable survey of American history into just two hours.
Rating: ★★★
44 Plays for 44 Presidents continues through November 10th at The Neo-Futurarium, 5153 N. Ashland (map), with performances Thursdays-Saturdays at 7:30pm, select Sundays at 3pm.  Tickets are $10-$20 (with pay-what-you-can on Thursdays), and are available by phone (773-275-5255) or online through their website (check for half-price tickets at Goldstar.com). More information at NeoFuturists.org.  (Running time: 2 hours, includes intermission)