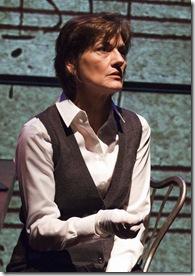 33 Variations 
Written by Moisés Kaufman
Directed by Nick Bowling 
at Stage 773, 1225 W. Belmont (map)
thru Oct 21  |  tickets: $32-$42   |  more info
  
Check for half-price tickets 
  
  
   Read entire review
  
---
A near-perfect song of obsession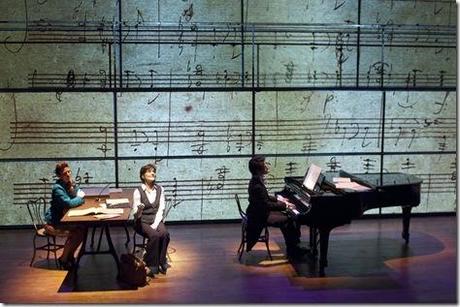 TimeLine Theatre presents
33 Variations
Review by Lauren Whalen 
Obsession knows no boundaries. The all-consuming drive overrides everything from familial relationships to degenerative disease. The two protagonists in 33 Variations have never met, were born in two countries and exist in different centuries. Yet they have commonality in their obsessions: one needs to create music, the other needs to understand it. And the level of I must finish is overwhelming to all around them. TimeLine's stellar Chicago premiere is a slow burn that grows beautifully into a full-blown forest fire.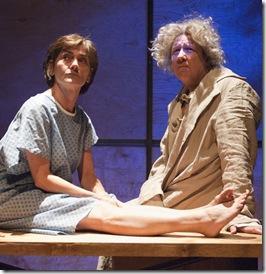 In 1819, Ludwig van Beethoven (
Terry Hamilton
) is commissioned to compose a variation on a piece composed by music publisher Anton Diabelli (
Michael Kingston
). At this point in his career, Beethoven is overbooked, deeply in debt and going deaf – but something about the music compels him to write not one variation, but more….then even more, much to the chagrin of his beleaguered but loyal assistant Schindler (
Matthew Krause
). Nearly two hundred years later, New York musicologist Katherine Brandt (
Janet Ulrich Brooks
) is determined to travel to Bonn, Germany and figure out the mystery of Beethoven's 33 variations of a less-than-stellar composition. She's obsessed with his obsession, and not even a degenerative disease or the protests of her wayward daughter Clara (
Jessie Fisher
) will stop her.
Tony and Emmy nominee Moisés Kaufman's script is profound yet witty, seamlessly connecting past and present and the respective struggles of Katherine, Beethoven and the loved ones fighting to pull them from the brink. The play starts very slowly, however, with a conversation that's muddled and not quite compelling. I'm not sure if this could have been avoided – sometimes a slow burn is a positive trait. What could have been cut is a scene in Act II in which Clara, nurse Mike (Ian Paul Custer) and archivist Gertrude (Juliet Hart) debate hiring a male prostitute for Katherine: it's funny, but drags down the pacing and is never mentioned again.
Aside from these few script hiccups, 33 Variations hits the right notes. Brian Sidney Bembridge's wood-paneled two-level set, mimicking a concert stage, is like a life-size dollhouse, doors and drawers popping out and conveying everything from a New York doctor's office to a German country house. Keith Parham's lighting design is warm and natural, supplemented by Mike Tutaj's gorgeous projections (most notable in an X-ray sequence involving Katherine and Beethoven). TimeLine Theatre has relocated their season premiere to Stage 773 due to an increased subscriber base – the best problem for a theatre company to have – and the larger space seamlessly accompanies this production.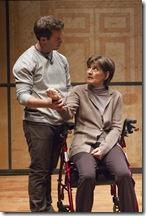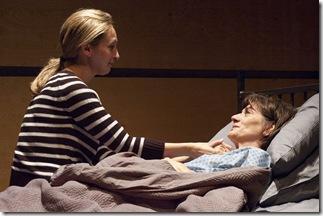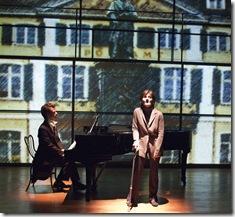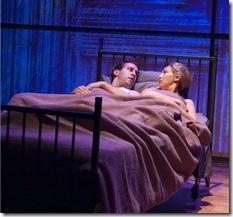 Sure as an accomplished conductor, director Nick Bowling guides his cast through the intricate script, most notably in Act I's final sequence. Though Hamilton is a bit stiff and Fisher occasionally whines her dialogue, the actors interpret the characters in an intelligent, thoughtful manner, never disregarding the opportunity for humor among the sadness. As Katherine and Clara, Brooks and Fisher create a mother-daughter relationship so layered and painfully believable that I frequently nodded in recognition. ("I've been on both sides of that!" the woman sitting next to me confided at intermission.) TimeLine company member Hart brings the staunch yet compassionate Gertrude to life with droll subtlety and a melodic German accent. And Custer is spot-on as goofy nurse Mike, who clumsily courts Clara while caring for her mother.
How does obsession take root? And though it can destroy a life, can it also save one? 33 Variations explores these questions and many more, to the tune of achingly natural dialogue, first-rate acting and a live piano score that underlies the many important moments. Like the best music, 33 Variations runs the gamut of emotions from frustration to glory, and leaves the listener deep in thought long after striking the final chord.
Rating: ★★★½
33 Variations continues through October 21st at Stage 773, 1225 W. Belmont (map) – note alternate location – with performances Wednesdays and Thursdays at 7:30, Fridays 8pm, Saturdays 4pm and 8pm, Sundays 2pm.  Tickets are $32-$42, and are available by phone (773-327-5252) or online through Stage773.com (check for half-price tickets at Goldstar.com). More information at TimeLineTheatre.com.  (Running time: 2 hours 15 minutes, includes an intermission)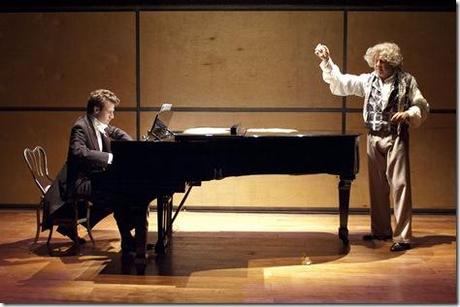 Photos by Lara Goetsch 
---
artists
cast
Janet Ulrich Brooks (Dr. Katherine Brandt), Terry Hamilton (Ludwig van Beethoven), George Lepauw (Lead Pianist), Ian Paul Custer (Mike Clark), Jessie Fisher (Clara Brandt), Juliet Hart (Dr. Gertrude Ladenburger), Michael Kingston (Anton Diabelli), Matthew Krause (Anton Schindler), Igor Lipinski (Pianist); Daria Harper, Michael Olavson, Andy Slade, Allison Tolman (understudies)
behind the scenes
Nick Bowling (director); Brian Sidney Bembridge (set); Alex Wren Meadows (costumes); Keith Parham (lighting); Andrew Hansen (sound design); Julia Eberhardt (props); Mike Tutaj (projections); Maren Robinson (dramaturg); Ana Espinosa (stage manager); John Kearns (production manager); Lauren Sheely (asst. director); Eva Breneman (dialect coach); Caleb Charles McAndrew (tech director); Austin Pettinger (asst. costumes, draper); Brittainy Barratia (production assistant); Mac Vaughey (master electrician); Dina Spoerl (lobby design); Lara Goetsch (photos)
12-0833