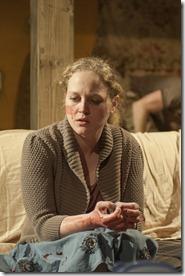 25 Saints 
Written by Joshua Rollins
Directed by Susan E. Bowen
at Greenhouse Theater, 2257 N. Lincoln (map)
thru March 31  |  tickets: $25   |  more info
  
Check for half-price tickets 
  
  
   Read entire review
  
---
Stark and brutal morality tale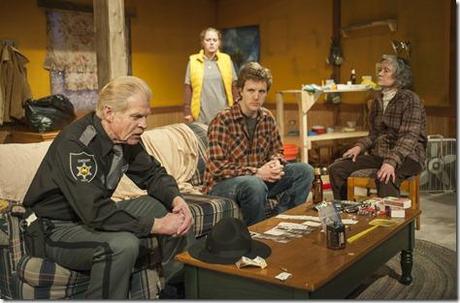 Pine Box Theater presents
25 Saints
Review by Lauren Whalen 
Desperation is ugly. Witness a man being brutalized in a run-down cabin by two men with murder in their eyes. It's not as straightforward as it looks. In modern-day Appalachia, there are no jobs, few schools and a burgeoning industry: meth. Pine Box Theater Company's world premiere of 25 Saints takes a harsh, unforgiving look at the complexities of doing the right thing (even if "the right thing" involves acetone and a heavy wood box).
Charlie Roedel (Drew Johnson) returned to his economically-depressed hometown to make things right. His brother Trevor blew up a meth lab and left behind a formerly pregnant girlfriend (Caroline Neff) and a huge debt to the town sheriff (Danny Goldring). The latter runs the town's only successful business – a meth ring. Aided by Trevor's best friend Tuck (Josh Odor), Charlie is on track to make the final batch – until aggressive Deputy Vance (John Ross Wilson) throws a wrench (or hammer) into their plans for escape.
25 Saints is hard to watch. Not because it's badly written – quite the opposite. Joshua Rollins' 75-minute script is at once breakneck fast and painfully slow. The events take place in a matter of hours, but the characters' struggles are agonizing, even more so once we learn their stories. Both Charlie and Tuck had the means to get out– Charlie through college, Tuck through the army – but found themselves right back where they started. Sammy, Trevor's abandoned girlfriend, wistfully recalls the couple's plans for a baby, then confesses to Charlie that she's not sure if the memories are real or she conjured them herself to get through the day. Both the sheriff and his crony, the sadistic Ms. Duffy (Molly Reynolds), are completely bereft of patience, compassion or humanity – and aren't above using violence to make a point. For Charlie, Tuck and Sammy, there's no way out that doesn't involve gas masks, force and understandable paranoia.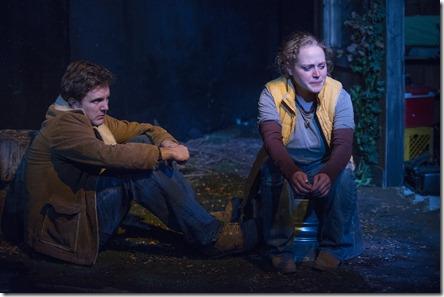 Pine Box ensemble member Susan E. Bowen's swift, sure direction puts us smack in the middle of a nasty situation that starts out bad and is only going to get worse. There's realism in every syllable, every step and – thanks to Ryan Bourque's spot-on fight choreography – every punch. Unlike some plays that rely on gratuitous violence to appear serious and relevant, 25 Saints' considerable aggression has most likely occurred in the many small farm towns (my hometown among them) where meth is now a serious, spreading problem. John Ross Wilson's set design pays homage to addiction: a cabin that was once beautifully rustic but now bears wear, mess and conspicuous absence of valuables.
As Charlie, Johnson puts on a brave, fresh face that ages with worry and terror as the stakes grow dire. Odor (so goofy and charming in Pine Box's The Jammer) provides comic relief with a can of Pringles and a harrowing monolog about a botched good deed overseas. Reynolds chews up and spits out profane threats, and the always wonderful Neff gives Sammy a wounded strength. In such a strong cast, only Ashley Neal is somewhat problematic. Part of this may be her character, pizza deliverywoman Sasha: playwright Rollins undoubtedly wanted to show someone addicted to meth, but Sasha's presence and role in the story feels forced. As does Neal's accent – she's the only cast member who comes across as an actor playing a part, rather than a real person.
In a program note, dramaturg Brandy Reichenberger quotes frightening statistics of once-booming, now poverty-stricken Appalachia. People are expected to work twice as hard for little money, and meth is a cheap, easy fix to the exhaustion and hopelessness that pervade. 25 Saints is a harsh, unsentimental look at those for whom survival is a victory, by any means necessary. By the end of this play, I was curled into a ball; later, I had nightmares – it was that real to me. I'll never go back, but I suggest you do.
Rating: ★★★½
25 Saints continues through March 31st at Greenhouse Theater, 2257 N. Lincoln (map), with performances Thursdays and Fridays at 8pm, Saturdays at 7pm and 10pm, Sundays 3pm.  Tickets are $25, and are available by phone (773-404-7336) or online through GreenhouseTheater.org (check for half-price tickets at Goldstar.com). More information at PineBoxTheater.org.  (Note: This play contains graphic violence. Running time: 75 minutes, no intermission)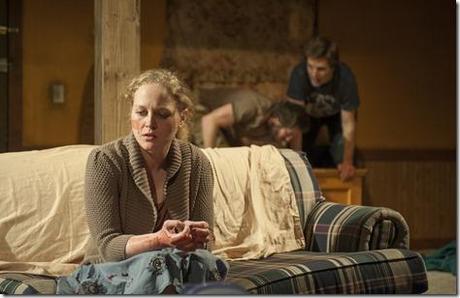 Photos by Michael Brosilow 
---
artists
cast
Josh Odor (Tuck), Danny Goldring (Sheriff), Drew Johnson (Charlie), Ashley Neal (Sasha), Caroline Neff (Sammy), Molly Reynolds (Ms. Duffy), John Ross Wilson (Deputy Vance)
behind the scenes
Susan E. Bowen (director), John Ross Wilson (set), Delia Baseman (costumes), Mike Durst (lighting), Victoria (toy) Deiorio (sound), Sarah Burnham (props), Ryan Bourque (fight choreography), Christa van Baale (stage manager), Michael Brosilow (photos)
13-0242