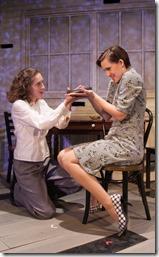 World premiere a fun female-driven noir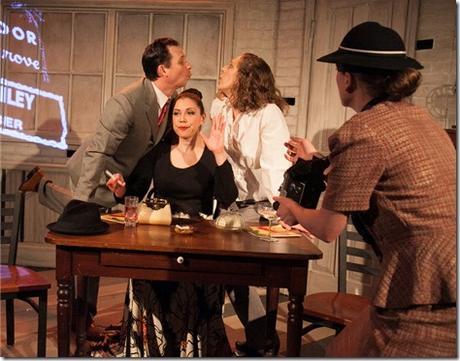 As I was telling a friend last week, small theater companies must have a hook, a distinct purpose, to survive this wonderful but crammed Chicago theater scene. Babes With Blades has just such a unique mission: "us[ing] stage combat to place women and their stories center stage." Their productions are often hit or miss - rarely in between - but their genuinely good intentions and experience have seen them through. Babes With Blades' latest, 180 Degree Rule , suffers from a somewhat scattered script and abysmal costume design, but its unique, compelling story and excellent cast carry it through.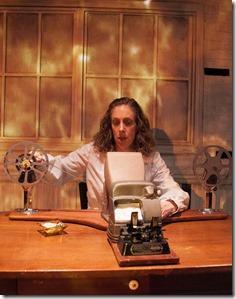 In the show's press release, director
Rachel Edwards Harvith
aptly describes
180 Degree Rule
as a "murder mystery, but...also a memory play." Written by Babes With Blades ensemble member
Barbara Lhota
and the late
M.E.H. Lewis
,
180 Degree Rule
shifts between the 1960's and the 1930's. In the freewheeling sixties, film professor Katie (
Kate Black-Spence
) searches relentlessly for answers concerning the mysterious death of obscure filmmaker Ruth Alice Bennett (
Amy E. Harmon
). An American who enjoyed success in pre-World War II Berlin before emigrating to Hollywood, Ruth eschews her fiancé Francis (
Chris Cinereski
) and eventually succumbs to the charms of German actress Margot Faber (
Lisa Herceg
). Katie wonders, did Ruth's defiance lead to her death? Or was there something else at play? Only Margot, now an older recluse, has the answers - or does she?
180 Degree Rule (the title refers to a filmmaking tenet) is an ambitious play, mixing original video with live action, combat with projections, drama with dark humor. At times, it appears Harvith has bitten off more than she can chew, but 180 Degree Rule 's faults lie mainly in its script, which was the last playwright Lewis penned before she died. Perhaps 180 Degree Rule suffers from Jonathan Larson syndrome, when the creator dies before possibly beneficial edits can be made. For a large part of the first act, the play can't quite decide what it wants to be: scenes of wackiness are harshly contrasted with brutal violence. Fortunately, 180 Degree Rule settles into itself as the climax draws nearer, though the mystery's resolution is the slightest bit unsatisfying. Still, it's wonderful to see a female-driven story and one that deals with lesbian sexuality so frankly, with a fun dose of nostalgia and an intelligent look at the dark side of old Hollywood glamour.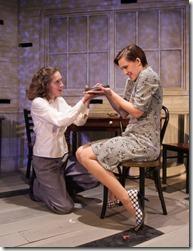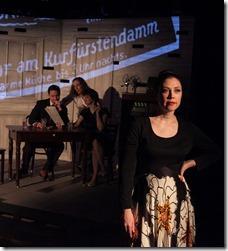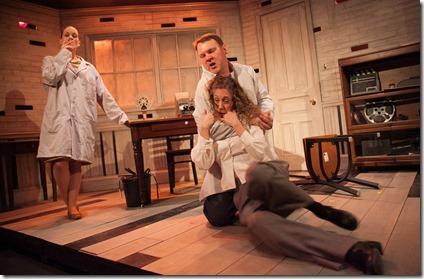 Keeping with Babes With Blades' mission, Libby Beyreis' violence design is well-executed and feels natural and organic to the story (as opposed to some past productions where combat feels wildly out of place). G. Max Maxin IV has a lot of fun with projection design that goes hand in hand with Carter Martin's old-timey film clips. Unfortunately, Beth Laske-Miller's costume design is all over the place (much like the script at some points), ranging from inconsistent to blatantly anachronistic. Cast standouts include Jason A. Narvy as Gilbert, Margot's beard and a dear friend of both Margot and Ruth; Black-Spence's earnest, searching Katie; and Herceg, who plays the exotic German diva Margot to the hilt.
Babes With Blades always takes risks, even if the results are mixed. 180 Degree Rule is a solid blend of good intentions and real skill. Director Harvith does an admirable job with a script that doesn't always make sense, infusing plenty of camp and silliness while never letting go of the serious subject matter. 180 Degree Rule is a double dose of nostalgia, a story that could easily be true, and Babes With Blades is an ideal match for presenting these complex characters with love and respect.
180 Degree Rule continues through May 21st at City Lit Theater, 1020 W. Bryn Mawr (map), with performances Thursdays-Saturdays at 8pm, Sundays 3pm. Tickets are $22 (students & seniors: $14), and are available by phone (773-904-0391) or online through BrownPaperTickets.com (check for half-price tickets at Goldstar.com ). More information at BabesWithBlades.org. (Running time: 2 hours, includes an intermission. Note: This production contains scenes of violence, including sexual violence)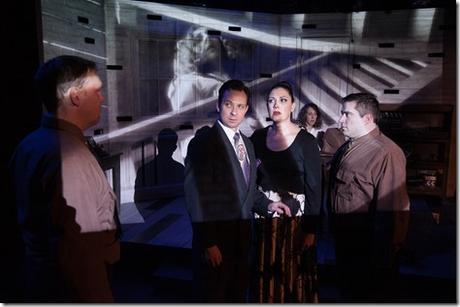 Kate Black-Spence (Katie Dunham), Tommy Bullington (George Berlitz, others), Chris Cinereski (Francis Montgomery, others), Amy E. Harmon (Ruth Alice Bennett), Lisa Herceg (Margot Faber), Kimberly Logan (Hedwige Sourile), Jason Andrew Narvy (Gilbert Bailey), Kelly Yacono (Aunt Henny, others), Patti Moore (u/s Katie Dunham)
behind the scenes
Rachel Edwards Harvith (director), Carter Martin (film director, editor), Tim Tavano (director of photography), Libby Beyreis (violence design), G. Max Maxin IV (projection design, scenic design), Laura J. Wiley (lighting design), Beth Laske-Miller (costume design), Leigh Barrett (sound design), Kurt Brandt (props design), Jason A. Fleece (dialect coach), Heather Meyers (dramaturg), Adam Greye (stage manager), Kaitlyn Grissom (technical director), Amy E. Harmon , Barbara Lhota (production managers), Johnny Knight (photos)
Tags: 16-0455, 180 Degree Rule, Adam Greye, Amy E. Harmon, Babes With Blades, Babes With Blades Theatre Company, Barbara Lhota, Beth Laske-Miller, Carter Martin, Chicago Theater, Chris Cinereski, City Lit Theater, G. Max Maxin IV, Heather Meyers, Jason A. Fleece, Jason Andrew Narvy, Johnny Knight, Kaitlyn Grissom, Kate Black-Spence, Kelly Yacono, Kimberly Logan, Kurt Brandt, Laura J. Wiley, Lauren Whalen, Leigh Barrett, Libby Beyreis, Lisa Herceg, Patti Moore, post, Rachel Edwards Harvith, Tim Tavano, Tommy Bullington
Category: 2016 Reviews, Babes With Blades, City Lit Theatre, Lauren Whalen, New Work, Video, World Premier, YouTube