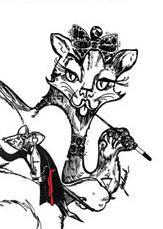 Noel Coward in Two Keys
Written by Noel Coward 
Directed by Robert Scogin 
Ruth Page Theater, 1016 N. Dearborn (map)
thru Nov 7  |  tickets: $25   |  more info
Check for half-price tickets  
  
   Read entire review
  
---
ShawChicago does Noel Coward proud

ShawChicago presents
Noel Coward in Two Keys
Review by Katy Walsh 
It's been twenty years but I still remember the moment and location of my greatest heartbreak.  The taste of my beer.  The look in his eyes. The feel of my blood rushing to my face.  The  sound of absolute silence as a piece of me hit the floor with a dull thud.   The smell of regret… fried fish, stale ale kegs and ammonia-soaked sponges. I left a piece of my heart in an Indiana dive bar called Between the Buns. 
ShawChicago presents Noel Coward in Two Keys, two one-act plays.  Playwright Noel Coward was a fan of one-act plays.   In fact, "Come into the Garden, Maude" and "A Song of Twilight" were originally part of a triple play.  In 1974,  the Broadway production starring Jessica Tandy and Hume Cronyn, dropped the third one-act and titled the double feature:  Noel Coward in Two Keys.  ShawChicago is producing this Coward version.  The two plays are both very similar and very different.  It's these variations that make them familiar and profound.  Under the skillful direction of Robert Scogin, the talented four member chorus orchestrate a rich and complex concert reading.
"Come into the Garden, Maude"  is up first.  A socialite connives to get onto the A-list.  Her rich husband is a good natured, down-to-earth soul.  She rewards him with a critical review of his every action.  Along comes a real-life princess, she sees the prince in disguise.  A kiss changes everything.  Kate Young (wife) is hilarious!  Young embraces the nonsensical urgencies of wanting a different life.  Young is deliciously dismissive of servants, friends and her husband. Richard Henzel (husband) is happy-go-lucky.  Henzel makes being-in-submission amusing.  His farewell 'good night, sweetheart!' is the new national anthem for hen-pecked husbands everywhere.  Barbara Zahora (princess) charms with a directness that makes dreams come true.  The doubly-talented  Zahora jabs her hostess while wooing her host.  A confident Zahora instills an unexpected twist into a marital routine.  
"A Song of Twilight" is the second offering.  An arrogant author is recovering from an illness.  An ex wants to visit.  His wife decides to make her own plans.  The ex blindsides the writer with his past.  Love changes everything.  In a terrific shift of personalities, Richard Henzel (husband) now becomes the bully and Kate Young (wife) is the bullied.  Henzel rages with emotional angst.  He hates everything and everyone.  His transformation from strong to vulnerable is so poignant that he and I are both weepy. I choke back a huge sob during one of the most beautiful expressions of love ever on stage.  ShawChicago doesn't need scenery or costumes because they deliver Noel Coward's words with pure raw emotion.  Adding to the wondrous scene are the surprising alterations of the revenge-seeking Barbara Zahora and the seemingly submissive Kate Young. 
Playwright Noel Coward is known for his sharp, witty dialogue.  This double-play goes from playful to impactful in 2.5 hours.  It's all about letting go of the present and the past!  Noel Coward in Two Keys opens the door to the next level. WOW!
Rating: ★★★½
Noel Coward in Two Keys continues through November 7th at the Ruth Page Center for the Arts, 1016 N. Dearborn (map), with performances Saturdays and Sundays at 2pm, Mondays at 7pm.  Tickets are $25, and are available at BrownPaperTickets.com. More information at ShawChicago.org.  (Running time: Two hours and twenty-five minutes, which includes one intermission)