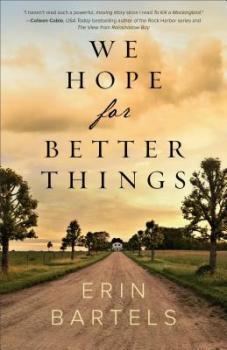 We Hope for Better Things by Erin Bartels
Published by Fleming H. Revell Company on January 1, 2019
Genres: Christian, Contemporary, Literature & Fiction, Women's Fiction
Pages: 400
Format: ARC, Paperback
Goodreads

When Detroit Free Press reporter Elizabeth Balsam meets James Rich, his strange request–that she look up a relative she didn't know she had in order to deliver an old camera and a box of photos–seems like it isn't worth her time. But when she loses her job after a botched investigation, she suddenly finds herself with nothing but time.

At her great-aunt's 150-year-old farmhouse, Elizabeth uncovers a series of mysterious items, locked doors, and hidden graves. As she searches for answers to the riddles around her, the remarkable stories of two women who lived in this very house emerge as testaments to love, resilience, and courage in the face of war, racism, and misunderstanding. And as Elizabeth soon discovers, the past is never as past as we might like to think.

Debut novelist Erin Bartels takes readers on an emotional journey through time–from the volatile streets of 1960s Detroit to the Underground Railroad during the Civil War–to uncover the past, confront the seeds of hatred, and discover where love goes to hide.

I was invited to join the Blog Tour Team for Revell Books, a division of Baker Publishing Group for today's post about We Hope for Better Things by Erin Bartels.  I hadn't heard of this author previously, but I loved the book's synopsis. (As a fellow Ohioan, I'm also pleased to see that the author is from Youngstown, Ohio!)
We Hope for Better Things laces together the stories of three generations of women from Detroit during three different time periods.  While Mary, Nora, and Elizabeth are loosely related by blood, they are definitely connected through their beliefs, convictions, and willingness to defy the current state of political and social affairs.
Three timelines with three points of view — one takes place during the Civil War and its aftermath, one takes place during the Civil Rights Movement and incorporating the Detroit riots of 1967, and the final in the present day.
Readers meet Elizabeth in the present day.  She's a journalist who is recently unemployed so she impulsively decides to visit her great-aunt. Add to the mix is the fact that she's actually never met this great aunt, but regardless, she begins to uncover past stories within her family tree.
Readers meet Nora in the 1960's.  She's a white woman of privilege who falls in love with, and marries, a black man despite everyone's "better judgment" and opinions around her.
In the early 1860's during the Civil War, readers meet Mary.  She's a married woman whose house and farm become a haven for runaway slaves from the South whilst her husband fights in the Union Army.
While dealing with very difficult periods in our national history, this book definitely does it with humble respect.  I really appreciated how the author showed the affects racism had on the love stories of these three women living in each of their different eras. It is clear that Ms. Bartels spent a good bit of time carefully building the characters and storyline of We Hope for Better Things. The story was very engaging and I would definitely recommend this book!
We Hope for Better Things was the most perfect title ever! It sums up what we all hope for each day —  better things…
---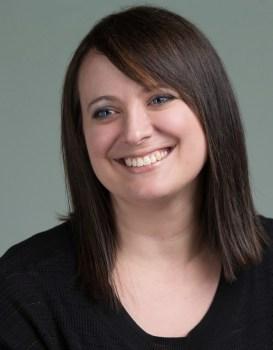 ERIN BARTELS is a copywriter and freelance editor by day, a novelist by night, and a painter, seamstress, poet, and photographer in between. Her debut novel, WE HOPE FOR BETTER THINGS, was released in January 2019 from Revell Books, followed in September 2019 with THE WORDS BETWEEN US, which was a finalist for the 2015 Rising Star Award from the Women's Fiction Writers Association. Her short story "This Elegant Ruin" was a finalist in The Saturday Evening Post 2014 Great American Fiction Contest. Her poems have been published by The Lyric and The East Lansing Poetry Attack. A member of the Capital City Writers Association and the Women's Fiction Writers Association, she is former features editor of WFWA's Write On! magazine.
Erin lives in the beautiful, water-defined state of Michigan where she is never more than a ninety minute drive from one of the Great Lakes or six miles from an inland lake, river, or stream. She grew up in the Bay City area waiting for freighters and sailboats at drawbridges and watching the best 4th of July fireworks displays in the nation. She spent her college and young married years in Grand Rapids feeling decidedly not-Dutch. She currently lives with her husband and son in Lansing, nestled somewhere between angry protesters on the Capitol lawn and couch-burning frat boys at Michigan State University. And yet, she claims it is really quite peaceful.  Connect with Erin on social media ~~
---
I was provided with a complimentary copy of this book from Revell Books, a division of Baker Publishing Group in exchange for this, my honest review. I was not required to post a positive review, but chose to.
~ ~ ~ ~ ~ ~ ~ ~ ~ ~ ~ ~ ~ ~ ~ ~ ~ ~

It would be great if you would stay connected with me!! You can follow me on Twitter @DebiL1611, like me on Facebook at 2014 and Beyond, circle me on Google+, follow me on Tumblr, Instagram and Bloglovin', subscribe on YouTube, or connect with me on LinkedIn and Pinterest.

Please make sure to visit my homepage and subscribe to my blog for more great posts on running, fitness and lifestyle topics as well as food, product, music and book reviews, and more!