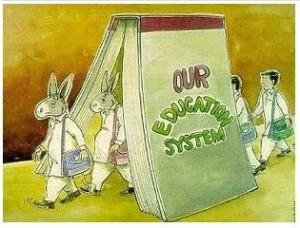 Getting good education is a distant dream for middle class and poor in Pakistan. Concern regarding academic burden on students and unsatisfactory quality of learning has been voiced time and again in Pakistan. An education curriculum is a path of learning that students are typically required to follow. It is viewed more as a conceptual structure for decision making rather then details of what is to be done in the classroom. The format of present day education is such, that students don't study with the view and intention to gain long term knowledge and to have a better understanding of things around them, but just to somehow cram up the tough study material in their syllabus only to vomit it out verbatim on the answer sheets in the examination to secure good marks. And once the exam is over, not even one percent of the things learnt and studied for an entire year is retained or implemented constructively.
There is a lot of pressure on kids both in terms of toughest syllabus as well as quantity of subjects. Small school children are always seen carrying a huge bag of books and notebooks along with them. Though it's a class 1st kid or a class 10th kid, all have huge burden of studies. Small children are made to carry such heavy books on their back. As the class increases, the burden on back increases. The present syllabus does not create champions but it only puts a lot of burden on school children. Childhood is a time when kids grow and become mature. Their mental and physical level grows and they are able to learn and explore new things during that time. But in schools a huge pressure of tough studies and work are put on children. This is a really bad thing as children don't get exposure of outside world and they are always seen learning for their tests, doing assignments and homework and only those tasks which their teachers give to them. This makes their life really busy and they are so much miserable that they can't do any other work.
Students should not be allowed to carry such heavy school bags. It is unfair. There are lots of scientific reasons for it, such as it causes back pain, also during summers it's very difficult. I know a few kids right now who flunked out. Now they are absolutely depressed. In other countries students are provided lockers in the school premises so that the children don't have to carry heavy bags with them daily to school. They just have two carry on homework copies only and that too little one. But this is not the case in Pakistan because as we are always of lack of resources. If, however, schools can't provide them lockers system then they should have lighter bags with lesser and purposeful syllabus books. This could be good thing for the development of Pakistan.
Though "A students life is the toughest life" but their must be some relaxation to it because if they are put into a lot of burden then they can never achieve success. So a student's life in a same way is very miserable and they must not be so much stretched that it creates negative impacts on them. Hence schools should always do sometime to cope with this problem because children being the future of our country should never be mistreated. Something should be done for the betterment of school kids like they should be given lesser homework. They should be made to do written work in school only because written work is the only thing which consumes a lot of time. If written work is done in the school itself then the children will only have to do learning work and activities at home.
Since the independence of Pakistan, we are unable to understand that what is good for us and what is bad. The good public school system has almost collapsed in Pakistan. What is happening now is parents are burdened with higher educational expenses to get a basic education to their children. The amendment in the course material each year has devastated the whole educational infrastructure of our country. The new syllabus is more tough and equivalent to that of higher education.
The people who went to school in 1950s would remember the schools started at 9 a.m. and went on till 3.30 p.m. Their syllabus was very simple but useful also much lesser in quantity. True enough the population was a fraction of what it is now, but they had a proper education. They respected their teachers who were dedicated to their task. They learnt not only their lessons from them, but also how to behave, respect elders and become law-abiding citizens. Parents did not interfere with the school authorities and curry favor. That system really produced renowned personalities, highly capable bureaucrats, extremely professional Generals and Judges, top level teachers and so on.
Today the situation is different. Textbooks have been drawn up by raw handed and inexperienced so called "experts" and blue eyed bureaucrats having serious mistakes in them. But from what I have seen the subject matter is far too much and irrelevant for the children. I am really surprised to see the books of class one. Their books are what we used to study in second or even third standard. Once in school, to cope up with the 'burden' of the ever increasing syllabus is also an ordeal for students as well as the parents, and also the teachers. The level of subject matter is getting tougher and tougher with each passing year. The physics, chemistry and math in class 9th and 10th today were once studied at graduation level. I am really shocked to see that.
What is the criteria how the Federal Education authorities decide it? Are we getting the education system right? Does our education system encourage our children to learn and discover a world of knowledge, equipping them with the right foundation for higher education or a vocation of their choice? Or does it place an unfair load on their young shoulders and make their school days a stress-filled experience? Is it wise to put burden on small kids? I think school should focus more on co curricular activities for small kids so that they may enjoy going to school. It is hard fact that the current PPP government has systematically assassinated the entire educational set up. In some schools the teachers stack kids like cattle in classrooms. Can one teacher teach 60-80 kids at the same time?
Government of Pakistan should set up a National Education Committee to advice on the ways and means to reduce the load on school students at all levels, while improving quality of learning including capability for life-long self-learning and skill formulation. The only solution to this is revising judiciously the whole format and subject matter of the entire Pakistani Education System. It is important too that our children are given time to develop in areas other than school so that they may become well-rounded individuals, rather than be continually bogged down by so much homework.  They should participate in extracurricular activities, spend quality time with their family, and acquire diverse life skills.  All of this should be highly encouraged by the school administration and be a genuine part of their daily "homework"!  We as parents can participate in a homework revolution by enlightening other parents as well as teachers and administrators to remind them that our children need time to be just that…children!