Restaurant Week India or RWI comes twice every year, with the promise of giving you nothing but an exceptional experience at your choice of restaurant. This year they completed 5 years, and had 27 restaurants in their list in Delhi. Present in 5 cities- Delhi, Mumbai, Bangalore, Chennai and Kolkata, RWI offers a list of over 100 restaurants to choose from across India. Went for a meal to Indian Accent in the restaurant week, and loved every bit of it.
The reservations are made online on RWI's website (www.restaurantweekindia.com) and this time the entire money was paid upfront on the website itself (Rs.1100++ for lunch and Rs.1300++ for dinner in Delhi).
I went with Indian Accent, for obvious reasons, and oh my, the meal was exemplary! As soon as we reached Indian Accent we were escorted to our table and promptly handed over the RWI menu after serving us water. Palki was very kind in helping us with the choices, and our server Shubham took the trouble of explaining every dish to us as and when it was being served. He was patient enough to also let me take infinite pictures of my food before I allowed him to serve it to us.
The meal began with Blue Cheese Naan. Small bite-sized naans filled with some rich blue cheese inside- setting the mood and expectations for the meal ahead. After this preview, we were served an amuse bouche- Pumpkin and Coconut Milk Shorba with a pinch of garam masala. Extremely soothing and yummy. The RWI menu is given below, and each could choose any 1 starter, main course and dessert from it.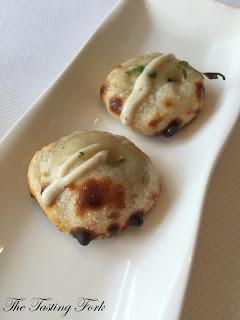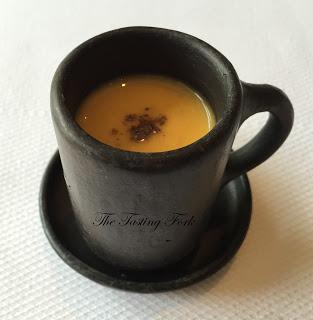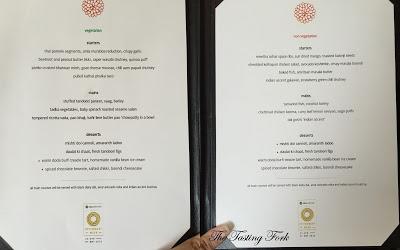 We were 2 people so we had 6 dishes in total that could be shared amongst us. We chose Baked fish, amritsari masala butter and Indian Accent galawat, strawberry green chilli chutney. The baked fish had a gorgeous crisp coating on the outside with very delicate fish inside. Just melted in the mouth! The fish was baked, as the name suggested, but the golden crisp was really impressive knowing it wasn't fried. The galawat, a specialty of Indian accent, came with a strawberry chutney to cut down on the heaviness of the meat. An absolutely droolworthy strawberry chutney it was! The galawat was spot on with the taste, but I've had softer ones that melt in your mouth. We were served a complimentary Burrata Papdi Chaat, which had dahi replaced with burrata cheese (Thank God!). The burrata was mind-blowing and went surprisingly well with the papdi and tamarind chutney.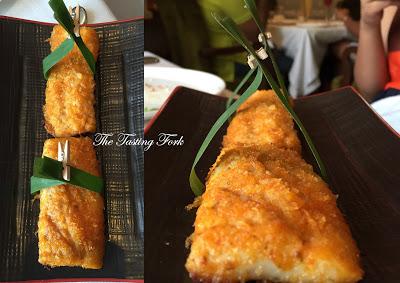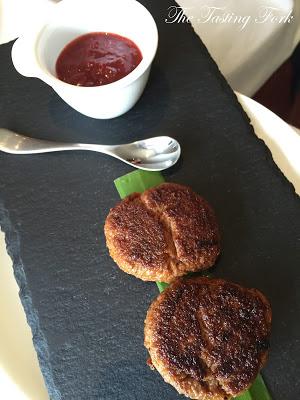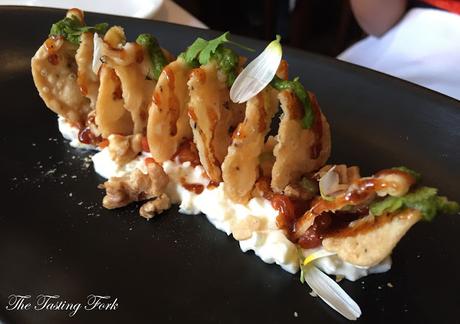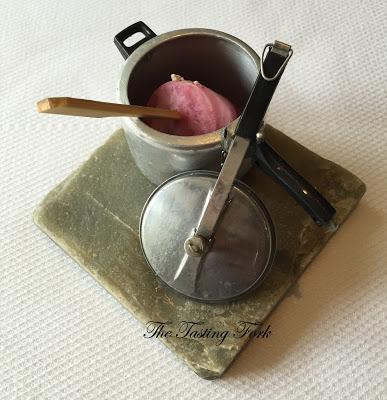 We then got the palate cleanser-
kulfi sorbet with churan
in the Indian Accent classic miniature cooker that's oh-so-damn-cute! Ready for the main course now- we ordered for
Chettinad Chicken Keema, curry leaf sevaiyan, sago puffs
and
Tamarind fish, coconut barley
. Both the dishes came in huge quantities, with
Black Dairy Dal
and
Wasabi Raita
on the side. The Chettinad Chicken Keema was full of flavour, and having sevaiyyan with that was quite an experience. Never tried this combination before, and it tasted damn well. But the Tamarind Fish was what blew our mind away. Slightly sweet fish, in a pool of gravy with coconut milk and barley. How well balanced can this be? You imagine this combination and you expect it to be quirky, but when you taste it, it is nothing short of extraordinary! The Black Dairy Dal was slightly sweet- I've had better. The Wasabi Raita was splendid! The kick of wasabi with cucumber in the raita- just too smacking!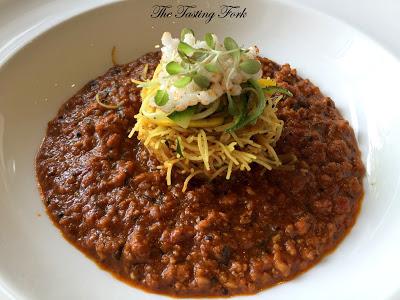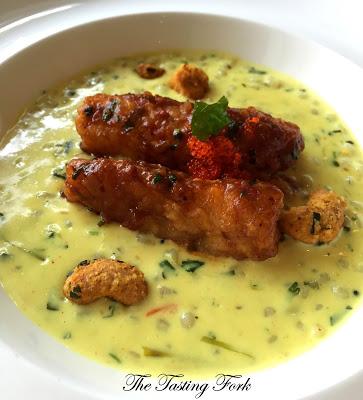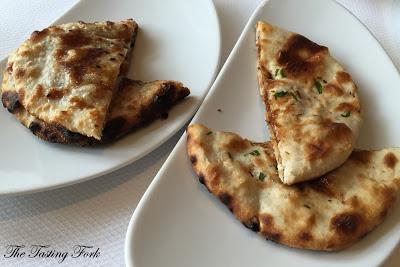 Our main course came with Pulled Pork Kulchas, Butter Chicken Kulchas and Bacon Kulchas. Do you read what these kulchas have stuffed inside them? Can you even imagine how insane they must be? The Butter Chicken Kulcha was so so soft, the pulled pork kulcha had the most amazing pork, and the bacon kulcha with a sweet tinge- my god! It's so hard to choose a favorite.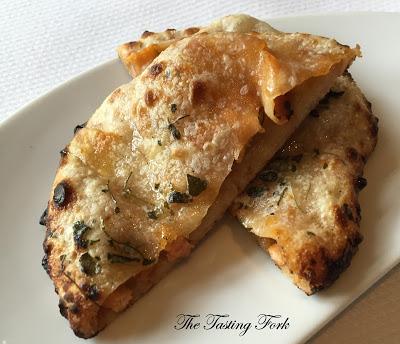 We come to most people's favorite part- the desserts. Enough has been already spoken about Indian Accent's desserts, but here are my two cents. We got a platter of desserts, instead of 2 desserts, because we couldn't choose which 2 should we go ahead with. Extremely heartwarming gesture for 2 people who are genuinely insane dessert lovers! The platter had Daulat Ki Chaat, Mishti Doi Cannoli with amaranth laddoo, Warm doda barfi treacle tart with homemade vanilla bean icecreamand Spiced chocolate brownie with salted chikki and boondi cheesecake. A very different fusion of flavours. It's not possible to explain each dessert- you've got to taste it. They're a league apart! The Daulat ki Chaat was a wonder with nitrogen in it. So so so light and airy! Whenever you visit Indian Sccent, only opt for a dessert platter, no matter what desserts they have in their menu that day.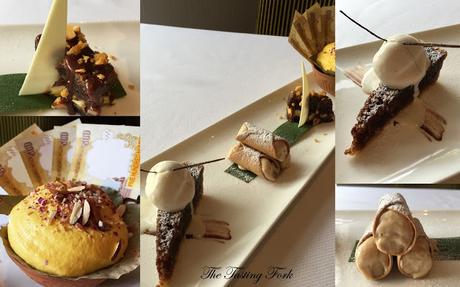 Our meal ended with the patent charpai of Indian Accent offering mouth fresheners, aam papad and the likes.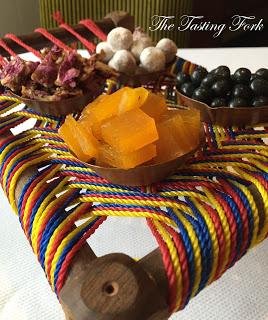 The place offers you an experience, and indulgence, one like no other. The portions are really filling- so you don't feel like you're just tasting the food. It's not just a meal out at an expensive restaurant which is one of the best in the world, they justify the money you spend. And imagine spending only 1100++ for this, all thanks to Restaurant Week India.
Address:The Manor, 77, Friends Colony, New DelhiTimings: 12 Noon to 3PM7PM to 11PMContact:01143235151, 9871117968

Connect with me on:

Twitter: 

@sahibagursahane

Instagram: 

@thetastingfork

Facebook: 

www.facebook.com/thetastingfork