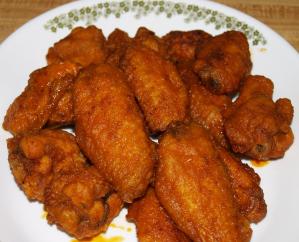 Finger-Licking Good!
My husband and I LOVE chicken wings both hot and bar-b-q. They can be very expensive at restaurants and besides, my husband is one of those people who does not like to go out to eat, especially chicken. He had a bad food-poisoning incident eating chicken at a restaurant once and refuses to order it anymore. The title of the blog is The Domestically Impaired Guide to Retro-Kitchen Arts and yes, I AM Domestically Impaired. Cooking is not my forte'. No one every says, "please cook me _______" Anything!
Over the years, I have learned to cook several things and one of them is chicken wings. I'm going to share my recipe here and hope you enjoy them as much as we do. I have to make them on a day that I am not working because to me, it takes way too much time and effort. He asked for some recently so this past weekend I made some. For 30 chicken wing pieces, the entire cost was $10. My Step-son was visiting so there were absolutely no leftovers. It will be a month or two before I make them again, but boy were they good!
Here's the recipe and remember, the most important thing to do is bake them at the end to "seal in" the sauce and the juice.
Restaurant-Style Chicken Wings at Home!
• 1/2 cup all-purpose flour
• 1/4 teaspoon paprika
• 1/4 teaspoon cayenne pepper
• 1/4 teaspoon salt
• 10 chicken wings
• oil for deep-frying
• 1/4 cup butter
• 1/4 cup Louisiana Hot Sauce or Green Jalapeno Tabasco(milder)
• 1 dash ground black pepper
• 1 dash garlic powder
• In a small bowl mix together the flour, paprika, cayenne pepper and salt. Place chicken wings in a large nonporous glass dish or bowl and sprinkle flour mixture over them until they are evenly coated. Cover dish or bowl and refrigerate for 60 to 90 minutes.
• Heat oil in a deep fryer to 375 degrees F (190 degrees C). The oil should be just enough to cover wings entirely, an inch or so deep. Combine the butter, hot sauce, pepper and garlic powder in a small saucepan over low heat. Stir together and heat until butter is melted and mixture is well blended. Remove from heat and reserve for serving.
• Fry coated wings in hot oil for 10 to 15 minutes, or until parts of wings begin to turn brown. Remove from heat, place wings in lidded bowl, add hot sauce mixture, put lid on and toss.
• Put foil on cookie sheet, place tossed wings on sheet.
• Place in oven @300 for 15 minutes.
• Serve and enjoy!