I love London. Don't get me wrong, I'm a countryside girl at eat, but London gives me a real buzz, and more than anything it excites the foodie in me. I try to be relatively adventurous when eating out – recently I've had fabulous meals in a vegetarian pay-by-weight buffet place (I loved it, my boyfriend wasn't convinced), a charming little Swiss place in Soho, and of course my go-to is the utterly delicious Wahaca. But this time we decided to follow up a recommendation and go pay to cook our own dinner…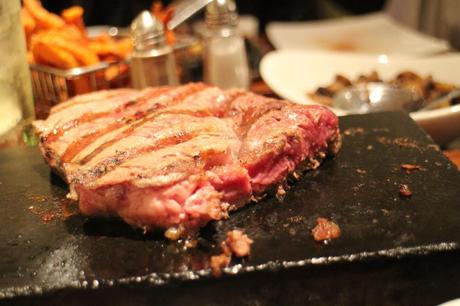 We had decided what we were eating before arriving; steak cooked on a hot stone. The only decision to make was the cut, the butter, the salt, the sauce and the sides. In the end we both went for a (massive) 8oz Rib-Eye. I had garlic butter, mustard salt and pepper sauce, he had chilli butter, chilli sauce and pepper sauce.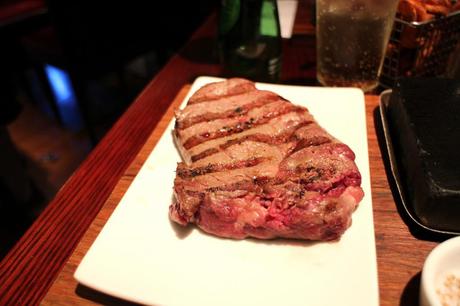 The idea is your steak comes underdone – so as I like mine rare it comes to the table blue. You then cook slices to your liking on the hot stone provided, using your flavoured butter, sprinkling with the salt, and dipping into the sauce. A bit theatrical, but the steak is good quality and well-flavoured, and it's not ridiculously expensive. Our bill came to around £40, which really isn't bad for central London steak. Mustard salt is delicious, the mushroom sauce I ordered originally should be avoided (the pepper one is lovely!). I'd possibly suggest not getting rib-eye if you like your meat rare – its a cut better suited to being more cooked so the fat renders down.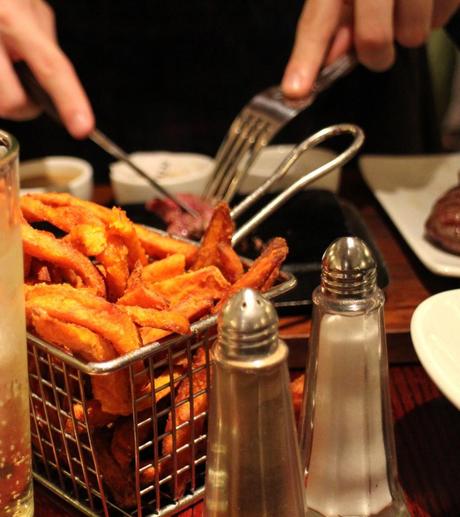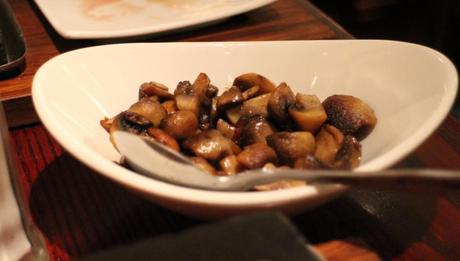 Sides were garlic mushrooms for me, sweet potato fries for him. The mushrooms were spectacular, garlicky and cooked to perfection. Only issue was there were so many I couldn't possibly finish them all. I stole a few sweet potato fries, and surprisingly enjoyed them. Still a little over sweet for my tastebuds though.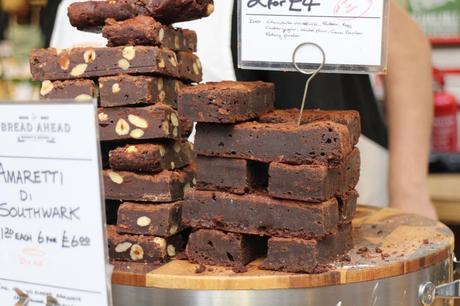 We weren't impressed with the desserts menu at all, instead opting for a wander to Ben & Jerrys at Leictester Square. We had eaten a massive brownie from Borough Market before dinner though!
Have you ever been to a restaurant where you cooked your own food? What do you think about the concept?