I'm pretty sure this was one of the first recipes I posted on this blog – it was my study-snack of choice during my first year of university (and I'm pretty sure it was what originally bribed Libby to be friends with me!). Banana and Nutella is a flavor combo that will never, ever get old and it's a personal favorite of mine.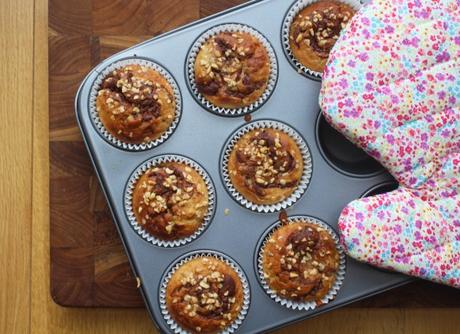 I've tweaked
my original recipe
slightly here, reducing the sugar
Moist banana muffins, made a tad sturdier than a standard banana bread with the addition of oats. A generous amount of Nutella swirled through. Hazelnuts sprinkled on top for crunch (and to add Instagram-appeal, let's not lie). There is simply nothing better than these – and they are so, so easy! Okay, so spooning nutella onto banana slices and transporting to mouth is *slightly* easier, but trust me on this. You will be thankful for the tiny bit of extra effort you put in when you first bite into one of these. Particularly if it's still warm from the oven…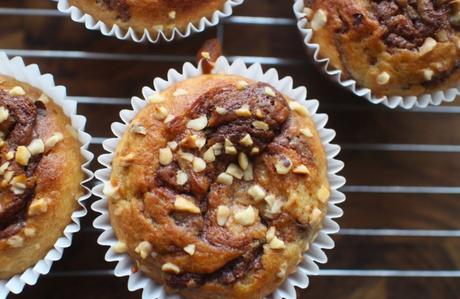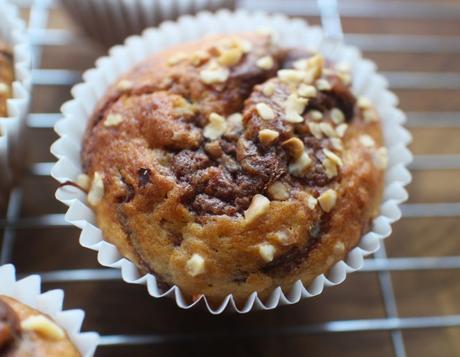 Recipe (makes 12, I scaled down for these photos)
200g plain flour
30g oats
1/2 tsp baking powder
1/2 tsp cinnamon
100g sugar
2 large eggs
110g butter, melted
3 large very ripe/brown bananas
3-4 tbsp Nutella
2 tbsp chopped hazelnuts
In one bowl combine the flour, oats, baking powder, cinnamon and sugar. In another combine the eggs, melted (then cooled) butter, and bananas (mashed until slightly lumpy). Add the dry mix to the wet mix and quickly stir through – you want it to be just combined, though a few lumps are absolutely fine.
Divide most of the mixture between 12 muffin holes (lined with cases) – each one should be about two-thirds full. Melt the nutella slightly, either in a microwave or in a small bowl suspended in a larger bowl of warm water. Blob a teaspoon of nutella into each muffin, hen top each equally with the remaining batter. Swirl the muffin/nutella together slightly using a cocktail stick, then bake at 180C for around 20 minutes. Try to let them cool before eating – or at very least be careful not to burn your fingers…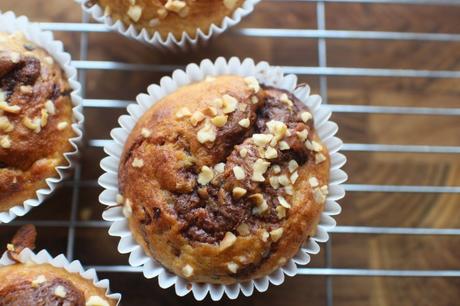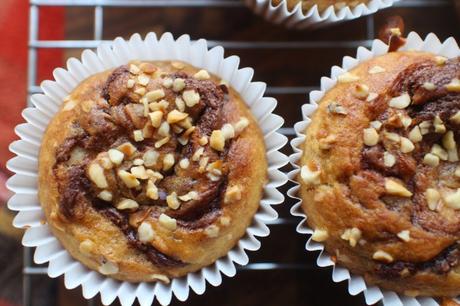 Perhaps the best thing about this recipe is the smell whilst these muffins are baking. The flat smelled irresistible! That smell of banana bread baking (which is quite possibly the best baking smell ever anyway) with a hint of nutella filled both our flat, and the communal hallway. Sorry neighbours!
What's your favorite muffin flavor combo?