If you know me, you'll know I LOVE a good pizza. I mean, what's not to love?! Yummy filling carbs, hot melted cheese, endless topping combos. Anyone who doesn't enjoy pizza is highly suspicious if you ask me…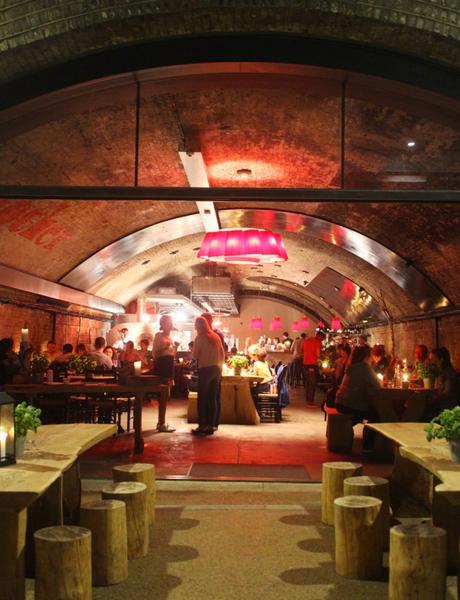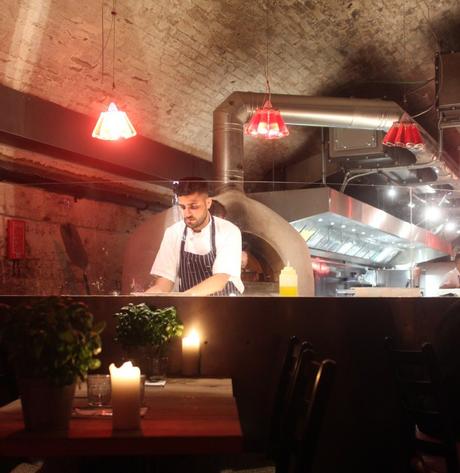 Rather a long time ago now we headed over to try a new pizza joint over in Battersea. The first UK restaurant from the rather trendy Danish chain, it's set under the train-tracks in what is supposedly an up and coming area. I'm not a fan of the area, finding it bland and soulless, and indeed I'm clearly not the only one – the restaurant was pretty empty for a Friday night.
It could be the rather strange and wacky pizza topping combos putting people off. Sure, there's the usual Margherita, but there's also Nick Says It's Good (mozzarella, cauliflower, green olives, anchovies, capers, chili, pecorino cheese) and David Says It's Even Better (tomato, mozzarella, spicy spring broccoli and soft salame). Perhaps not a family friendly restaurant, and with a massive bar and drinks offering I get the impression they were hoping to be drawing bigger and more exuberant crowds anyway.
But onto the pizzas.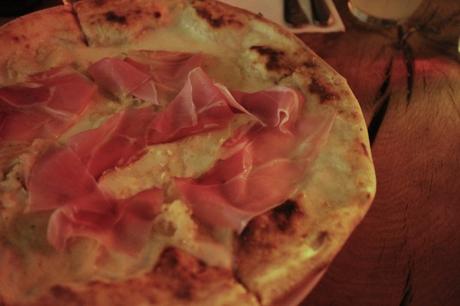 Out of a choice of 3 (!) tomato-free pizzas, I couldn't resist the lure of cheesy carbs on carbs and so promptly placed an order for Burning Love. Made up of mozzarella, potatoes, fried onions, and røget spæk this pizza was insanely rich and decadent. In fact, I'm pretty sure this one wins the title of the first pizza I've admitted complete defeat over with a quarter still to go. The potatoes are well cooked, just soft enough to add creaminess, but with enough bite to prevent the whole pizza from being soggy. The onions added much needed sweetness. The cheese was plentiful, stringy and tasty. If anything, I'd say the spæk (ham) was almost unnecessary.
The pizza dough is made with saltwater, supposedly resulting in a tastier and healthier base than usual. Whilst I have no idea whether the healthier claim is true, I can say the base was certainly more flavourful that others I've tried. However it also had quite an odd texture – noticeably drier (though not crisp) than other sourdough pizzas. A few weeks on and I still can't decide whether or not I liked it…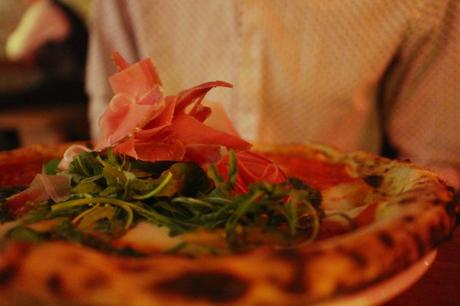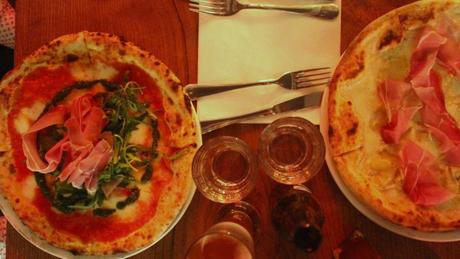 W's pizza (something involving lots of tomatoes and the same spæk) seemed to go down well – it disappeared rather quickly, although like me he was unsure about the base. And it's all about that base…
There was nothing *wrong* with Mother LDN, nothing at all. But equally it wasn't as special as I was hoping for. The pizzas weren't particularly memorable, the atmosphere a little flat, the service slow. Sure, it was tasty (but show me bread, cheese and potatoes thrown together that aren't tasty!) but I wouldn't rush back. That said, I have several VERY good pizza places virtually on my doorstep…
Have you visited Mother LDN? Where's your favorite pizza restaurant?