Old Compton Street in Soho seems to host a good handful of restaurants that I *really* want to visit, and HipChips was no exception. I'd heard about it a while back (okayyyy, I'd heard that you could dip potato crisps into peanut butter…) and it had really piqued my interest. Of course this meant when I was offered the chance to review I just could say no!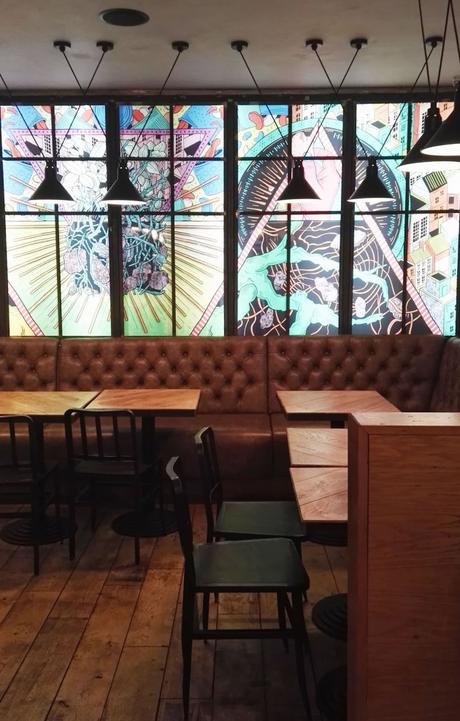 They use the "best heritage varieties of potatoes, serving them up delicately fried alongside mind-blowing dips." You can choose sweet or savoury (or a mix – though as they would be served together I'm not overly convinced this is the way to go) with the sweet being sprinkled with cinnamon sugar. Then choose your dips and, well, get dipping.
We went for a Large Sweet box, which comes with 6 dips. The crisps themselves certainly looked good, with various different colours. The cinnamon sugar combo was also extremely moreish – despite some of the crisps being more than a little soft.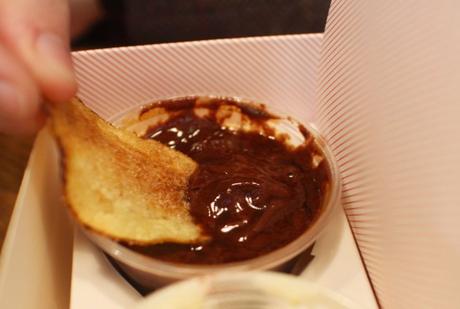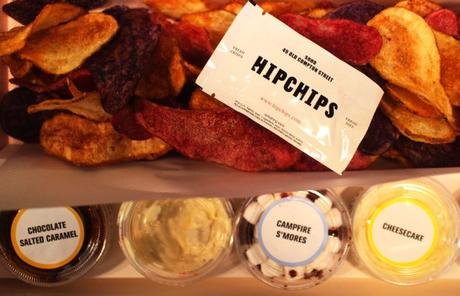 The dips were also a mixed bag – out of Peanut Butter & Jam, S'mores, Passionfruit, Chocolate & Salted Caramel, Cheesecake and Blackberry & Liquorice there was two clear favourites, and only another two we really ate. I'd skip the Chocolate & Salted Caramel, as the warm caramel split the cold chocolate dip and just made a not particularly pleasant texture. The Cheesecake was also disappointing, bland and too 'cheesy.' Not great. Better was the S'mores, though the menu description of 'gooey marshmallow' is overselling it when it's simply chocolate with mini-marshmallows on top. Blowtorch 'em please!
Blackberry & Liquorice was good when eaten with a spoon, not so much on a chip. However the Passionfruit and Peanut Butter with Jam were both winners. Passionfruit was sharp and fruity. Peanut Butter had the perfect salty-sweet kick and the punchy jam just made it better. I'd have been happy with several pots of both!
Modern and quirky with super-cool lights, HipChips interior was right up my street. Full review will be live on the blog in a week or so! Which cool places have you eaten in recently? #hipchips #soho #goodfoodguide #goodfoodforeveryone #interiors #londoneats #londonfoodguide #londonlocal #london_enthusiast #mysecretlondon #londonbylondoners #timeoutlondon #londonreviewed #myperspective #tv_lifestyle #verytandc #provinciallife #happyselves #theartofslowliving #nestandflourish #seeksimplicity #inspiremyinstagram #photosinbetween #thatcolourproject #forthehappymoment #amomentintime #mylittlelife

A post shared by Chloe Ellen (@ninegrandstudent) on Oct 10, 2017 at 11:28pm PDT
The savoury dips sounded good, but I felt a bit limited with the tomato-free options and, having devoured a satay chicken at Leon, was in the mood for something sweet. Even so, as I ate I found myself wishing I wasn't in the (very modern and just a little quirky) restaurant, but rather at home, in my PJs, watching a film. And that's what sums up my review of HipChips. The food was okay, some bits we ate were great, but as an eat-in concept I'm not 100% sure it works. If only I was in their delivery range!
*I was gifted a voucher for HipChips in exchange for an honest review – and as always all opinions are my own (or my fiances!) 
Would you go sweet or savoury with your chips'n'dips?