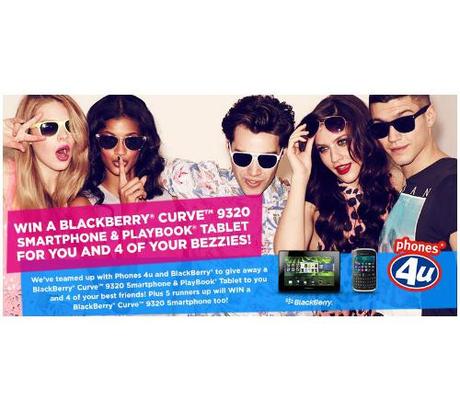 If you haven't heard about our collaboration with Phones 4u, where on earth have you been? We've been talking about it all over our Facebook and Twitter! We love a good competition here at Republic HQ and this is a good'un. I don't know about you, but I'm always after the latest mobile phone.
You and 4 of your BFFs could win  BlackBerry® Curve™ 9320 Smartphones and BlackBerry® Playbook™ Tablet! Perfect for keeping in touch over the summer! 5 runners up will win a BlackBerry® Curve™ 9320 Smartphone each too. Aren't the guys at Phones 4u great? Not only do we get amazing BlackBerry® deals all year round, they're making sure you and your best friends stay connected!
What are you waiting for? Enter here on our Facebook page.
Charlie