This is one of the most popular posts ever on this site. It has been reposted around the web many times. The original title was Sickening Photos from Shithole India. This is one of my favorite posts. I almost can't even believe that I wrote it, the writing is so good. Oh well, better to underestimate yourself. It only pushes you to do better.
If you didn't get a chance to read it the first time around, check it out now. It stirred up a lot of controversy all right!
Look at these appalling photos here. NSFW!

Be careful looking at that. I almost vomited while reading. India is simply disgusting.
What do the photos show?
The photos show the Ganges River, the holiest river in that lousy religion called Hinduism.
Vast crowds of people are mingling at the river, piling rags onto corpses and publicly cremating them for all to see. People walk by, turning to look at a dead man starting to rot on a ledge.
Next we have photo after photo of the sickening Ganges River and horribly disgusting corpses that float in it. Yes! The river is full of decomposing corpses, dumped into the gross river! People are swimming in the river, brushing their teeth in it, and drinking its water, while vomitous rotting corpses float by.
In many cases, the corpses wash ashore. The shoreline is dotted with decaying corpses, mostly humans but some cows. Crows and dogs fight each other for the right to gnaw on a putrid human corpse.
Crows perch on bloated corpses floating by. Skeletons litter the beach. Organ guts discarded by swollen bellies line the shores and float in the water. Dogs feast on them. Most of the living humans walking around are skinny as rails. Horrifically deformed humans, somehow still alive, lurk here and there. You almost want to kill them to do them a favor.
We go to one of the holiest cities in India, where the Buddha was born. A major tourist attraction, swollen with visitors. But you can hardly walk on the muddy ground because it's covered with shit. With human turds. Yes, India is not only a shithole figuratively but also literally. Bharat is literally drowning in human turds!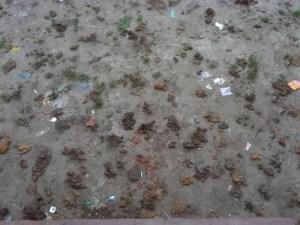 Try walking through that. Better practice your hopscotch skills. India is a shithole. Literally. India, up and coming world power, is literally drowning in 150 million pounds of shit every day.
Next we go to a filthy, disgusting public hospital. My Indian friends told that an Indian hospital is a place you go to to die. If you don't want to die, you have to bribe the doctor. If you don't bribe the doctor, you get no care. Yes! The doctor will kill your loved one because you didn't line his palm. He has to be bribed to keep other humans alive and not kill them via negligence.
More photos show Indian cities covered with garbage, drowning in garbage. Garbage and cows. Cows are everywhere, walking in the street, lying in the street, shitting in the street. Cow shit is everywhere. Indian cities are covered with it. Indian women roam the streets, gathering up cow shit, and laying it out to dry. They use it as fuel. One thing you will notice about an Indian city is the overwhelming smell of cow shit. It's like living in a dairy.
At a famous Indian tourist beach, on one side of the river there are luxury hotels for foreign tourists. On the other side is a fisherman's village, where people live in the worst squalor. They are literally living among huge piles of garbage. I don't think it's ever taken away.
And all day long, you see villagers shitting on the beach. There's no way to walk on the beach because it's covered with shit. But the Indian bourgeois and foreign tourists just smile in their upscale hotels. They could care less, callously partying amidst the wretched squalor.
In India, people shit everywhere. You are driving down the road, and there are guys squatting right by the side of the road, shitting in plain sight for all the drivers to see. No one pays them one bit of mind.
Even upscale Indian cities are filthy. Callous bourgeois Indians carrying briefcases and chatting on cellphones walk down streets past crowds of men urinating against the walls. The smell is so strong it nearly knocks you over. But the suit and tie guy walking by could care less. Those hordes pissing on the wall are zero to him, nothing. They may as well not even be there.
Indians don't believe in toilet paper. Instead, you wipe their ass with your left hand. That's why when you into a store in India, you are never supposed to touch anything with your left hand, because the implication is you probably just wiped your ass with it. Afterward, you wash your left hand with water from a bucket, but that won't work very well. Indians think this is very advanced. Less hemorrhoids, and you save on paper. It's Indian environmentalism!
Forget Black Africa. I thought Black Africa was hopeless. Now I think Indian might be even worse. In fact, its starvation figures are generally worse than Black Africa's. Only Ethiopia's figure is higher.
Indian nationalists like to say India is up there with Brazil or China. Or better yet, that it will soon be the greatest nation on Earth (the biggest economy). No way. When India is the greatest country on Earth, that means I'm going to kill myself. The planet won't be worth inhabiting anymore.
I doubt if there is even much for a tourist to see in India. There's the Taj Mahal (Hopefully the area around it is not covered with turds?), which is frankly a ridiculous structure, as it is a mosque in a majority-Hindu country. It would be like going to Saudi Arabia to look at the greatest attraction, a huge church.
Due to the abhorrent Hindu caste system, the overwhelming majority of Indian Hindus, even highly educated folks making good money with degrees and advanced degrees, simply believe that some humans are better than others due to the caste into which they were born.
This cognitive mess infects almost all Hindu 1-B workers in the US, and caste politics in US IT corporations dramatically hinders productivity and makes the workplace chaotic and strife-ridden. Those of higher castes are contemptuous of lower caste workers and refuse to cooperate with them.
If you're born into a low caste, your future is more or less sealed. Most routes to success are closed off before you take your first breath.
India has the most HIV cases outside of Africa. It has more people in poverty than there are in all Black Africa combined, and there are a billion people in Black Africa. If you are doing worse than Black Africa, that is spelled FAIL.
India is a profoundly racist country. Remember the monkey calls for the Black athlete recently?
The 2010 Commonwealth Games, the 6th or 7th biggest competition on Earth, were held in India, but they were a huge failure. India was late, so the Games were delayed, the hotels were filthy, and the people in India organizing the event were all corrupt and were arrested afterwards.
In contrast, even South Africa was able to host the World Cup smoothly, and South Africa is a wreck. South Africa is more civilized than India. Wow!
China smoothly hosted the Olympics, and Brazil will probably do a great job of hosting the World Cup in 2014.
India = FAIL.
*There are many innocent shitholes all over the world. They did nothing to create their shithole condition, and in many cases, they don't deserve it. Some were just sitting there in the ground minding their business and doing whatever holes do, when some mean human came along and callously filled them up with shit. Poor holes! That's their fault? No way!
Anyway, I would like to apologize to all of the world's poor, innocent shitholes for comparing you to India. You shitholes don't deserve such a humiliating comparison.
If you think this website is valuable to you, please consider a contribution to support the continuation of the site.