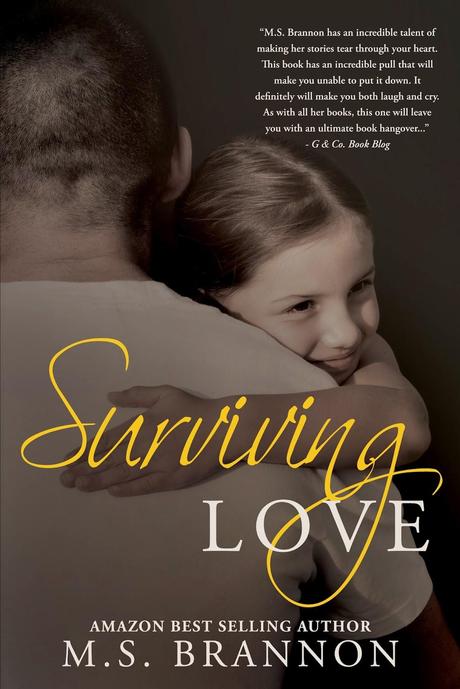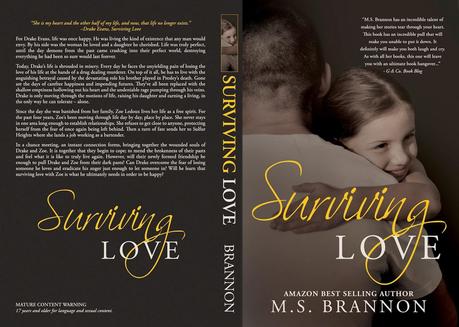 Surviving Love (Sulfur Heights #4)

 by M.S. Brannon Summary: "She is my heart and the other half of my life, and now, that life no longer exists."
For Drake Evans, life was once happy. He was living the kind of existence that any man would envy. By his side was the woman he loved and a daughter he cherished. Life was truly perfect, until the day demons from the past came crashing into their perfect world, destroying everything he had been so sure would last forever.
Today, Drake's life is shrouded in misery. Every day he faces the unyielding pain of losing the love of his life at the hands of a drug dealing murderer. On top of it all, he has to live with the anguishing betrayal caused by the devastating role his brother played in Presley's death. Gone are the days of carefree happiness and impending futures. They've all been replaced with the shallow emptiness hollowing out his heart and the undeniable rage pumping through his veins. Drake is only moving through the motions of life, raising his daughter and earning a living, in the only way he can tolerate—alone.
Since the day she was banished from her family, Zoe Ledoux lives her life as a free spirit. For the past four years, Zoe's been moving through life day by day, place by place. She never stays in one area long enough to establish relationships. She refuses to get close to anyone, protecting herself from the fear of once again being left behind. Then a turn of fate sends her to Sulfur Heights where she lands a job working as a bartender.
In a chance meeting, an instant connection forms, bringing together the wounded souls of Drake and Zoe. It is together that they begin to cope; to mend the brokenness of their pasts and feel what it is like to truly live again. However, will their newly formed friendship be enough to pull Drake and Zoe from their dark pasts? Can Drake overcome the fear of losing someone he loves and eradicate his anger just enough to let someone in? Will he learn that Surviving Love with Zoe is what he ultimately needs in order to be happy?
Source: I received a copy of the book from the author as a beta reader in exchange for feedback and an honest review.
Add to Goodreads
Amazon
Barnes and Noble
Review:



SPOILER ALERT

: This review 

may

contain spoilers

about the series. Do not read unless you have read up to Blind Love, book three in the series. **Note: this review is for an unfinished copy. I acknowledge the final copy may have some changes.**
Surviving Love was awesome. I love and enjoy the Evan's family and when they are broken, I feel it, too. Drake was incredibly broken after the events of Tragic Love and I desperately wanted him to be able to find happiness again.
The author has a wonderful ability to make the characters come to life. The Evan's family is dysfunctional at best, but everyone of the family members has a distinct personality. And in Surviving Love, Drake was the ticking time bomb that could go off (on anyone) at any particular moment. He found it even hard to be happy for Jake and Delilah because of his anger and sadness surrounding him. He needed to be saved and to be told and to be shown that it was okay to move on and it wouldn't stain the memories he had of the good times in his life.
Besides Darcie, I have always been skeptical of the women that worm their way into the Evan's family. I never cared much for Presley, but eventually she grew on me. I didn't like Delilah very much at all because she was just so.. preppy. But She grew on me as well. Zoe, however, was a character I liked from the beginning. Maybe I just prefer the women who know the Evan's family to be tough as nails, like Darcie. And Zoe definitely was. She was hard, but she was also really soft at times, too. In their own way, Drake and Zoe overcame their own issues together. It wasn't what I expected at first because they were friends and not lovers, but as time went by, I saw that I wouldn't have wanted it any other way.
I love how the characters are kind of trashy and ridiculous and hardened by the rough edges of living in Sulfur Heights. I love how women like Zoe and Darcie are less than perfect and refuse to apologize for it. So many romance novels have men just like the Evan's men, but they all rescue some tragically broken tiny girls who have wide eyes and innocent hearts. That's all fine for those stories, but I love that the author of the Sulfur Heights series throws in some women that are more realistic and certainly not innocent and wide eyed about anything.
I definitely recommend Surviving Love. It was yet another amazing addition to the series that is my guilty pleasure!



 

Enter the Giveaway

 a Rafflecopter giveaway