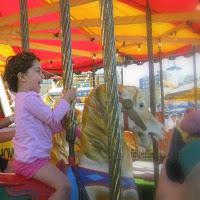 It's no secret that we all want to stay young; young in looks, and more importantly, young at heart.  And why not - kids seem to get all the fun...  
As Mimi, my 4 year old said the other day; "it would fun to be a princess; you don't have to do anything, everyone has to do it all for you."  She has a point.  Although, I'm still not sure I'd swap places with a real princess, thanks anyway.
But, back on the point of not growing up. I recently came across the term "rejuvinile" a sort of composite of rejuvenate and juvenile... there's a whole
book
about the idea if you're interested in reading more.
It got me thinking that there aren't enough adult themed parties.  Sure, you hear about the occasional racy one I can't really blog about on my kid-friendly pages, and the occasional Pirate party for big boys, but that's about it.  Why aren't there more Peter Pan parties for 40 year olds, where everyone dresses up as the Boy who won't grow up, or as the Lost Boys, Captain Hook, Wendy in her nightie, fairies, mermaids, Indians, the great dog, or the prim n' proper Victorian parents... really there are plenty of dress up options for this party theme!
Adult "dressing-up" doesn't have to involve fishnets, Santa-suits or black-ties; there's plenty of scope for a little rejuvinile fun... and I should know.  (I was a mermaid once you know; check out my pics in the blog Gallery!)
You know what... I'm so keen on the idea of relieving a little of the simple pleasures of childhood, that I'm going to throw down a challenge... don't wait even wait for a party - just frock up in something a little crazy this weekend, get into character and prance about your house for the day... I'm sure you'll feel like a new, improved, younger, you... and it'll be cheaper than an overseas holiday and less painful than botox!