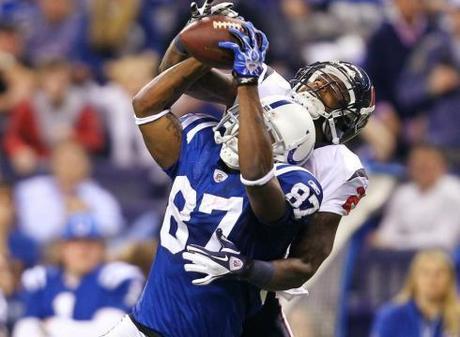 Photo: Michael Hickey, US Presswire
- Adam Parker
Reggie Wayne - like many of the Colts' veterans right now - is in limbo. After finishing up what can only be described as an abhorrent season with a less than desirable 2-14 record, there are waves of change on the horizon for the Indianapolis Colts.
Wayne doesn't know what will happen with Peyton Manning, nor does he know about his own job security in Indianapolis.
Despite all the moving pieces, Wayne hopes to be one of the veteran players still left standing once the storm of changes in Indy subsides.
The Indianapolis Colts receiver has an expiring contract and could be in line to be courted by other teams as an unrestricted free agent for the first time in his 11-year NFL career.
Wayne is connected to NFL Play 60 and is a sponsor of Kinect for the Xbox 360, and during a break playing with school children Wednesday he said he would not be averse to being part of a Colts rebuilding project.
"
This is what I have, this is all I know
," he said. "
So I wouldn't mind being a part of a rebuilding process. They need some old heads too, you know? It would be an honor to still be part of this organization even with a rebuilding phase. I know there are going to be some guys on the team that I still know, I know the head coach, Chuck Pagano, pretty good (from time together at the University of Miami, where Pagano coached the secondary and coordinated special teams from 1995-2000.) I'd just look at it as my rookie year all over again
."
Wayne will likely be a popular target for teams who feel like a veteran wide receiver is the missing ingredient to their 'Super' recipe. He said he would enjoy being courted and happily share a meal and shake some hands with other teams.
That being said, Wayne is more than content to stay right where he is, with the organization and city that adopted him as one of their own over a decade ago.
If the Colts ultimately decide to move on without Wayne, he wouldn't be upset either.
"
I've not talked to the Colts and rightfully so
," he said, pointing to all the change for a team with a new general manager (Ryan Grigson) and a new coach. "
I'm sure at some point in time I will hear something from them. If not, I'll understand that also
."
"
No regrets. I love the city. I love that organization. I'll still be a Colt for life.
"
Wherever Wayne ends up, the team that is lucky enough to sign him can rest easy knowing that they'll be getting one of the best weapons on the market. Throughout his career Wayne had a stellar wing-man in Manning, and has proven time and time again that he is one of the best receiving threats in the league.
After all, he caught 75 balls for 960 yards and 4 touchdowns from a revolving door of quarterbacks that included Kerry Collins, Curtis Painter, and Dan Orlovsky. Any guy that can flirt with the 1,000-yard mark after a season with such an unstable quarterback situation would surely be a great catch for any team.
Be sure to follow Beard And Stache on Twitter 
@BeardAndStache
, 
and also Adam 
@Adam_Parker43
, Like our Facebook page 
HERE
!